WITH the Rockhampton Beef 2021 event now only 12 weeks away, speakers for some of the expo's most popular events are starting to be announced.
The event's traditional Rural Press Club breakfast will this year be addressed by leading seedstock producers David and Prue Bondfield.
Their presentation is entitled The Palgrove Story: Reflections of how a vision was achieved by building solid relationships, adapting to change and a big dose of passion.
The Rural Press Club of Queensland will again host the essential forum to expand professional networks and reach people of influence at its Beef Breakfast on the morning of Thursday, 6 May.
The dynamic couple will reflect on the development of their Palgrove seedstock business, the formation of their partnership with a superannuation fund and provide their insights into the future direction of beef production.
David's parents, Peter and Valerie, were sheep and commercial cattle producers on their marginal cattle country near Stanthorpe. In 1969, the were one of the pioneers in the introduction of Charolais genetics from the United Kingdom and this 'controversial' move became a game changer, both for the family and the beef industry.
In 1992, David and Prue purchased 50 stud cows from the family partnership and took over the Palgrove Charolais stud. Over the next 30 years, they expanded their land holdings and seedstock numbers to become one of the largest registered Charolais herds in the world. In 2009, Palgrove was one of the pioneers of the Australian development of Ultrablack – an Angus/Brangus composite, which is becoming well entrenched in commercial herds across the country. Palgrove's Charolais and Ultrablack seedstock now number more than 5300 registered females.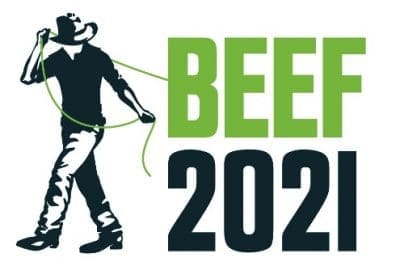 Three years ago, the couple formed a partnership with a New Zealand superannuation fund to scale up the commercial part of the business and to ensure the succession of Palgrove seedstock into the future.
Prue Bondfield has also been prominent in industry affairs, acting as inaugural chair of the  Australian Beef Sustainability Framework.
The Rural Press Club Breakfast on Thursday 6 May is one of more than 40 seminars, symposiums, dinners, breakfasts and other industry gatherings listed among Beef 2021 activity starting on Monday May 3, and extending throughout the week.
Tickets for popular Beef 2021 events are already selling fast, and several events have in fact already sold out. Click this link to access more information.
Rural Press Club Breakfast
What: Beef Australia 2021 breakfast – The Palgrove Story: Reflections of how a vision was achieved by building solid relationships, adapting to change and a big dose of passion. Tickets include a hot plated breakfast and selection of fruit, pastries, tea, coffee and juice.
Speakers: David and Prue Bondfield
When: Thursday 6 May, 6.45am for a 7am start
Where: Adani Stadium, Rockhampton
Cost: $90 (GST Inclusive)
Tickets: Click here