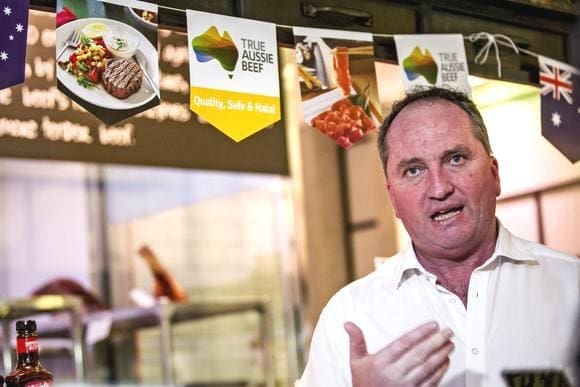 Within the Coalition the only cheer is among the Nationals who, if some late counting goes their way, could actually gain one in their numbers at an election where the government has lost a swag of seats.
At worst the junior partner, with 21 seats in total in the last parliament, would probably be only one down.
The Nationals haven't wasted any time pointing to their success, which they attribute to running a very grassroots campaign.
For the future, both leader Barnaby Joyce and party president Larry Anthony declare the Nationals will be more assertive in a new Coalition government, assuming that's the election outcome.
The Coalition has strengthened its position in the latest counting, with the ABC computer on Wednesday giving it 72 seats, Labor 66, with five independents and seven seats still in doubt. ABC election analyst Antony Green allocates an extra seat to the Coalition. It needs 76 to reach majority government.
Joyce was at Malcolm Turnbull's side at Tuesday's news conference. You can view them as the odd couple, or as yin and yang – the urban sophisticate, epitome of the high-tech world, and the stump politician who, while Sydney-educated and an accountant, comes across as an authentic voice from regional Australia.
When Turnbull was opposition leader, the two didn't get on. These days they are comfortable in each other's company and, especially now, a good fit despite – or because of – their policy and political divergence.
Joyce is a populist, Turnbull anything but. Turnbull is socially progressive, Joyce conservative, for example an opponent of same-sex marriage.
For Turnbull, Joyce provides some protection on his vulnerable right flank, as the Liberal conservatives try to cut him down to size.
Since he took over as Nationals leader earlier this year Joyce has played a tight team game. In the election, he held off a challenge for his own seat from former independent MP Tony Windsor, while campaigning elsewhere. There was the odd glitch, but not amounting to much.
The Nationals have regenerated in recent years, with retirements and new people arriving, and Joyce is set on growing the party and its leverage. The election result provides a big opportunity.
Depending on the final numbers split within the Coalition, the Nationals under the set formula almost certainly would be entitled to another junior minister. According to some sources, a best-case scenario could see them entitled to a fifth cabinet spot as well, depending on the size of Turnbull's cabinet.
It is understood Joyce, who has flirted with taking the infrastructure portfolio, would be more likely to stick with his present job of agriculture.
There are a couple of reasons.
In the campaign the government announced a Regional Investment Corporation to oversee some A$4.5 billion of drought and water infrastructure loans provided to state governments and farmers. This is not new money, but funds presently borrowed by the Commonwealth and sent to the states, which administer them. Under the plan, this administration would be done by the federal government.
The fund, dubbed "Barnaby's bank", would come within the agriculture portfolio and Joyce is anxious to be the one to bed it down.
Another reason for not taking on a new ministry is that Joyce would expect to have a considerable role negotiating with crossbenchers. This would be particularly so if the Coalition were a minority government. Who else would be well-placed to deal on an ongoing basis with the vociferous ex-National, Bob Katter?
In case he needs him, Turnbull will meet Katter in Brisbane on Thursday. On Wednesday he met Nick Xenophon in Sydney – the Nick Xenophon Team will have one lower house seat.
Even in a majority Coalition government, a lot of work would have to be done with the Senate crossbenchers. Joyce has a long history with Xenophon, who'll have an upper house mini-bloc – the two were close when Joyce was a Queensland senator.
When Turnbull became prime minister, then-Nationals leader Warren Truss included in the Coalition agreement a number of policy items – among them, maintenance of existing policies on climate change and the reference of same-sex marriage to a plebiscite. The desire for formal policy commitments reflected the Nationals' distrust of Turnbull – eyes would be on whether Joyce sought to formalise a policy deal this time.
Given a new shine from the election, the Nationals would be well placed to boost their influence in Turnbull's government. But the party's clout within the Coalition, going back into its Country Party days, has waxed and waned largely according to the personal strength and savviness of its leading figures. That will be the real test of Joyce.

Michelle Grattan, Professorial Fellow, University of Canberra
This article was originally published on The Conversation. Read the original article.