BACK-TO-BACK grand championship titles in the Australian Wagyu Association's annual branded beef competition have cemented Western Australian-based Stone Axe Pastoral as one of the emerging supply chain powerhouses in the Wagyu beef industry.
Repeating its effort from last year, Stone Axe claimed its second AWA branded beef championship crown last night, during the annual AWA conference dinner.
A record 36 competition entries were received for this year's Wagyu Branded Beef competition from supply chains across the country. Entries were put before a panel of 18 judges from across the red meat, food service and retail industries, assessing entries on visual appeal (raw and cooked), tenderness, juiciness, flavour and overall liking. The competition is the only one of its type that is supported by an independent breed organisation.
Stone Axe's grand championship winning carcase (image pictured here), bred within the company's own network pf properties, was 32-34 months of age at slaughter at John Dee, Warwick, having been fed a mixed grain based ration for a relatively modest 350 days at Yarranbrook feedlot near Inglewood. It produced a digital marbling score of 54pc IMF (highest in the class), marbling fineness of 75.1, and eye muscle area of 99sq cm after processing at John Dee, Warwick.
Part of the story behind fewer days on feed is that the company seeks to reduce days on feed by "looking after calves right from weaning, managing nutrition from day one, with the objective of achieving whole of life growth averaging 0.8kg/day."
In receiving the grand championship award last night, Stone Axe managing director Scott Richardson said the result was a testament to the hard work and commitment of staff across the group.
"We're two years into this venture, but we have only just begun," he said.
Fuelled by heavy investment from a Sydney-based private equity entity, Stone Axe has made rapid progress over the past three years in establishing a large, integrated Wagyu supply chain including 17 breeding and backgrounding properties and six feedlots, stretching from Western Australia all the way to Queensland.
The company currently controls around 28,000 Wagyu infused cattle, including around 15,000 Fullbloods, rising to 20,000 with this year's unmarked calves. By 2025, the plan is to have a static breeding herd of 10,000 Fullblood breeders, equating to around 35,000 to 37,000 total Fullblood numbers across all ages.
ET and AI work is condensing the timeframe in that expansion program, using proven foundation Fullblood genetics.
In contrast with many high-end Wagyu supply chains that are more export focussed, Stone Axe currently directs half of its Wagyu production into the Australian domestic market – principally high end restaurants in Melbourne, Sydney and Brisbane. Most of the remainder goes to customers in China and Hong Kong.
Judges described this year's grand championship winning carcase as possessing "unbelievable richness, combined with complex flavours of sweetness, dairy and cereal, melt-in-your-mouth juiciness with an exquisite tender and silky finish."
It was a close contest in the elite Fullblood class this year, however, with an entry from the de Bruin family's Mayura Station in South Australia finishing just two points behind the eventual grand champion, on 711 points. It produced a digital marbling score of 53pc, extremely fine marbling producing a score of 89, and massive eye muscle area of 127sq cm. The sire for this entry was ADBFA0139.
In statistical terms (when adjusted for a slightly different points-score system this year), both the first and second placed Fullblood entries this year established new record high point-scores for this competition, run over the past ten years.
Strong correlation between visual marbling and taste test results
Following a clear pattern set at previous Wagyu branded beef competitions, this year's results displayed a distinct correlation between visual (digital) marbling score, and eating quality performance.
In all three classes again this year, the highest individual marbling score carcases in each class (as measured digitally by the Japan Grading camera) were also the overall winners of those classes. Taste test judges (Beef Central's Jon Condon was among them), were clearly able to distinguish the higher marbling entries in each division, based on blind sensory analysis alone.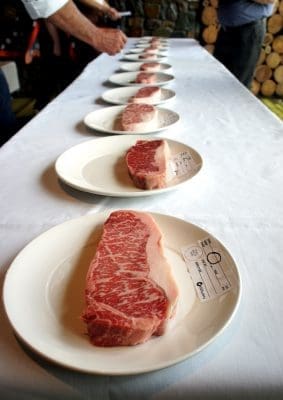 As described above, the top two entries in the Fullblood class this year scored 54pc and 53pc IMF, based on digital marbling assessment. Only four or five Fullblood entries in the ten-year history of the competition have previous exceeded 50pc IMF, records show.
Interesting and thought-provoking marbling results were also seen in the Crossbred Wagyu class.
To start with, the championship winning entry was an F1 (Wagyu x Angus) calf, while the remaining three crossbred gold medallists ranged from F3 to purebred. All other things being equal, higher Wagyu content is more likely to be expressed as higher marbling. To compound the Crossbred class result, the championship winning F1 entry was fed only 390 days, versus 420-470 days for the remaining three gold medallists. The champion's relatively modest eye muscle area (78sq cm) may be explained by the relatively short time on feed.
The crossbred champion's digital marbling percentage of 45pc would have ranked it fourth on marbling score in the Fullblood class.
Crossbred and open division champions
Champion from the crossbred Wagyu class this year was Queensland's Direct Meat Company with an entry representing its Connors Wagyu brand. This F1 entry, bred by newcomer, Issell Farms using Wally Rea bloodline ITSV582 as sire, achieved a high marbling score of 45pc IMF, with an eye muscle area of 78sq cm after 390 days on feed. Judges described the sample as having a wonderful balance of rich and clean beefy flavour with lasting juiciness and tenderness.
In another first for the 2021 Branded Beef Competition, Pardoo Beef Corp's Okan Wagyu brand became the first commercial division entry to defend its title, winning the 2021 commercial class (marbling scores 5-7) championship, defending its 2020 title in the same division. This F4 entry, bred by Georgina Pastoral, carried 35pc IMF and a ribeye area of 102sq cm.
Judges described the entry as a beautiful example of commercial mid-marbling score Wagyu steak. Visually this steak rated highly, and judges described the cooked sample as a delightful balance of clean flavours, fresh aroma and buttery tenderness with lasting juiciness.
Genetics declaration
This year's branded beef results were not without controversy, however.
All registered Fullblood Wagyu cattle carry sire and dam identity, but for commercial IP reasons, this year's grand championship winner Stone Axe Pastoral elected not to offer the breeding history of its elite-performing grand champion, which competed in the Fullblood class.
Some stakeholders attending the conference felt the move was 'somewhat disingenuous' and against the spirit of genetic progress for common benefit that the broader Wagyu industry is pursuing.
One suggestion was that sire and dam identity should be made mandatory for future AWA Fullblood competition entry.
Other successful exhibitors
One of the quiet success stories of this year's competition was Kilcoy Global Foods, which has lifted its Wagyu slaughter numbers from 50/day to 1000/day over the past two and a half years. The company finished with two gold medals and a silver this year, for its Cararra 640 brand.
First-time exhibitor, Lotte International, which is developing a significant Wagyu program at the Korean company's Sandalwood feedlot near Dalby, scored a bronze medal for its L'Grow F1 Wagyu brand, using a calf bred by Whitely Ag.
"The level of quality and range of brands continues to increase year on year, highlighting the high level of competition and the continual focus on excellence in producing Wagyu, the world's luxury beef," Australian Wagyu Association, CEO, Matt McDonagh said during last night's presentation.
Darling Downs Wagyu supply chain Mort & Co produced another consistent performance, with the company's Master Selection brand claiming a gold and two silver medals, while The Phoenix brand achieved a silver.
Mort & Co Wagyu operations manager Berry Reynolds said the awards were a testament to not only the efforts of the Mort & Co Team, but also the calibre of Wagyu being grown in Australia.
Mort & Co submitted five entries this year, from four different Wagyu operations, including Chiconi Grazing Co, Mungallala, QLD; Werner Rural Investments, Clermont, QLD; Winathoola Pastoral, Wallumbilla, QLD; W R Bultitude, Inverell, NSW) Chiconi Grazing Co.
Chiconi Grazing has been involved in the Wagyu industry since the purchase of their first Wagyu bull in 2014. The family-run operation includes 100 Fullblood Wagyu's and 1300 purebreds.
One of their purebred calves was selected as Mort's entry in the Crossbred Wagyu class, producing a gold medal.
Jessie Chiconi said their inclusion in the event was unexpected and a milestone for the Chiconi team. "We can't believe it – this is our first lot of purebred carcase data and we have been nominated for an award. We are just over the moon and honoured even to be considered for it."
Another producer contributing to Mort's results was Bruce Werner from Werner Rural Investments. Bruce has been involved with Mort & Co since he started breeding Wagyu four years ago. Mr Werner says producing the silver medallist representing Mort's Master Selection brand was especially rewarding, given the long-term decision-making involved in his operation.
"This year we joined 2150 F4+ females on our Clermont based property, and we are aspiring to reach 2500 head. Having our beef selected for these awards proves to us that we are going in the right direction – it benchmarks us in the industry."
"The biggest challenge is making decisions now and having to wait 2-3 years before you can see any carcass data. There is a lot riding on these decisions for such long-term results, making inclusion in these awards extra rewarding."
Mort & Co general manager of meat sales and operations, Brett Williams, said the  quality of Wagyu showcased at the awards was simply exceptional, and was a true credit to the progressive nature of the Wagyu industry.
"For Mort & Co, it is always a team effort, and our supply chain partners are a significant part of that. These types of results are well received by everyone involved inside of and outside our business. We take great pride in sharing it with all of them, and our international partners certainly look forward to hearing about the results and knowing that they are distributing world class beef to their customers."
2021 AWA Gold medal winners:
Fullblood Wagyu:
Stone Axe Pastoral, Stone Axe; Mayura Station, Signature Series; Irongate Wagyu, Futari Wagyu; Rangers Valley, Infinite; Direct Meat Co, Connors Wagyu; Kilcoy Global Foods, Carrara 640.
Crossbred Wagyu:
Direct Meat Co, Connors Gold; Mort & Co, Master Selection; Pardoo Beef Corporation, Okan Wagyu; Poll Wagyu, Poll Wagyu
Commercial Wagyu (Marble Score 5-7):
Pardoo Beef Corporation, Okan Wagyu; Kilcoy Global Foods, Carrara 640; Stockyard Beef, Stockyard Silver.