Whether cattle producers like it or not, they're likely to hear a lot more about the need to develop standards to demonstrate their industry's environmental, animal welfare and ethical credentials to the voting public in coming years.
A few years ago most in the cattle industry had barely heard the term 'social license to operate'.
Now it dominates conference agendas and supports an entire industry of experts who have positioned themselves to offer advice on what industries need to do to justify their ongoing existence to the general public.
These developments are often met with understandable levels of cynicism from producers, who see little more ahead for their businesses than further layers of costly and time-consuming paperwork for litte more reward than continued access to existing markets.
However, the message from several speakers at the recent Northern Territory Cattleman's Association was simply that, whether producers like it or not, the world is changing around them, and their industry needs to keep pace with changing community expectations if it is to survive.
Corporate strategist Katherine Teh White said practices that were acceptable five years ago may no longer be acceptable today, and if not addressed, can result in the loss of public support for an industry, or, in other words, its "social license to operate".
The obvious example was the public outrage generated by the May 2011 ABC Four Corners' expose of Australian cattle being mistreated in Indonesian abattoirs, and the subsequent public campaigns that followed calling for a permanent ban of the trade.
Faced with changing community expectations, the live cattle export industry had two choices, Ms Teh White said: "You can either sit tight and wait and hope you can continue to make as much money as you can until the industry dies a natural death, or you can choose to revitalise that industry and actually get it to be ahead of the curve and create a future-proofed industry."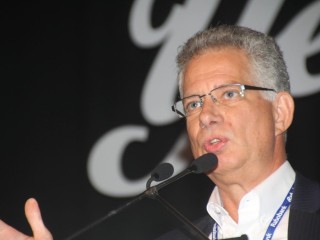 International standards expert David Horlock, who followed Ms Teh White on stage, urged the Australian cattle industry to proactively develop standards that demonstrate its environmental, animal welfare and ethical credentials 'before someone else sets standards in its place'.
Immediate past-NTCA president Rohan Sullivan said following Mr Horlock's address that there were already signs of this happening: "Standards are quite relevant to us given the discussion paper just out about Global Roundtable for Sustainable Beef, which is another example of standards trying to be imposed on us, rather than us setting our own."
Mr Horlock said the Australian cattle industry must protect its brand which meant that it had to understand its hidden supply chain risks and develop standards that allow it take control of its supply chains in foreign markets.
"What you don't see, you don't know, what you don't know, you can't manage," he said.
"Social license to operate is becoming increasingly important as transparency and globalisation accelerate."
When the first generations of international standards were developed, such as the ISO 9000s, they were focused on technical product specifications and on processes required to consistently achieve high standards of production.
However, today's changing societal demands had given rise to a new generation of standards related not to product or process attributes, but simply to 'behaviour'.
These included social, ethical, environmental, security-based and even spiritual parameters.
"This is where it is getting tricky," Mr Horlock said. "It is not about products or processes but about organisational behavior, values, ethics and animal welfare.
"You can't test a product and say are you ethical or are you animal welfare.
"(However) Good companies today know that if they are going to succeed going forward, they have to have all three types of standards – product standards, process standards, and behavior standards."
Mr Horlock, who's career started in agribusiness, said the Australian cattle industry had a very good story to tell, but that good story was not being told.
"In your industry there are a lot of things in terms of aligning your values with the entire supply chain: land usage issues, pastoral practices, animal husbandry, breeding, religious issues, climatisation, feeding, co-shipment management, chain of custody issues…
"There is a whole heap of things to do there and there is a lot of good stuff being done in Australia, but you know what? It is not being communicated.
"When your train crash happens and you can't tell your supply chain story, you know what happens? Someone else will tell it for you, and they won't talk about the good stuff, they will talk about the bad stuff.
"If you can't tell your story you can't defend yourself."