Independent analyst Simon Quilty pulls apart China's recent triggering of its safeguard tariff on Australian beef, and ponders what it means for Australian exports now and into the future
ON August 17, China invoked the safeguard duty on Australian beef , which has resulted in duties increasing from 6pc to 12pc for boneless beef entering China for the balance of 2019.
This has come about due to Australia's large shipments beef exports this year to China which has resulted in beef entries into China reaching the safeguard threshold of 174,454 tonnes for the second time since the China-Australia Free Trade Agreement (ChAFTA) was established in 2015.
Australia has been shipping at a steady rate into China for most of 2019 with average monthly shipments of 20,000 tonnes (shipped weight), but in recent months this has increased to 28,000t per month.
If these shipments had remained unchecked Australia's total exports would have exceeded 254,000t by year's end, well above the quota safeguard level. But now that the safeguard has been triggered, I am expecting this rate of beef shipments to slow down. What is unclear is what impact this additional 6pc duty will have on Australia's competitiveness in China.
In the summary below I have tried to outline how the global beef markets might respond to this safeguard imposed situation.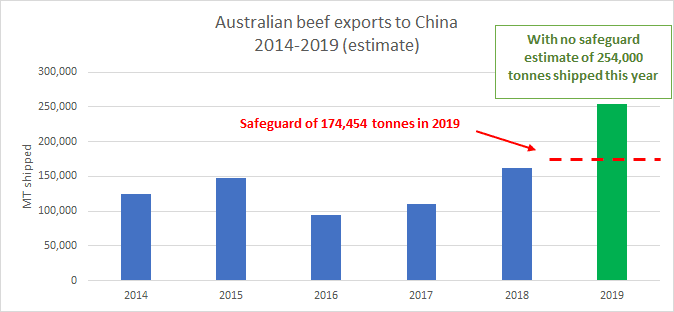 It is important to note that this is a discretionary safeguard and should China have decided not to invoke this duty, Australian shipments could have remained at 6pc tariff. I had originally written this paper in early July and was asked not to publish my analysis as it was feared this might bring undue attention to the safeguard. Behind the scenes, Australia's trade negotiators plus AMIC and MLA were trying to seek an exemption on the tariff. Unfortunately this was to no avail.
A self-fulfilling prophecy
In the last two months the general perception among Australian exporters and traders was that the safeguard would always be invoked, and to me this led to an increase in shipments of close to 28,000t for July and August as Chinese importers scrambled to get product in before the trigger was met.
As I have often seen in the past with similar safeguards in other markets, the 'filling' of the threshold becomes a self-fulfilling prophecy, as the anticipation of meeting the threshold sees importers accelerate shipments as they try to beat the increase in duty. China's importers did exactly that.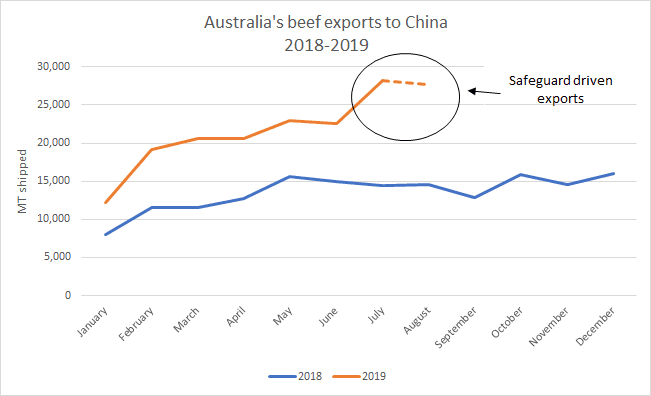 History of China-Australia Free Trade Agreement
The China-Australia Free Trade Agreement started in December 2015 and was overseen at the time by Australia's Minister for Trade and Investment Andrew, Robb. Since its introduction, the safeguard was triggered once late last year whereby the threshold of 170,000t was met on December 27. This had little or no influence on the market given there was only 4 days of the higher duty before resuming back to the 6pc duty for 2019.
It should be noted that the beef safeguard is discretionary and does not include offal. The safeguard increases over time and started in 2017 at 170,000t, and this year is set at 174,454t and has a staggered incremental increase as per the table below.
Under ChAFTA, beef import tariffs of 12-25pc will be eliminated by January 1, 2024 where tariffs become zero and beef offals duty of 12pc will be gone two years prior by January 1, 2022.
Tariffs on chilled beef carcases are at 10pc and for frozen beef carcases at 12.5pc. Both of these will double should the safeguard be triggered. So far only 2pc (2691t) of shipments have been carcases with almost all being frozen.
Sheepmeat tariffs for Australia into China also exists at 6.7pc with the base rate tariff of 15pc being eliminated by 2023, and they will also go to zero.
What is important to note is that the safeguard levels remain in place until 2031 – and should the safeguard be triggered at any point post 2024, the tariff reverts to 12pc on all meat types and 20-25pc tariff on frozen carcases which all come under the Most Favoured Nations (MFN) tariff schedule. The safeguard is removed after 2031.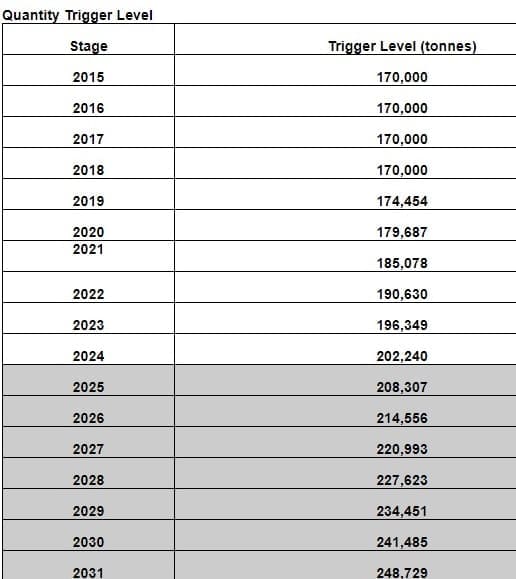 It could be argued that the impact of this triggering is far more dramatic in five years' time, in 2024, when these new arrangements come into play and therefore far more disruptive to the global beef markets with 12-25pc changes in pricing expected from zero tariffs.
What do our competitors pay in duty and are there any other safeguards?
No other beef export country to China have safeguards like Australia, but many of them pay a higher tariff with the exception of New Zealand and Costa Rica which pay zero tariffs on boneless beef.
Brazil, Uruguay, Argentina and Canada have a 12pc tariff on all meat types and 20-25pc tariff on frozen carcases, which all come under the Most Favoured Nations (MFN) tariff schedule.
To put this in perspective, in June this year the China beef import market share was as follows: New Zealand's share was at 15pc (zero duty), Australia was at 17pc (duty now at 12pc after being at 6pc), and Brazil, Uruguay, Argentina and Canada had a combined market share of 65pc (all at 12pc duty).
June 2019 China beef import chart – suppliers market share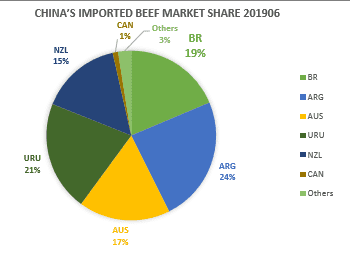 What's likely to happen for the balance of this year? Potential scenarios
There are several scenarios that I believe could happen this year, now that the safeguard has been triggered with duties at 12pc for boneless beef and at 20-25pc for chilled and frozen carcases for the balance of the year.
Chinese importers absorb the duty –
Given the duty increase is only from 6pc to 12pc on boneless beef this would imply an estimated extra cost of A25-35c/kg on items worth 550-600c/kg. The market price movements in recent months have been far greater than the cost of this additional duty and many Australian beef exporters believe that Chinese importers will absorb the duty, with little or no change to the market. This is particularly likely if the item is in short supply and/or demand is strong.
Australia's beef supply tightens dramatically –
There is growing belief among market participants that Australia's beef production will pull up in September – with or without rain – as the impact of the drought and the decimation of the Australian herd takes effect. This would take the pressure off the need to export to certain markets and in particular cow meat is likely to become tight at some point here.
My forecasts on the impact of drought-breaking rain on Australian production I believe would see a 16-20pc fall in output in the first year, with cow meat being the product most adversely affected. This would once again take the pressure off exporting to certain countries which would include China and may see Australia not fill the China safeguard threshold in 2020.
Chinese importers stockpile and avoid the additional duty –
This has occurred in other markets in the past whereby the economics make sense of holding product in a bonded warehouse for several months and entering the product on January 1, 2020 when duties go automatically back to the lower level. This might be more attractive on higher-priced items like middle cuts, whereby the additional duty has a much greater dollar value with importers potentially willing to pay the lower duty on low priced items. This type of strategy is likely to be used on an item-by-item basis.
The higher duty on frozen beef carcases of 25pc could see this product go into a bonded warehouse due to a significantly larger percentage, it is highly unlikely that chilled carcases at 20pc would be held in bonded warehouse due to the limited shelf-life and the sensitive nature of the product. As stated earlier, carcase beef exports make up only 2pc (2691t) of beef exports, with almost all of it being frozen, so the amount in bonded warehouse is likely to be very small.
It should be noted that next year's Chinese New Year occurs on January 25 and is two weeks earlier than this year's holiday time. The earlier Chinese New Year might see less willingness to hold product in a bonded warehouse as the timeline for distribution is much shorter if product is released only on January 1. Importers could enter product early and pay the duty to ensure an easier flow through the supply chain in the lead up to Chinese New Year.
Australian exports go via Hong Kong grey trade and avoid the duty –
There are no official import duties into Hong Kong, but imports that go to China have their own set of costs which could be deemed as an unofficial duty. Given the crackdown in the grey trade in the last 12 months and the heightened awareness of Australia now triggering the beef safeguard by China, customs officials are likely to be vigilant in preventing beef being smuggled. The large penalties that smugglers are now facing if caught act as a strong deterrent, and as a result I do not see this avenue of entry as a means to enter large volumes of Australian beef in order to avoid higher duty. The cost of holding Australian beef in bonded warehouses for direct China entry is likely to be cheaper and less risky.
Comment
With safeguards now invoked, I see a combination of all of the above scenarios occurring depending on the items and the strength of demand. With African Swine Fever having an enormous impact on China's domestic pork supply and the large demand that occurs prior to Chinese New Year, we are in uncharted waters in many respects as the market looks for other proteins like beef to fill the supply void.
If demand for beef is extremely high, then importers are likely to absorb the duty on cheaper items and ensure they are well covered for the January holiday season. Equally, I envisage on certain items they will held in a bonded warehouse and be entered in the New Year.
One thing is for certain: Chinese importers will do their homework on what the best economic outcome for them will be.
Potential beef carryover volume that would be deducted off next year's allocation
The impact of beef 'carry-over' is very important, as this might be the cause of continued triggering. Carry-over can occur through two means: firstly, by excess safeguard beef on the water prior to the official notice being issued, this meat will be entered under the old tariff, but this volume will be deducted from the following year's allocation.
I have estimated that this on-the-water carry-over based on an average voyage time into China of 18 days, could see 17,000-20,000t on the water that would be entered at 6pc, but will be deducted from next year's safeguard threshold of allocation of 179,687t.
Secondly, carry-over can be defined by meat held in bonded warehouses that would be entered after January 1, when the duty reverts back to the old level. This might see high value beef cuts and/or frozen carcases being held to avoid the higher duty.
The high-end items that might be held in a bonded warehouse until January 1 would be frozen grainfed items which would include Wagyu and Angus shortfed and middle-fed product. Frozen grainfed makes up 22pc of total China beef shipments and if assumption is 18 days voyage time, then shipments for the months of August-November would be potentially held in a bonded warehouse. So if shipments reverted back to 22,000t per month, this would imply potentially another 19,500t of high-value product held in bond, looking to be entered January 1, 2020.
Carcase shipments make up 2pc of total shipments –
Once again assuming August to November as the shipment period and 88,000t shipped would equate to 1760t of carcase product potentially shipped into bonded warehouse.
A combination of all these factors could see this year's carry-over beef as high as 41,000t, which is entered in 2020 and therefore deducted off next year's allocation of 179,687t. This would see the 2020 safeguard threshold effectively drop to 138,687t. At this level, I am sure it would be triggered again.
I think we must assume at least a 17,000-20,000t minimum carry-over based on what was on the water prior to the invoking by China and as stated a potential maximum of 41,000t. The ongoing triggering of safeguard until 2024 and beyond is potentially highly likely.
The impact over the next five years going from 6pc to 12pc is not dramatic, but after 2024 when we go from zero to 12pc on boneless beef and zero to 20-25pc on carcases, I think it will impact China and other global markets.
What's likely to happen next year with falling Australian production and higher US exports and potentially a new US FTA with Japan?
I believe there are two factors to watch for next year. Firstly, the big unknown is Australia's supply, with any industry participants believing that Australia's supply will pull-up in August. Next year's trigger level is 179,687t, and should the estimates be correct of a 16-20pc fall in Australian beef production. But in reality cow production might fall closer to 25-30pc which is an important part of China exports.
Australian beef exports to China would need to fall 40-45pc based on current shipments to avoid triggering the 2020 safeguard. This will not happen.
The second factor is the increased volume of US exports in 2020 due to larger US production and a potential US FTA with Japan. This might see US beef further displace Australian beef in Japan and Korea, and therefore push more Australian beef into China. Based on that scenario, with only a 15-20pc fall in Australian beef exports to China (based on this rate of shipment) I believe the safeguard would be triggered in 2020.
The China/Australian free trade agreement schedule states the following: "In the last stage of the application of a trigger level for the respective products as set out in Annex 2-B, the Committee on Trade in Goods will conduct a review of the special agricultural safeguard measure. If the review concludes that imports from Australia of the products of the products covered by the special agricultural safeguard measure have not caused serious injury to the corresponding Chinese domestic industry, then the special agricultural measure for the products will no longer apply. If the China Committee determines that serious injury has occurred, then a further review, as specified above, will take place six years later, every six years thereafter as required."
The safeguard access level is gradually increasing, but given the impact of ASF and the growing China demand for beef, Australia could avoid having the safeguard in future years being triggered if China chooses to do so, by proving Australia 'has not caused serious injury to the corresponding Chinese domestic industry'.
Given the invoking of the safeguard this year, then unfortunately I think this sets a precedent for future years which will be hard to change. US beef displacing Australian beef in other Asian markets in 2020 is a real possibility, that sees Australian beef flowing into China which will in part be offset by falling drought affected production but triggering next year I believe is inevitable.
What could be the flow on impact in other markets?
In the past, destinations like Korea, Japan and the US might have benefited from an increase in China tariffs, with product being diverted away from China and into the alternate markets at a slight discount. But in the case of only a tariff rise of 6pc, the need to ship away might be small or almost non-existent.
In the case of the US market, I believe China has formed a pricing floor in the grinding meat market with CFH 90s in the US215-225c/lb range (depending on who you talk to). This price floor might be lowered by the additional 6pc duty to US202-212c/lb but if this week's price action is any guide, US importers have started to chase Australian 90s and 95s higher, due to the lack of New Zealand lean meat in the market. Ssome short-term demand and the overall tightness of imported meat is unlikely to see this price floor go much lower.
Given that New Zealand's cow production season has come to an end, and the belief that Australia's beef production in August could 'hit a wall', this potential new lower US pricing floor may never occur without any critical cow meat volume available from Australia and NZ to test the market. Market behaviour this week and last week would confirm this view.
Conclusion
The fact that China did not waive the safeguard this year even with the enormous domestic deficit in protein due to African Swine Fever says to me that China is likely to continue to invoke safeguards over coming years as long as Australia's beef exports remain high.
If there is a large carry-over shipment volume it could acerbate the problem in futures years – the excess volume compounds with the next year safeguard allocation resulting in progressive years of triggering.
There is one last aspect of concern that I have not mentioned, and that is the anecdotal evidence of slow custom clearances in China, with estimates ranging from four days to six weeks. If an average clearance rate is three weeks, this could see a much larger pipeline of carryover product and could see an additional 15,000-20,000t added to the original carryover estimates of 20,000-40,000t ballooning out, and making the worst-case scenario being closer to 60,000t carryover and the best case scenario 40,000t.
The next six months of market behaviour will tell us much about what to expect next year and following years, on what is likely to happen each time Australia triggers the China beef safeguard.
The good news is that the worst-case scenario is it puts us back in line with our key competitors of Brazil, Uruguay, Argentina and Canada for a brief period each year. The bad news is that we lose our market edge to those four countries and that NZ and Costa Rica's market advantage over us becomes even greater.
The removal of tariffs in 2024 is 'bitter sweet', as it will be good for Australia to be on zero beef tariffs but the market disruption of triggering safeguards will become significantly greater. The bigger tariff difference of zero to 12pc and for carcases of zero to 20-25pc will incentivise Chinese importers to import quickly and perpetuate the self-fulfilling prophecy resulting in potentially years of triggering safeguard.
As said under this safeguard structure, the removal of tariffs in 2024 will be bitter sweet and 2031 can't come quick enough as far as I am concerned.