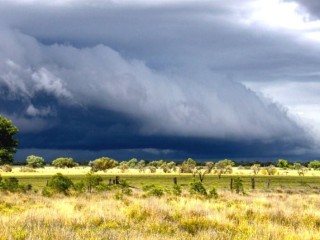 Australian is on the cusp of a major shift in rainfall patterns, according to climatologist, Professor Roger Stone.
Dr Stone, the director of the Australian Centre for Sustainable Catchments said the La Nina that brought wet and wild weather and extensive flooding to large parts of Australia over the past summer was now on the wane.
La Nina and El Nino patterns typically ran from autumn to autumn, and the wet La Nina pattern that emerged this time last year had now run its natural course and was rapidly fading away in the Pacific Ocean, Dr Stone said.
In fact, sub-surface temperatures in the tropical Pacific Ocean were now much warmer than normal at depth, which was almost the exact opposite of the situation at the same time last year.
A further indication of the La Nina's demise was the significant drop that had occurred in the Southern Oscillation Index, which had dropped from +29 to +2 in a matter of weeks.
"Drops of this nature can be very significant if they occur at this time of the year," Dr Stone said.
"Based on this information, our rainfall projections are for a substantial shift downwards in probability values (the probability of exceeding the long-term median), especially for southern inland Queensland and inland NSW.
"At this stage the Central Highlands and NSW coastal regions still show reasonably high rainfall probability values – for the next three months anyway.
"However, this aspect may change as we get further into winter."
La Nina's are characterised by cooler sea temperatures in the central and eastern Pacific, and warmer than usual waters near Australia.
They drive stronger than usual tradewinds across the Pacific Ocean which triggers areas of low pressure and boosts moisture levels across eastern and northern Australia.