ABARES has released a new report this morning telling Australians that concerns about food security following COVID-19 generated panic shopping in supermarkets are understandable, but misplaced.
The ABARES insights report emphasises the point that Australia is one of the most food secure countries in the world, producing much more food than it consumes, and exporting around 70 percent of its agricultural production.
It also acknowledges that Australia does not produce "everything we like to eat however", and imports around 11 percent of the food it consumes by value.
These imports provide Australian consumers with access to manufactured food and beverages, different varieties of some items, and out of season fresh produce, which help to meet consumer preferences for taste and variety, ABARES Executive Director Dr Steve Hatfield-Dodds said.
Australia also imported some agricultural inputs such as soybean meal, which was mixed with Australian grain to produce poultry feed.
"This allows the domestic industry to specialise and control input costs while taking advantage of higher income generating opportunities in national and international markets," the report said.
The recent disruptions to international supply chains triggered by the COVID-19 issue have resulted in temporary shortages of some imported products, but this was a temporary result of logistics "taking time to adapt to the large unexpected surge in purchasing", and not an indication of food shortages.
The report comes as farm organisations criticise some mainstream media reporting for "reckless scaremongering" and spreading the misleading notion that Australia could run out of food during the COVID-19 crisis.
"Food security is one thing Australians don't have to worry about", National Farmers' Federation President Fiona Simson said.
ABARES points out that the seasonal outlook for the autumn of 2020 is positive, providing the basis of a recovery in Australian crop production and allowing for rebuilding of sheep flocks and cattle herds.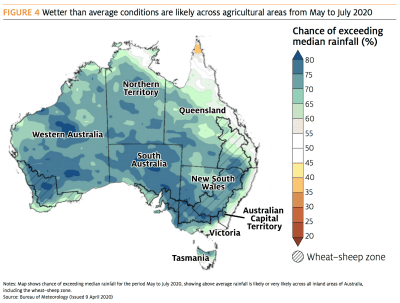 Australia's agricultural exports acted as "a shock absorber", the report explained, keeping domestic food supply stable.
"Australia is a net food exporter, including in severe drought years, producing more food than required for domestic consumption.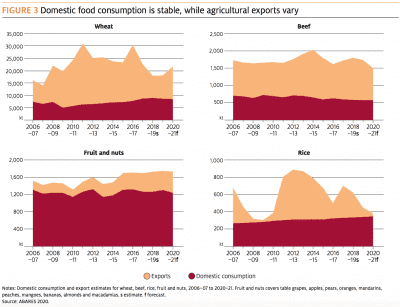 "This results in domestic consumption remaining stable while exports vary, absorbing the ups and downs in annual production associated with Australia's variable climate and seasonal conditions."
The latest ABARES Insights paper, Analysis of Australian food security and the COVID-19 pandemic, is available here
But don't ignore the 'hard lessons of history'
While consumers are being assured short-term food security is safe, long-term observers of Australian agriculture are also calling on policy makers not to take food security for granted.
In an article on his Global Farmer website this month, veteran agricultural professional and independent commentator Roger Crook paints a stark picture of just how reliant Australia's agriculture sector is on a 'just-in-time' supply chain of internationally sourced inputs.
Australia currently holds less than 30 days' supply of petrol and is heavily reliant upon the Strait of Hormuz, a flashpoint of recent tensions between the US and Iran, and the South China Sea, currently the centre of aggressive Chinese territorial claims, remaining open.
He also draws attention to the lack of value-adding of agricultural product in Australia today, while increasingly large volumes of cheap food is imported from countries that subside their farmers to produce food.
This includes $800 million of pigmeat each year, $690 million of cheese, $639 million of coffee, and $1 billion worth of biscuits, cakes and pastries, among others.
Imports that he argues could be produced by Australian agriculture and a home food processing industry, backed by a policy setting that equates food security to national security.
"The majority of the $18 billion we spend on food imports could be produced and processed right here in Australia and our food exports wouldn't be affected."
"There is no doubt that Australian food producers could once again produce and process all the food that is needed to feed the current and future population of Australia.
"Whether the Australian government and the people have the will, fortitude, money and commitment to the secure the future food independence of this nation remains to be seen.
"Our future food security is of national importance and we must address the problem now."
See his article The Hard Lessons of History on the Global Farmer website here.