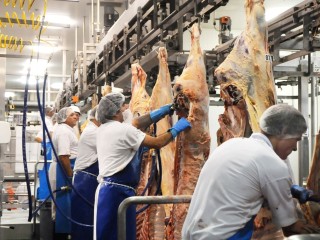 One of the interesting facets to Australia's growing beef trade with China has been the strong growth in demand for carcase beef from the market.
Australia has not exported large volumes of bone-in carcase beef since the days prior to Korean market liberalisation in the mid-1990s, when the Korean Government routinely released tenders for the import of frozen quarter beef.
However the emergence of China as a developing export market has seen interest in carcase beef re-surface, with exporters reporting daily inquiries from customers looking to import bone-in product that can be further processed upon arrival in China.
Meat & Livestock Australia China region manager Andrew Simpson said the trend was being driven by a lack of local cattle supply in China and a severe under-utilisation of existing processing and boning room capacity.
Operators with boning rooms were seeking imported carcase beef, either chilled or frozen, to keep their facilities running at viable throughput levels..
"They are trying to retain their staff, and obviously keep capacity," Mr Simpson explained.
"So our carcases are feeding into their plants, they are boning them out and sending them out into their supply chains, where it becomes a complement of local beef."
The higher price available for local beef compared to imported beef was a further key driver behind importer interest in carcase imports.
Many were calculating that there were good margins to be made by importing carcase beef, even given the higher cost of shipping quarter beef compared to boxed beef, because of the lower costs of processing in China and the fact that product processed in China could be sold as higher priced local beef.
However, an expert from Sanger Australia told Beef Central that while those perceptions were understandable, in reality many importers were finding that yield losses were offsetting the predicted gains.
In terms of shipping costs, Sanger Australia director Stewart Hanna said the greater efficiencies in shipping boxed beef compared to carcase beef was reflected by the fact that most shipping containers can typically handle 24-28t of carton beef versus just 21-22 tonnes of quarter beef.
That translated to higher shipping costs for quarter beef in the order of 2-7c/kg.
However losses from yield during the thawing process were one of the biggest impediments.
"What we're finding with a lot of the users up there is that when you get frozen quarter beef in, and then you thaw it out, your yield loss compared to boning out fresh bodies is enormous," Mr Hanna said.
"We're finding there's a lot of one and two and three time buyers of quarter beef who are saying it doesn't really work for me, and they go back to the boxed beef option.
"It is a good thought, but the yield loss that they have after defrosting and then boning something out is probably not the value that they thought they were getting."
Despite those experiences, Mr Hanna said demand for carcase beef was still running strong.
Of the 10 or so inquiries being fielded by Sanger Australia from China every day, about half were coming from customers requesting quarter beef, he said.
While the trade in carcase beef is gaining momentum in China, there is no expectation it will rival or overtake the trade in valued added boxed beef.
Official export statistics show that of the 15,000 tonnes of Australian beef and veal exported to China during July, 2037t was exported in carcase form.
In addition to lower shipping efficiencies and carcase yield losses when handling frozen product, Mr Simpson said supply chain and infrastructure limitations also impacted on the equation.
Carton beef could be moved far more quickly in and around China than carcase beef, which is largely restricted by cold-chain infrastructure limitations to east coast destinations alone.
Mr Simpson said there was also a limit to the number of boning rooms in China that could handle frozen carcase beef. Most boning facilities in the country were built to process live animals and do not have the thawing capacity needed to process frozen imported carcases.
However, Mr Hanna added that if greater investment was to be made by Chinese importers and processors in equipment that can improve yields in the thawing process, a sustained carcase beef trade was definitely foreseeable. Some Chinese boning rooms had already made such investments, he said.
Price factors aside, Mr Simpson said carcase beef exports provided some additional complementary benefits at both ends of the trade.
Carcase product allowed Chinese importers to earn value from on-marketing bones, which are in high-demand in Chinese cooking. A carcase export trade also allowed Australian processors to slaughter more cattle than boning room capacity limitations would normally allow, by providing the option to export excess bodies in quarter-beef form.
The advantages afforded by increasing kill floor throughput beyond the limitations of local boning room capacity, and the associated decrease in overhead costs, was considered one of the key benefits during the early days of the development of the Japanese and Korean markets, when high-volume carcase exports to those markets were in full swing.