Minister for Agriculture David Littleproud has again called on animal activist group Aussie Farms to pull down its map of Australian farms after a business on the map was broken into.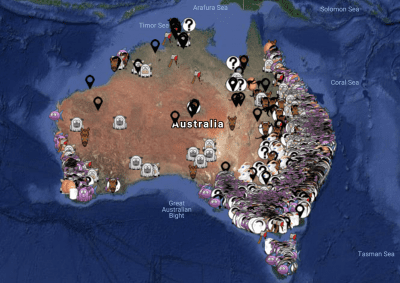 "I said the Aussie Farms map was an attack map for activists and I was right," Minister Littleproud said.
"A piggery on the map has now been broken into by animal activists who have broadcast their illegal activities on Facebook.
"The safety of farming families and their children is at risk here.
"If this activist attack map remains online, I fear someone will be seriously hurt or worse.
"Nobody would like their family home address being broadcast to the world and especially not next to information which is wrong in many cases.
"I think the truth is the Aussie Farms organisation know full well their map is being used to plan attacks on farming family businesses and they're fine with that.
"They've lost sight of their cause and lost community support and must stop intimidating farming families.
"Aussie Farms should stop being so wreckless and pull the farm map down before someone is killed.
"Bill Shorten must condemn this group and this map. Bill Shorten must call this out before the worst happens. Labor voting against drought support is one thing but saying nothing about a map which displays the addresses of Australian farming families – often with incorrect information about the farm – is something else.
"Following a recent Queensland case in which a trespassing animal activist got a $350 fine for her third offence, I also call on the states to beef up their trespass laws."
WAFarmers welcomes action, plans "calm the farm" meeting
The West Australian reported today that the vegan activist James Warden who livestreamed to Facebook from the Pinjarra piggery on Sunday night, and who was responsible for a string of anti-meat protests in WA in recent months, has been charged with trespass.
The report said WA police had arrested  a 25-year-old man early this morning when a search warrant was executed at his home, and he had been charged with two counts of trespass, which included another incident in Mundijong on February 6.
In a statement released this afternoon WAFarmers said it was pleased Western Australian authorities had taken appropriate action over extreme behaviour by animal activists.
WAFarmers President Tony York said it was good to know trespass laws in Western Australia were applicable.
"We hope that this will deter further brazen attacks on farming businesses," he said.
"We are supportive of the law taking control over these situations and are encouraging our members and the wider agriculture community to remain calm and call the police if they become aware of any alarming behaviour on their properties by activists.
"This action by authorities should give farmers confidence to go about their daily business without interference, knowing the law can be applied and used to protect businesses, homes and families against extreme activist behaviour.
"The agricultural industry has been lobbying State and Federal politicians in recent weeks to help stamp out this type of activist activity.
"Australian farmers want to be world class leaders in food production and the recent spate of activist attacks is very unwarranted."
WAFarmers will be holding a 'calm the farm' meeting in Harvey in the South West on Thursday night, to discuss ways to deal with activists and to make farmers aware of their rights. This meeting is open to all farmers. Media is welcome to attend the barbecue before the meeting and stay after the meeting to speak with farmers and WAFarmers representatives.
Source: Minister for Agriculture, WA Farmers