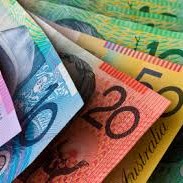 The Aussie dollar hit a record high for 2014 overnight, reaching US91.76c after closing yesterday at US91.23c.
It is currently at a level last seen on November 25, and has reached its highest mark since the US Federal Reserve began reducing its bond-buying program last year.
The A$ received a boost on Monday night on expectations Beijing could soon step-in and offer new stimulus to the Chinese economy. That momentum has been retained over the past 24 hours, analysts said. One analyst said if the local unit ended the week above US90.77c, it was primed for a return to "the US95c area."
The currency has not been that high since October last year.
Also assisting the Australian dollar was improved optimism on markets, with European and US stockmarkets marking a sharp turnaround from two days of losses with gains of about 1 percent. The strength carried through to commodity markets, with strong lifts in the price of copper and iron ore another key reason for the A$ strength.
Despite an article in the Financial Times talking down Australia's prospects as the China economy slows, the A$ was once again one of the best performing global currencies overnight, National Australia Bank's Spiros Papadopoulos said this morning.
NAB global head of research, Peter Jolly said the 'Aussie' continued to silence its critics'.
''Had anyone been told beforehand that the China HSBC flash manufacturing PMI was going to fall again, and to almost point below consensus expectations, few would have picked the A$ to have been one of the top performing currencies on the day,'' Mr Jolly said.
He said much of the rise in the A$ came from US dollar weakness, which slipped against all G10 currencies.
The currency's persistent strength could prompt the Reserve Bank to try to weaken the dollar, through lowering interest rates, ANZ chief executive Mike Smith said in an interview with Bloomberg on Tuesday.
The dollar hadn't declined along with commodity prices, in spite of the currency's links to raw materials, Mr Smith said.