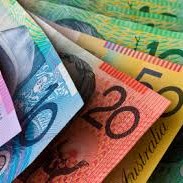 THERE was another big fall in the value of the Australia dollar overnight, descending to levels not seen since August, 2010.
The A$ fell almost US1c after yesterday's labour force data, which showed employment falling by 22,600 in December, 10,000 more than expected by the market.
The national unemployment rate remained unchanged at 5.8pc, due to the participation rate (the number of individuals seeking work) falling to a seven-year low of 64.6pc, from 64.8pc in November.
"We expect to see labour market conditions deteriorate further in coming months, putting pressure on the RBA to cut interest rates again mid-year," National Australia Bank currency analyst Spiros Papadopoulos said this morning.
The A$ traded near US88c for most of the overnight currency market session, falling to a low of US87.77c at one point – the lowest seen since August 2010.
It recovered a little this morning, to sit at US88.21c – still 8.3c, or 8.6pc below where it sat in late October. That shift has significantly improved Australian beef's competitiveness on international markets, with 90CL grinding beef into the US quoted at A470.1c on Friday – the highest figure seen in at least four years.
Mr Papadopoulos said the US dollar index was still near 81.0 this morning, despite some volatility around the US data releases. The A$ had been the weakest performing currency over the past 24 hours, but was relatively stable this morning.