Cattle trading activity on the AuctionsPlus online marketing platform went close to a record during February, driven by  strong market prices and demand for store cattle across Eastern Australia.
Total turnover in commercial and stud cattle for the month reached 37,191 head, second only in monthly turnover to April, 2011 when 37,429 head were transacted.
The effect was seen also in AuctionsPlus sheep trading, also the second highest on record at more than 255,000 head.
What's driven it?
"Primarily, market movements," said AuctionsPlus market operations manager Anna Adams.
"A good start to the season shifted focus to restocking, and vendors are recognising that AuctionsPlus is the best place to be on a rising market," she said.
January through early February saw record prices for feeder and backgrounder cattle being paid, as expressed in the Eastern Young Cattle Indicator hitting a peak of 451c in early February, before starting to ease again as conditions again started to turn dry.
"The earlier rain boosted prices across all stock categories. Live exporters competed with (and regularly outpriced) feedlots and processors," Ms Adams said.
"Those with breeders to sell were able to take advantage of a larger bidding audience on AuctionsPlus to attract a premium price. Mixed age lines out of Queensland were the biggest surprise, regularly fetching well over $1000 for PTIC females 3-12 years, or cows with calves at foot."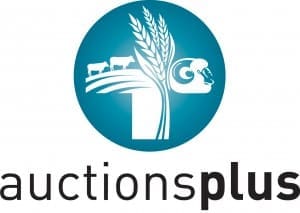 The AuctionsPlus platform's implementation of targeted weaner and breeders sales during January February also gave producers added 'incentive' to try a new marketing tool, Ms Adams said.
"And with the protection of their reserve price, they have had the opportunity to become price makers," she said.
"AuctionsPlus has also been proactively providing more assistance and guidance to assessors in relation to marketing, and improving the quality of assessments has led to increased buyer confidence."
The big sales recorded in February saw a sharp rise in catalogue numbers out of Queensland, and those that had been fortunate enough to hold some breeders until the market recovered were well rewarded. Sales have shown plenty of evidence of cattle from Queensland heading down into NSW, or from central/north Queensland into more southern regions of the state.
Producers in NSW who traditionally turn off weaners earlier than the usual autumn selling season also utilised the system heavily over the past two months. Those cattle were significantly heavier than most of the weaners that were being sold at the same time last year, which were primarily being turned-off earlier than planned and at lighter weights due to the season.
Promotion of specialised AuctionsPlus weaner sales led to increased numbers of calves out of the south, particularly those that did not quite fit into the timeframe of the big physical sales.
"They were willing to try something new," Ms Adams said.
Through January and early February prices held up well even with bigger numbers being recorded, however by mid-February without follow up rain in the north, prices started to ease in most categories across all physical and auction channels as supply started to outweigh demand.
For slaughter cattle, kill space bookings started to stretch out again by late February, as identified in Beef Central's regular weekly kill report.
The trend again demonstrated AuctionsPlus's ability to penetrate a buyer audience footprint well beyond that of physical saleyards, while greatly reducing marketing cost.
Quality Brangus, Charbray herd dispersal will test market
An excellent test of the current breeder replacement market across Eastern Australia will be seen on Friday, when a large catalogue of quality Brangus and Charbray type breeders, many with calves at foot, will be marketed via a special sale on Auctions Plus.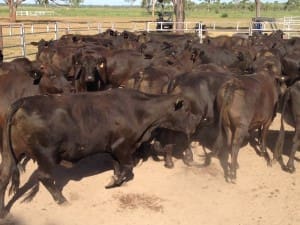 The sale, comprising almost 1200 breeders and including about 700 composite calves at foot, plus used herd bulls, is account Tony Menkens and family, trading as Saltwater Grazing Collinsville.
The Menkens' earlier sold their Myuna Station outside Collinsville to mining interests. The sale is being coordinated by Tim McHugh from Hogan & McHugh, with support from Luke Westaway at Topex, Richmond.
Given the dry weather now being experienced across large parts of northern and central western Queensland, it's more likely that buyer interest for the Myuna will come from areas further south, marketing agent Tim McHugh said.
"We'd expect to see interest from those areas with good feed through areas of the Central buffel country, through to the Maranoa and Burnett and Downs  regions," he said. "They're the ideal type of cattle to come on the market for restockers in those more southern areas of Queensland."
The sale will include 1191 well-bred cows, drafted into even lines by weight and breed type.
Some of the big, framey cows were over 700kg liveweight when they went over the scales as part of the recent assessment, in forward condition.
The Brangus portion of the offering has been drafted into three lots of cows and calves, two lots of PTIC cows and a group of empties. Calves range on age from a month to five or six months.
They include:
57 younger Brangus cows and calves (cows three years or less) accounting for three decks
two lines (each 108 head or six decks in size) of older cows and calves (cows 4-14 years)
88 PTIC Brangus cows, 4-15 years
54 PTIC cows 3-5 years
72 empty Brangus cows. A percentage of these that were not detectable can be expected to be in calf.
The Charbray offering will include:
a line of 76 cows and calves (cows 3-5 years),
66 cows and calves (cows 4-15 years),
260 cows and calves, comprising 15 decks in one line (cows 4-15 years)
110 PTIC older cows and 70 PTIC cows 3-5 years
66 empty cows.
The steer portion of the Myuna turnoff was sold last year, with 1000 young steers and heifers going in a private sale to Consolidated Pastoral Co. About 260 heifer progeny of some of the sale breeders being offered on Friday were sold successfully on Auctions Plus recently, making around 260c/kg.
Over the years, many of the young turnoff cattle from Myuna have gone through long-term supply relationships to Jason Shearer-Smith's Smithfield feedlot near Proston, who rates the cattle highly for feedlot performance and quality.
The sale will also include 27 good quality Brangus herd bulls, ranging from three years of age, to be offered either singularly or in groups of three.
The Charbray descriptions trace back to earlier Brangus genetics with the first Charbray bulls introduced to Myuna in 1998. Much of the Brangus genetics has come from BBB Brangus Stud near Dingo (mostly American genetics) with Charbray genetics from a range of noted Central Queensland studs.
The cattle have been treated with a pour-on in the past fortnight, and will be ready to travel into clean country after a second tick treatment if required.
The Myuna herd dispersal will take place as a special sale on Auctions Plus this Friday, March 27, starting at Noon Queensland time, 1pm NSW time.
A full assessment will be available on AuctionsPlus, including photos and video, tomorrow.