AuctionsPlus has made an internal appointment to find its new chief executive officer, appointing Angus Street to the position, effective from tomorrow.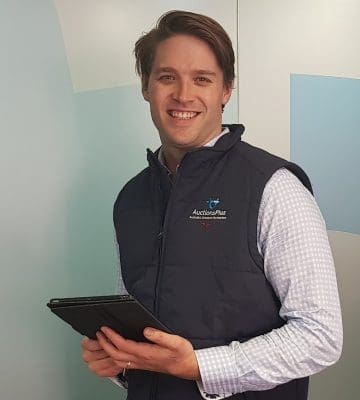 Mr Street, pictured, has been a key member of the AuctionsPlus executive team since early 2017 and will take over from acting CEO Ken Salan, who has led the organisation during the leadership transition over the past fortnight, since Anna Speer's departure.
AuctionsPlus chairman Mark Allison said Mr Street was chosen in a competitive selection process from a strong field of candidates.
"He is a leader known for his collaborative leadership style and his ability to translate strategy into practical solutions," Mr Allison said.
"Mr Street knows every inch of the AuctionsPlus platform and has fantastic rapport with our national customer network. He is a champion of the AuctionsPlus culture and we are excited to enter our next chapter with him leading the team."
The appointment follows the recent departure of Anna Speer, who resigned in June to accept a position with the Australian Agricultural Co, as chief operating officer.
As the national online marketplace, AuctionsPlus now facilitates the exchange of $830 million worth of livestock sales annually. In the past 12 months the platform has transacted 390,000 commercial cattle and 2.9 million sheep, assessed by 790 accredited assessors.
"It is a privilege to be part of an organisation that delivers high quality services and innovative solutions, develops the most talented professionals into leaders and does its part to improve the sectors in which we operate," Mr Street said.
"We are an organisation led by a purpose – to connect and empower assessors, buyers and sellers nationally through simple technology that redefines livestock trading now and into the future. I am excited to work with our wonderful team that support the trusted livestock marketplace, drive value in our customers businesses and continuously evolve our technology solutions," he said.
Source: AuctionsPlus