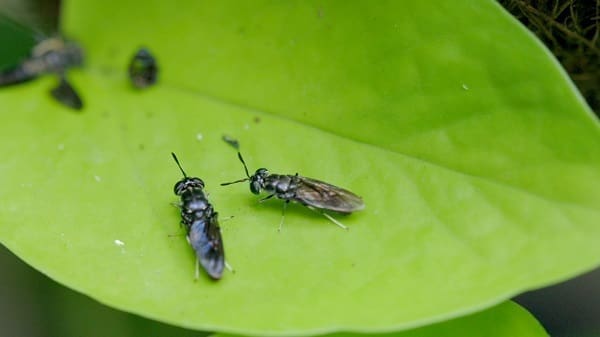 THE head of a research hub looking into the viability of insect farming says there is potential to use insects in cattle feed – however, it will take extensive research to make sure it is safe for consumption.
Duncan Rowland has broad experience in the livestock feeding industry, working and managing feedlots, Animal Health Australia, Livestock Biosecurity Network and is currently with the Stock Feed Manufacturers' Council of Australia.
He also has an interest in insect farming, recently being appointed as the chair of AgriFutures Australia's Emerging Insect Technology Hub – which has been set up to facilitate industry stakeholders, scientists, and investors in developing an insect farming industry in Australia and Africa.
Beef Central spoke to Mr Rowland about the potential of insect farming in Australia and what would be needed to create a meal to use in cattle feed. He said the main use was for poultry, aquaculture and pet food.
"We have a sustainability issue with our protein sources in Australia, we import 90 percent of our soybean requirements – most of that goes to poultry," he said.
"We need to move away from that type of product because it is costly to bring it in and we have an issue with food miles."
Long road ahead for feeding insect-meal to cattle
Insect farming has been creating plenty of interest recently with the potential to feed food scraps, reducing waste and creating a protein source at the same time.
However, the food waste aspect of insect farming is one of the main barriers to feeding insects to cattle after research found that using blood and bone as cattle feed was the likely cause of the BSE (bovine spongiform encephalopathy) outbreak in the United Kingdom in the '90s.
Australia's 'ruminant feed ban' was created in 1996 to protect the country from BSE, which bans meat products from being fed to cattle.
Asked about the possibility of feeding insects to cattle, Mr Rowland said insects had good properties for feeding to livestock – with more research needed to make sure it is safe.
"It is a good solid protein and the oil that comes out of it is huge in metabolisable energy – as long as you produce it to our Australian standards," he said.
"We are looking at 35pc crude protein for insects and the frass, which is the faeces, is somewhere around 28pc crude protein.
"But the meal is all about certification, we cannot have meat included or even touched by the feed that goes into the larvae of insect farms."
Mr Rowland said there was some preliminary research into making insects fit for consumption.
"There are trials being done around the world to look at the impact of insect-meal on cattle, but the work has not finished yet," he said.
"We would also have to change the legislation in some states to allow invertebrates to be fed to cattle."
Wide range of low hanging fruit for insects
While the research for cattle was underway, Mr Rowland said the insect industry was working through a surge in demand from other industries.
"The markets for aquaculture, poultry and pet food are enormous and they will be key to scaling up the industry," he said.
"As it stands the insect industry cannot supply enough product to those industries. We need to be careful about prioritising and the priority will be where the biggest quantities are required and financial margins.
"Then we will have a look at the riskier sectors, which are pigs and ruminants."