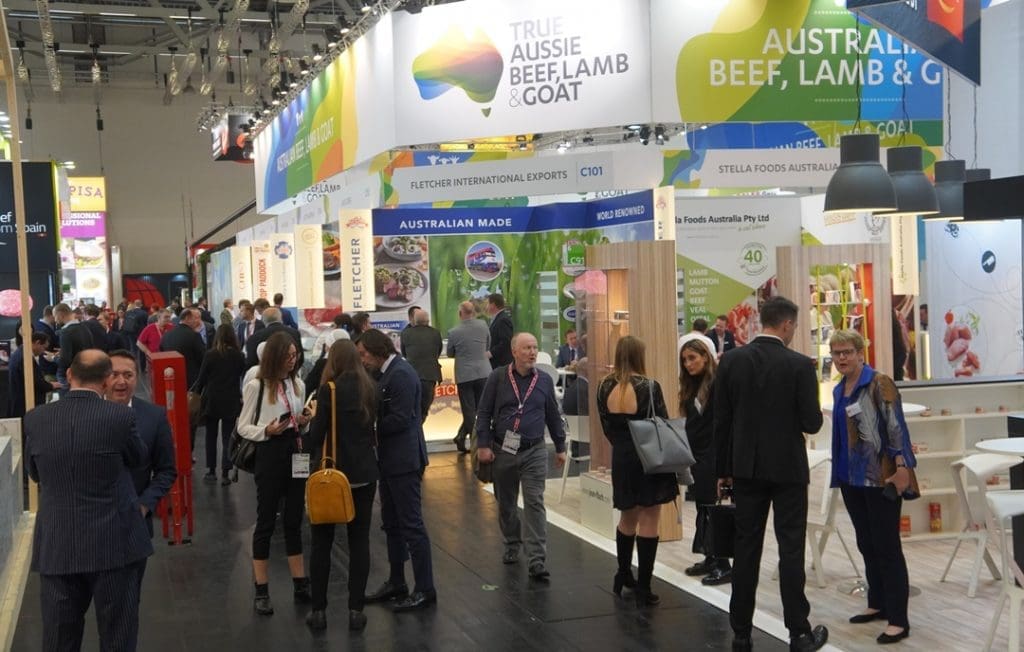 BEEF Central paid a visit to Anuga 2019, the world's largest food trade show held in Cologne, Germany every two years, during a visit to Europe this month.
The event attracts more than 170,000 trade visitors over five days, with a heavy emphasis on new product launches, consumer and retailing trends, and new market entrants, as global red meat trade barriers continue to dissolve around the world.
Among the 25,000 food and drink exhibitors from every corner of the earth were more than 1000 meat industry exhibitors from 50 nations, located in three vast convention halls.
Europe now represents arguably most competitive red meat market on earth, with various domestic producers from within the EU like England, Ireland, Scotland and Wales, France, Italy, the Netherlands and Spain jostling for customer attention beside non-EU exporters from across other parts of Europe, North and South America, parts of Africa and the Middle East, and the Asia-Pacific region including Australia, New Zealand and Japan.
Meat & Livestock Australia mounted a substantial Australian red meat presence, supported by about 15 beef, lamb and goatmeat exporters from across the country. Other Australian red meat supply chains were in attendance at Anuga, but chose to support their European importers' own trade stands.
Feedback from Australian exhibitors suggests that Anuga is not just a 'Euro-centric' trade event, but attracts potential customers from right across the world, including the Middle East, China and other parts of Asia.
Keep a look-out for articles on red meat topics from Anuga in coming weeks.
Here's a quick snapshot of some of the key red meat trends we observed during our Anuga trade show visit… click on images for a larger view

Dry aging is bigger than ever
The popularity of dry ageing of beef products for premium market segments is showing no signs of abating, and in fact appears to be growing, if Anuga was any measure.
Dozens of company and country exhibits (pictured above and below) featured ever-bigger, better and more impressive dry-age cabinets, housing a range of bone-in loin cuts, quarters and entire sides of beef.
Across European cities like Florence and Paris, many beef-oriented restaurants now position a dry-age cabinet at their doorway, to entice customers, and flag the restaurant's commitment to quality red meat with a significant point of difference.
Any suggestion that dry ageing might be a short-lived 'fad' in Europe now appears long gone.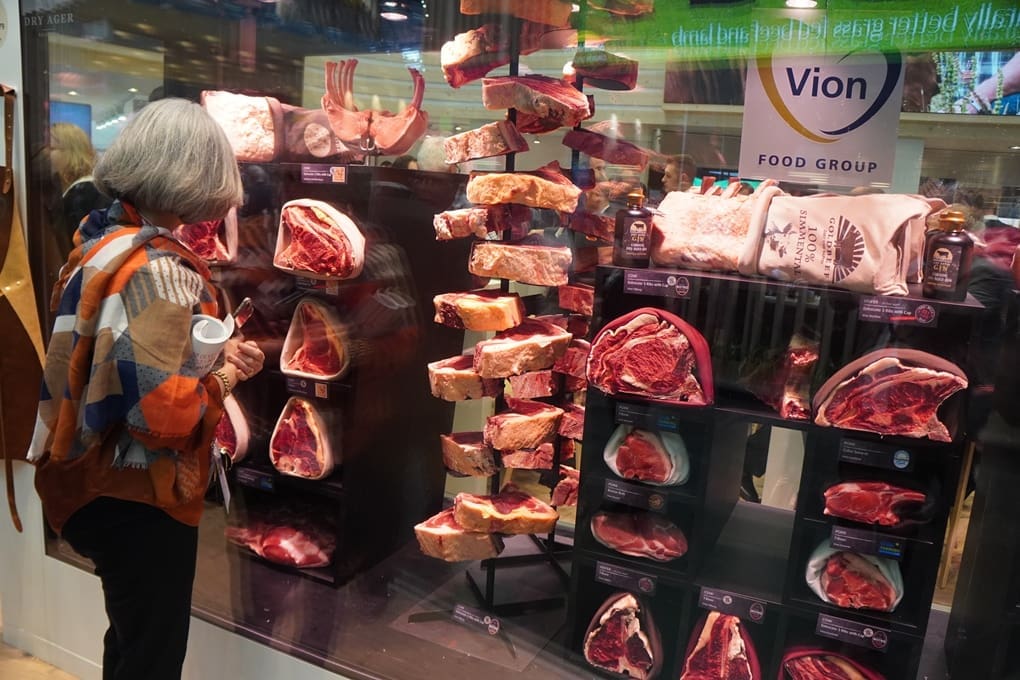 Meat alternatives market is exploding
Unquestionably the single biggest trend seen in the cavernous 'meat' exhibit halls at Anuga was the explosion in interest in plant-based meat substitutes.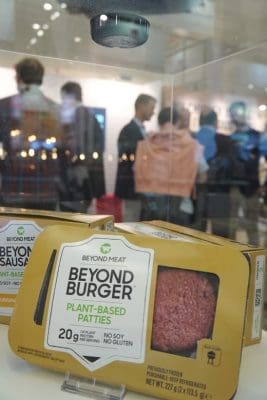 Vegan-based meat products built around vegetable, pulse or grain proteins were present in surprising numbers – including some being launched by conventional meat sales companies that are seeking to join the trend. While free product samples could be found on many meat exhibitors' sites at Anuga, the biggest queues and crowds were inevitably around the plant-based protein offerings, Beef Central observed.
Some conventional red meat exhibitors were clearly annoyed that the plant-based meat substitutes were allowed to be exhibited in the show's 'meat' precinct at all – again raising key questions about labelling and product description.
So how do the plant-based meat substitutes taste? Beef Central sampled perhaps a dozen, mostly presented as meat patties, sausages or meat 'bites.' Some were not at all convincing, lacking any real beef-like identity, and excessively salty. One or two were remarkably good, in terms of flavour and texture. Our pick was a product called Vegefarm beef 'chunks' designed for inclusion in stir fries, braises and soups, produced out of Taiwan, which was surprisingly close to the real thing.
So called 'flexitarian' products were also widely seen at Anuga – products like burger patties, meatballs and sausages that marry equal parts meat protein and vegetable extenders, aiming for more 'healthy' alternatives, with claimed lower environmental footprint.
Beef Central attended an interesting seminar at Anuga focussing on the future of alternate proteins – keep a lookout for a separate report.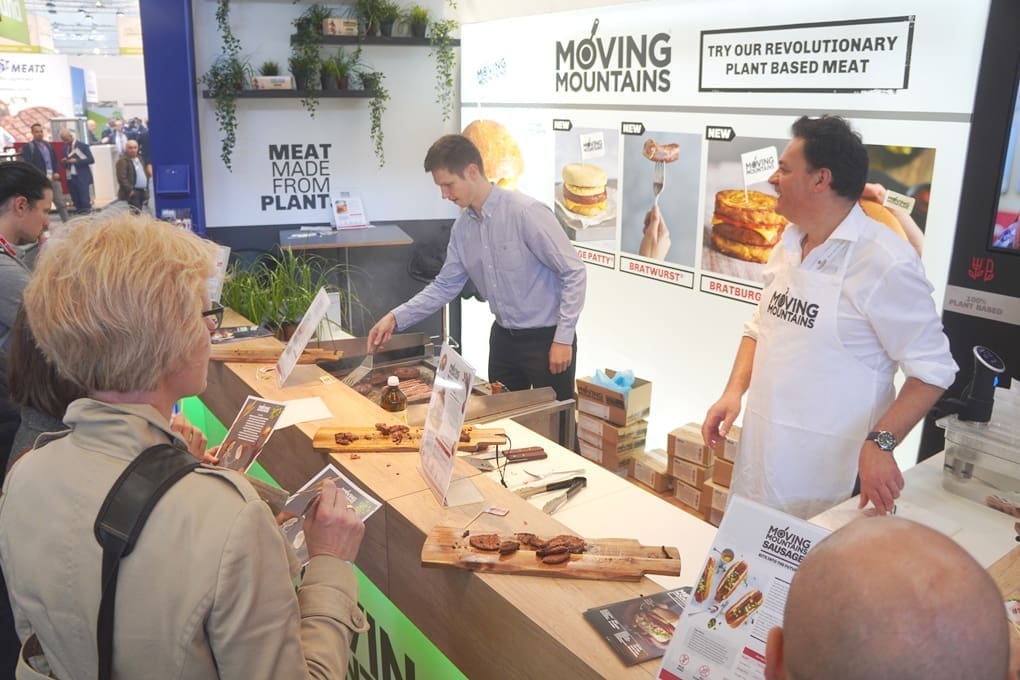 Sustainable packaging becoming mainstream
Europeans have a reputation for being years, if not decades ahead of Australia in approaches to packaging, especially as it relates to sustainability and the environment. Some packaged meat products carried separate 're-cyclability' claims for the product's outer packaging, the inner box or tray, and the skin film.
One of Europe's larger meat processor/distributors, ABP, launched new sustainable product packaging during Anuga, claiming a reduction of 70pc in the amount of plastics used to package its meat products. The packaging included a recyclable backing card coupled with thin film of peel-away plastic, with no impact on the shelf-life of the product. As well as the reduction in plastic, ABP's new packaging is lighter than the plastic tray it replaces; the card used is sourced from PEFC (Program for the Endorsement of Forest Certification) certified forests; the plastic film is easy to remove from the card for recycling; and the packaging has better presentation and is more attractive.
The China buzz
It was impossible to ignore the buzz at Anuga about growing trade into China – not just for beef, but meat protein products in general – in the wake of this year's African Swine Fever outbreak.
The fact that China is an HGP-free beef market means countries both within, and beyond the EU producing beef without HGP implants suddenly have another colossal customer with which to engage. Many supply chain managers said China had successfully bid HGP-free product away from European customers this year. With the addition of the UK last week, there are now 19 countries across the world eligible to consign beef to China, representing 286 beef plants.
A number of exhibitors, including Australian, had engagements with Chinese trade visitors during Anuga, either looking to establish business, or greatly expand existing trade. Offal was a popular topic of discussion, several said.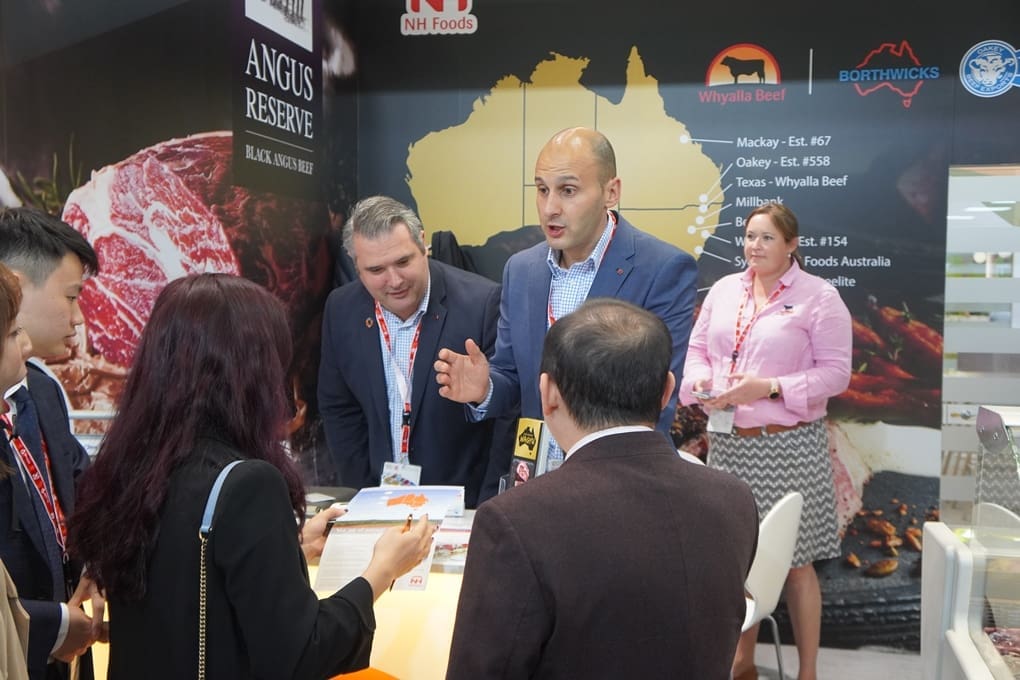 Age is no barrier
While Australia tends to apply a tightly-prescribed age formula to what constitutes quality beef, other countries are far more liberal in their approach. Anuga included displays from across the world of everything from milk-fed veal less than four months of age, to this Spanish regional specialty – beef (burgundy red in colour) produced from cattle ten years old or more, as indicated in the product labels below. While we did not get the opportunity for a sample, examples of Spanish ten-year-old beef from local breeds have earned gold medals in the annual World Steak Challenge held in the UK.
Traceability big feature
Traceability was a key feature in most meat protein exhibits at Anuga 2019, not only for beef, but also for pork and other proteins. Europe's individual animal passport system provides the tools for individual animal traceability if brand managers wish to apply it, and there were numerous examples of primals, both in fresh and value-added form, carrying identity back to a specific animal and farm. Some of these were backed by verification systems including QR code-accessed databases, providing information and even photos of the farmer/farm involved. Higher levels of traceability are more frequently appearing as part of the brand story behind premium meat items in the EU market.
Marbled momentum grows
Significant premium-priced niches are emerging for more marbled meat proteins – and not just from beef, where it started. Examples of marbled pork, lamb and even salmon were seen at Anuga, exploiting breeds like Black Berkshire pigs that have genetic potential to produce marbling, somewhat like Wagyu beef. The picture below shows marbled Spanish Iberico pork, which now sells at a hefty premium over conventional pork into high end restaurants.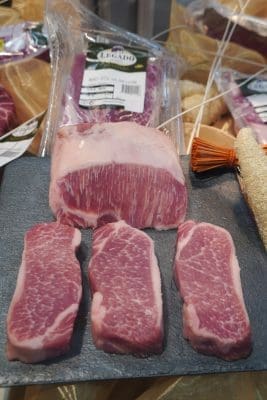 Omega 3, vitamin A enhanced meats
A number of chicken and pork exhibitors, primarily from across Europe, were promoting 'healthier' products carrying elevated levels of oleic acid, or beneficial omega 3 oils. These fatty acid profiles are manipulated through adding ration ingredients high in omega 3, including linseed and safflower oils. Just how much higher the products are in omega 3 than conventional chicken or pork was difficult to establish, but one poultry exhibitor said they were 'considerably' better than free-range chicken, for example, which carries a reputation for being best-in-class for chicken oleic acid levels.
Other meat products were promoted as 'functional foods', such as this Italian-produced 'Fit burger', carrying added vitamin E for health benefits.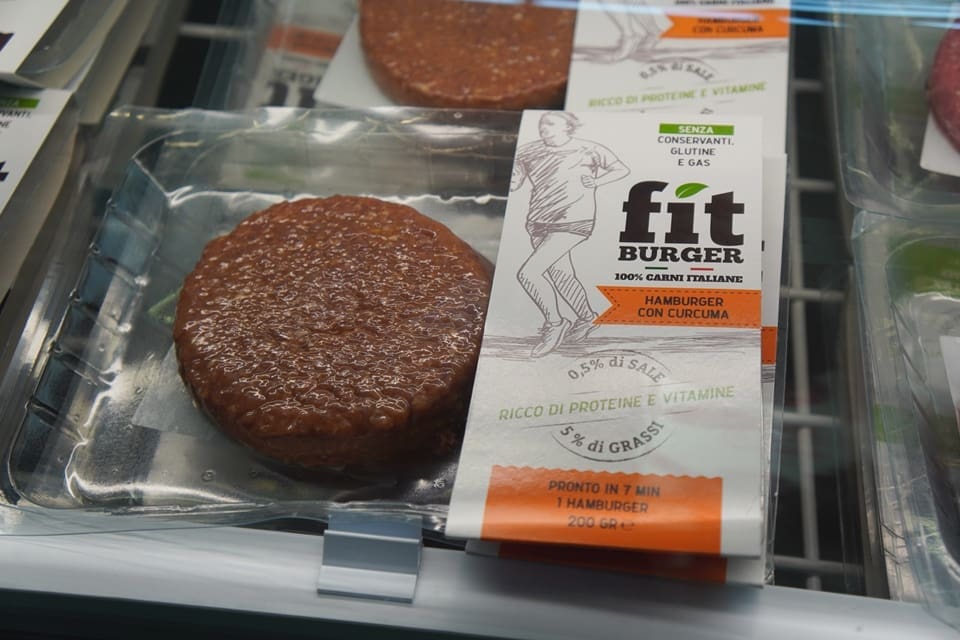 Kinichiwa, Wagyu
Gradually regaining market access in Europe over the past two or three years after a 20-year absence due to BSE bans, Japan mounted a big display at Anuga promoting its heavily-marbled Wagyu beef products. The emphasis in cooking demonstrations was in understanding how to handle and prepare Wagyu beef, which carries levels of intramuscular fat completely foreign to most continental European tastes. Many of Japan's famed Wagyu-producing prefectures, such as Matsuzaka, had their own trade displays and tastings at the show. Wagyu beef also featured prominently on trade displays from supply chains in other countries, including Australia, the US, and continental Europe.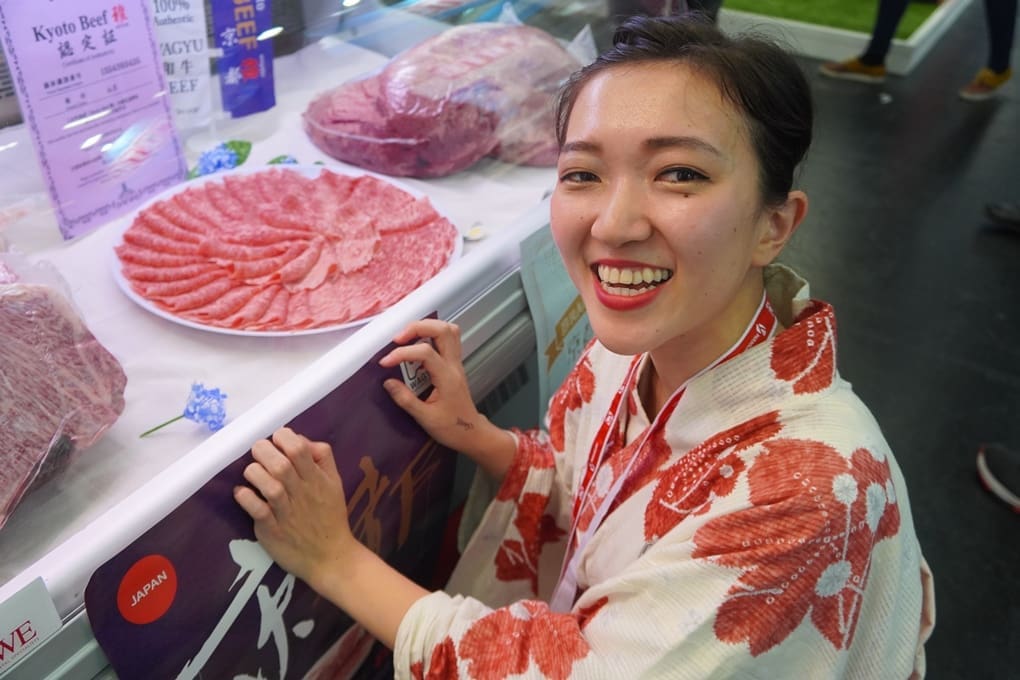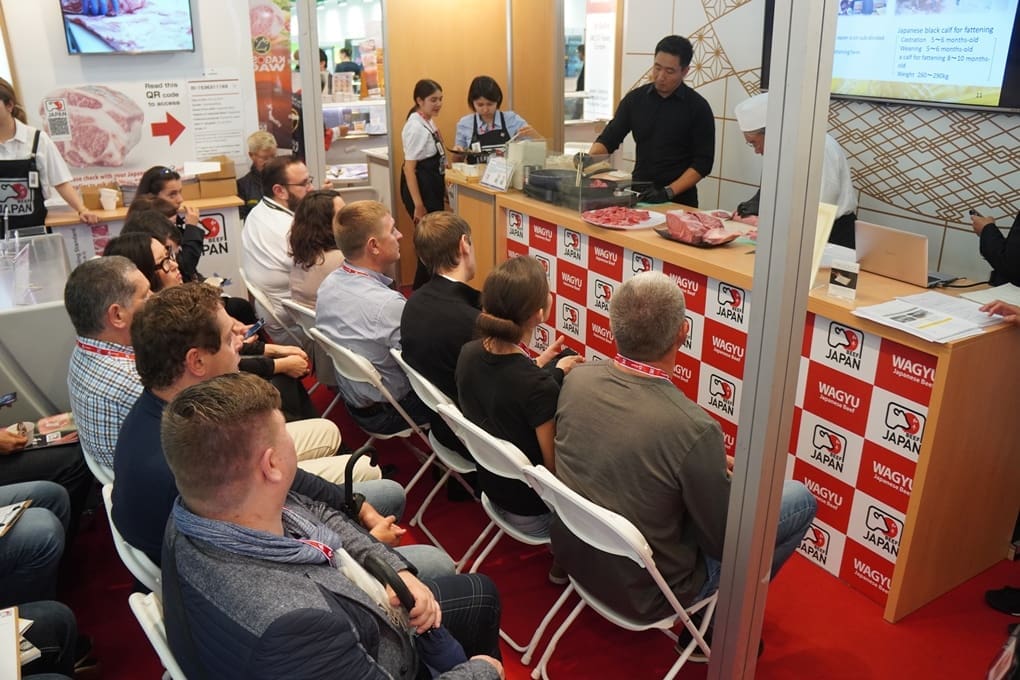 Producer cooperatives – strength in numbers
Some of the biggest and most impressive exhibitor displays at Anuga were mounted by large European farmer-owned cooperatives, some of which control the product right through the supply chain to the final customer. A prime example was Spain's massive Coren cooperative, covering beef, pork, chicken and egg production, turning over around one billion Euros each year, exporting to 30 countries, driven by some 6000 livestock grower-members.
The business controls all stages in production, including feed mills, processing and value-adding facilities, marketing, wholesale and distribution, and some retail outlets. All livestock are supplied by members. Coren carries a strong social responsibility emphasis, with members committing to clearly audited animal welfare, environmental and social welfare standards, regulated under its own closely-managed, internationally recognised systems.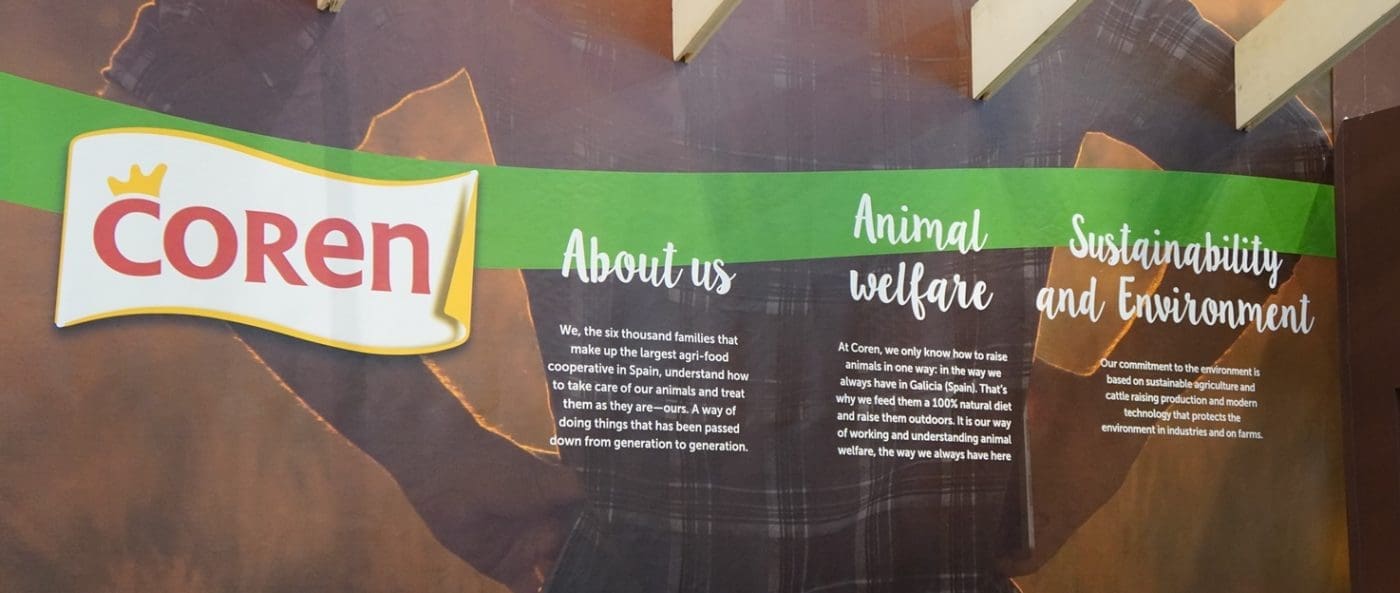 Meal kits, brand leveraging
Convenience was another huge factor in red and white meat protein displays at Anuga, with a heavy presence of ready-to-eat, ready-to-cook, and heat-and-serve meals based on red and white meat. So-called meal kits, where a time-poor consumer picks up a single box at the supermarket containing all of the raw ingredients (meat protein, flavourings, vegetables and rice or other carbs) necessary to prepare a quality gourmet meal for three or four, were also widely seen.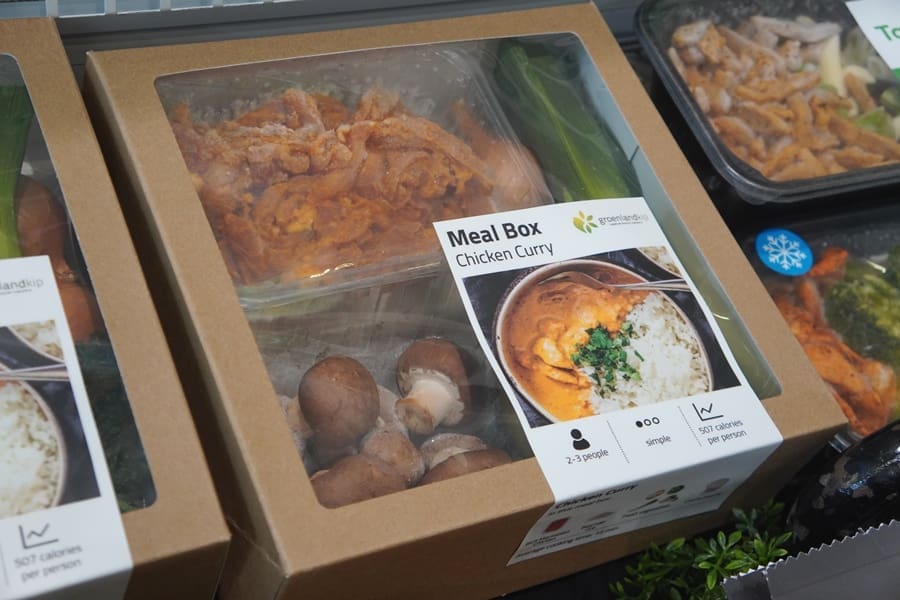 Another new trend seen at Anuga was brand 'leveraging', using popular brands from other consumer fields, like this example using Jim Beam whiskey to build value-added red meat items like this slow-cooked pulled beef.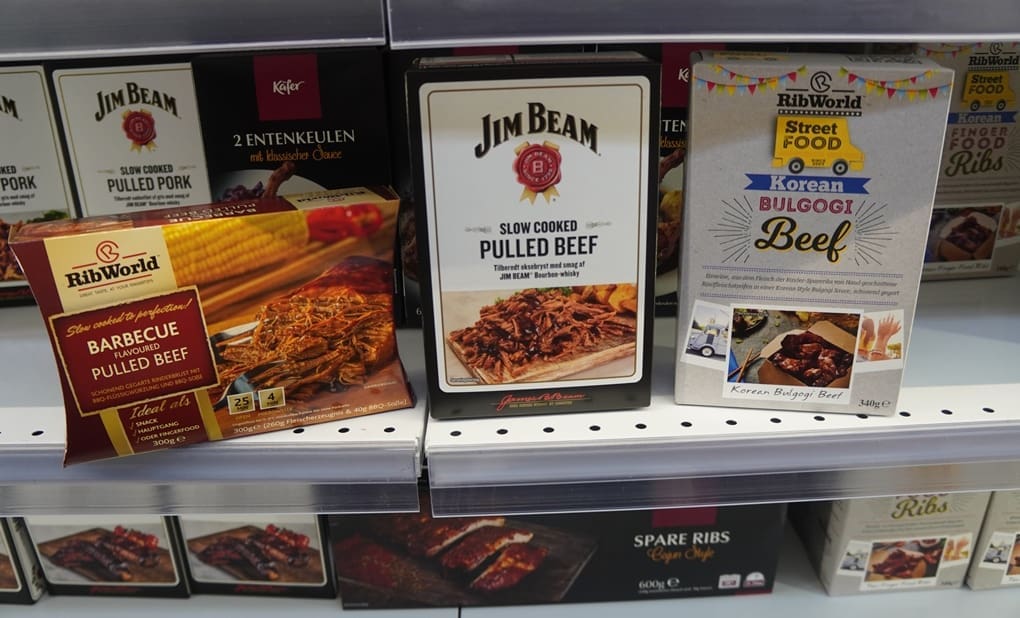 Packaging continues to evolve rapidly
There is no better place on earth to see where food packaging trends are heading than a major food trade show like Anuga.
Packaging continues to evolve, becoming ever more visually-appealing and convenient to the consumer. On raw and uncooked value-added meat products, Vacuum Skin Packs (VSP) are now almost universal, and more conventional Modified Atmosphere Packaging (MAP) has almost disappeared. Some supply chains are going to enormous lengths to package their specialised products in unique and novel ways – reference these bone-in Tomahawk steaks – one of the most awkward of all beef items to present in an appealing way – which have been skin-packed in a visually-appealing wedge-shaped box, bearing images of the finished product.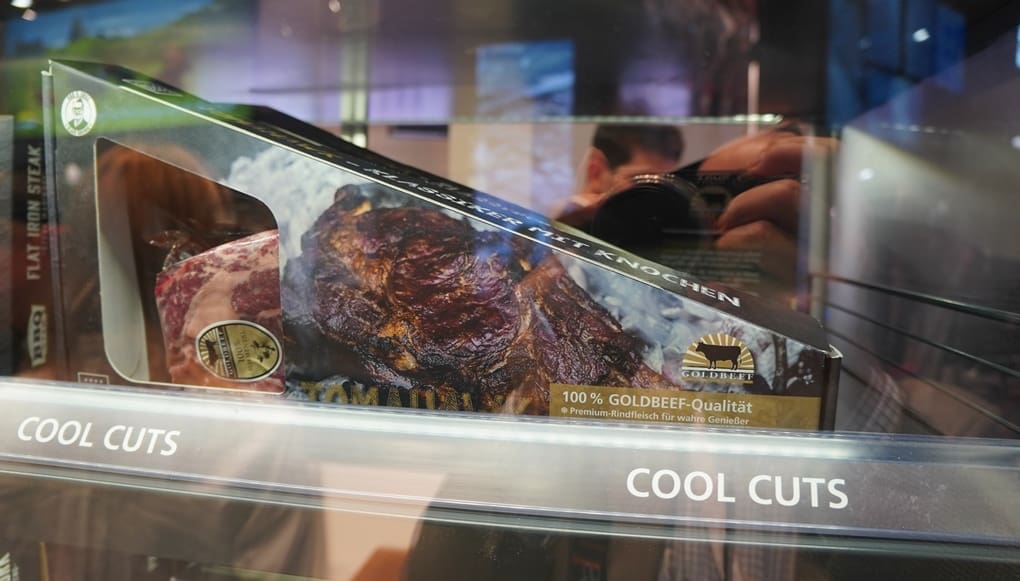 Protected designation of origin
Local and regionally produced food seems more trustworthy to consumers, marketers say, and there was plenty of emphasis on regional branding at Anuga. In addition, certificates of origin such as PDO (Protected Designation of Origin) or PGI (Protected Geographical Indication) strengthen the image of traditionally manufactured products and highlight their origin and quality. Most prominent among the EU protected designation of origin products on display were cheeses and olive oils, but also extended to items like cumberland sausages, jamon, and other meat products.
Halal growth
There was plenty of evidence of Halal-certified beef and lamb products from across the world at Anuga. Growing demand in the Middle East, combined with expansion of Muslim ethnic populations in across Asia, North America and Europe, is driving strong growth in the halal-certified food segment. New halal products globally are growing at a rate of 10.7pc per year, one Halal beef display said. By 2018, 67pc of Halal product launches were in Asia, where most of the Muslim population worldwide lives.