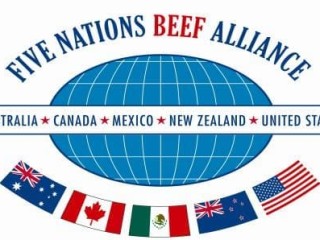 They may be competitors in export markets, but five of the world's leading cattle producing nations are working together to respond to the mounting campaigns against their industry by animal rights and anti-meat groups.
Three members of Cattle Council of Australia will join their counterparts from the United States, Canada, Mexico and New Zealand in the Mexican city of Cancun next week for the 2011 conference of the Five Nations Beef Alliance.
The five member countries collectively account for almost half of the world's beef and cattle exports, and meet every 18 months to discuss issues common to their industries, including traceability, trade and market access, research and development and sustainable beef production.
One of the most pressing topics at this year's conference will surround the global industry's strategy to deal with increasing pressure against animal agriculture from interest groups, said CCA executive director David Inall, who will represent Australia at the conference with CCA vice president Andrew Ogilvie and policy director Jed Matz.
Mr Inall said the conference will examine existing animal welfare standards and the role research can play in driving improvements going forward.
The conference will also discuss the recent formation of an unlikely but potentially powerful alliance between large sectors of the global beef chain and the World Wildlife Fund, which aims to form a common approach to develop sustainable beef production.
The alliance was conceived at a meeting in Denver, Colorado, in November 2010 involving representatives of the World Wildlife Fund, cattle industry leaders from Australia, the US, Canada and Argentina, pharmaceutical company Intervet/Schering-Plough and major through-chain players including JBS, Cargill, McDonalds and Wal-Mart.
Mr Inall, who attended the Denver meeting with CCA president Greg Brown, said constructive advances have been made at subsequent meetings towards developing a mutually agreeable approach to developing a global beef industry that is both profitable and environmentally sustainable.
Young Ranchers program
The Five Nations Beef Alliance conducts a Young Ranchers program that helps to promote the role that young leaders play in driving the future direction of the beef industry.
Representatives between the ages of 18-35 are selected within each nation through various selection processes to take part in events held annually or bi-annually. The first gathering of the FNBA Young Ranchers took place in January 2010 when 10 beef enthusiasts experienced a jam packed week of tours, round tables and sightseeing in Denver Colorado during the International Livestock Congress held in conjunction with the world renowned National Western Stock Show. Another 17 beef industry representatives attended the second annual young ranchers forum in January 2011.
Click on the videos above and below to meet some young beef leaders from Australia, Canada, the US, Mexico and New Zealand, and to learn why they see a strong future for the global beef industry.