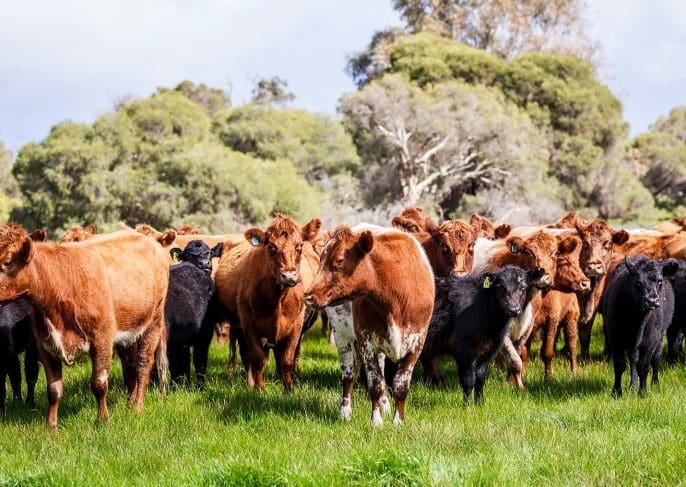 BILLIONAIRE philanthropists Andrew and Nicola Forrest are preparing to launch a new not-for-profit organisation to drive farm animal welfare standards across the world.
The Forrests already have a significant livestock holding, with at least five stations across Western Australia owned by 'Harvest Road'. The company's Koojan Downs feedlot featured in Beef Central's Top 25 Lotfeeders series for the first time this year.
Bruce McConnel, who is the head of animal welfare at 'Farmed Well', said an internal program at Harvest Road, called 'no pain, no fear', was the catalyst for the new philanthropic investment.
"What we wish to drive is foundational knowledge and research to deliver what we want to see in animal welfare and having the best outcome for the animals," Mr McConnel said in a presentation to the Toowoomba Surat Basin Enterprise protein conference.
"They decided to do that philanthropically outside of their own supply chain, looking at how to build knowledge in defining what farm animal welfare is."
While Farmed Well is not looking at certification, Mr McConnel said it was hoping to partner with companies to help set standards and influence the global animal agriculture industry.
"Looking at sustainability of our industry, animal welfare has to be part of the conversation," he said.
"You can't have social sustainability if you are not doing the right thing by these animals."
Farmed Well values
With the organisation looking to partner with industry, Mr McConnel ran the protein conference through some of its basic values.
Animal welfare v animal rights
Mr McConnel said animal welfare was a fundamentally different concept to the animal rights movement. He said Farmed Well was not working in the animal rights space.
"Most of the NGOs that work in this space are about animal rights, saying animals are ahead of humans and that you can't use animals for food," he said.
"Animal welfare is about saying you can use animals for food and the need for humans to consume animal protein is required. But you need to do it in a way that looks after the animal, particularly avoiding pain and stress where it can be avoided.
"It is important we delineate that right to welfare in-terms of deciding who we partner with – and it is important the industry knows where we stand and who our bedfellows are."
Mr McConnel said while it was a strong term, "animal cruelty" existed in the supply chain and it was important the industry worked on ways to overcome it.
"Castration without pain relief is a surgical procedure we know to be cruel. We also know there is a lack of options and adoption to actually solve it," he said.
"There are practices we know we need to change to put the industry into a true animal welfare state."
Five domains of animal welfare
Farmed Well is planning to support the "five domains" of animals welfare – which includes nutrition, environment, health, behaviour and mental state. Mr McConnel said it was different to the "five freedoms".
"The five freedoms is an older terminology that talks about removing negatives," he said.
"We use the five domains because it talks about the opportunities for animals to thrive."
Mr McConnel said the Australian cattle supply chain faced unique challenges in adhering to five domains of animal welfare.
"There are a lot of cases where we have competing welfare needs. If you look at a broadacre system, it is great for the animal's behaviour but not always great for nutrition," he said.
"Whereas a feedlot, you remove predator pressure, you give really good access to nutrition, access to social interaction and while you restrict movement there is a life worth living."
Providing a "life worth living"
Mr McConnel said the "holy grail" for the organisation would be giving animals a "life worth living" for their entire journey through the supply chain.
"There is not enough science in this space to truly understand where the industry sits," he said.
"Our organisation really wants to know how we can get science backed work into this to allow regulators to work constructively for industry."
Mr McConnel was asked about the idea of demonstrating a positive mental state 100pc of the time. He said it was not a realistic concept.
"Animals, like humans, have negative environments and they are going to feel pain, stress and fear throughout their life – the challenge is balancing them out with enough opportunities to thrive to create a life worth living," he said.
"Anyone who asks the industry to do that would be more on the animal rights side of the equation. The holy grail would be coming up with some type of assessment grid to demonstrate that the animal has had a life worth living."
Need to be part of the conversation
With the industry setting animal welfare goals through the Australian Beef Sustainability Framework and other organisations, Mr McConnel it was important to drive adoption and engage with policy makers to make sure it was not getting a bad deal on welfare regulations.
"I was at an animal welfare legislation review five-months-ago, where there was 46 people in the room and only one from industry," he said.
"We really need to have leadership in that room and be part of those conversations. We are setting goals well and it is about achieving them.
Beef the only sector intensifying
The conference heard of the Western Downs' plans to scale up intensive agriculture and decrease feedlot approval times. Mr McConnel it will be interesting to see if the industry attracts more animal welfare attention as a result.
"The red meat sector is the only terrestrial protein sector that is intensifying production at the moment," he said.
"Everyone else is de-intensifying and is being held to regulatory change to do so. The feedlot sector are looking at decreased density rates, whilst caged eggs are being phased out by 2032.
"We can tract around $300m in philanthropic animal welfare activism per year and about 1pc of that goes to the beef industry. If you start intensifying and going towards systems like the US dairies, you will see  more of that money is directed to beef."