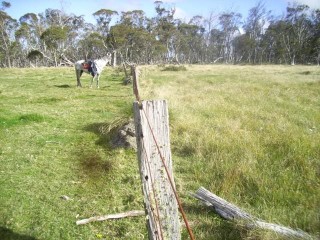 When federal Environment minister Tony Burke announced last month that cattle grazing in the Alpine National Park was "clearly unacceptable", it may have seemed that the fate of Victoria's high-country cattlemen was sealed once and for all.
But to assume that would be to overlook the determination of the mountain families whose descendants have managed stock on the elevated grasslands for more than 180 years.
And it would also ignore the obviously strong convictions of the Victorian Coalition Government to retain the right to use cattle as a grass reduction and in turn bushfire mitigation tool in the alpine estate.
In response to Mr Burke's emphatic rejection of its push to study the impact of grazing on bushfire risk in alpine areas, the Victorian Government is now taking the matter to the Federal Court.
The issue represents an interesting test of State versus Federal rights in national parks and how Government-controlled land may be managed in future.
Mark Coleman, a spokesman for the Mountain Cattlemen's Association of Victoria, says landholders across Australia should be watching this issue closely, because what is happening in the high country of Victoria could have repercussions for parks and forests in other parts of the country in years to come.
For those unfamiliar with the issue, this is a brief snapshot of how it has progressed to date:
In 2005 the Bracks Labor Government banned cattle grazing in Victoria's Alpine National Park in response to ongoing lobbying from environmental groups.
The ban was overturned in January 2011 when the newly-elected Ballieu Coalition Government reintroduced cattle to the estate for a short-term grazing trial, the first annual leg of a planned five-year project designed to ascertain whether grazing lowered bushfire risk by reducing fuel loads.
The move attracted the ire of Federal environment minister Tony Burke, who pushed a special regulation through Federal parliament last October to prevent the Victorian Government from allowing cattle to re-enter for the second year of the trial.
At the same time Mr Burke wrote to his state colleagues advising that the Federal Government was seeking greater control of Australia's 500 national parks, which are currently controlled by State Governments.
Citing the devastating nature of recent bushfires, the Victorian Government asked the Federal Government to reconsider the importance of the trial as bushfire mitigation tool.
Mr Burke responded by saying the move would have a "clearly unacceptable" impact on the national heritage values of the park estate.
Undeterred, the Victorian Government said Mr Burke had failed to spell out the reasons for reaching that conclusion, and upped the ante last week by asking the Federal Court to review Mr Burke's decision-making process.
Critics of grazing point to an early 2000s study by the CSIRO which found that there was little evidence to support the view that "grazing reduced blazing", however the Victorian Government maintains that study was limited in its scope and a more comprehensive scientific analysis of the issue is still required.
Mark Coleman told Beef Central last week that he believes Mr Burke's actions are based on his personal views and are indicative of a bigger picture motivation to lock up vast tracks of country and to return them to "complete wilderness", as had occurred in the wild lands project in the United States.
"The concept may work in a rain forest in the amazon or somewhere, where nature will take its course," the third generation mountain cattleman said.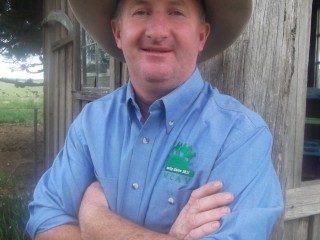 "But not here where I'm standing in Victoria which is one of the most bushfire prone areas of the world."
Indigenous people had managed the alpine landscape with fire-stick farming for tens of thousands of years, and mountain cattlemen had continued similar management practices by burning patches of country every autumn.
Mr Coleman said cattlemen saw no small amount of irony in Mr Burke's position that their exclusion is necessary to protect the park's heritage values. The mountain cattlemen have been in the park for 170 years, and are listed under the same heritage act, he said.
In response to criticism that cattle cause adverse environmental impacts, Mr Coleman says the proof that is incorrect is in the pastures.
"If the cattle have wrecked that country, why is that once those cattle were removed after 170 years, they wanted to list the area as a heritage and proposed world heritage area?," he asks.
"If this country was so badly degraded, how could they then with a stroke of the pen suddenly declare it as pristine?"
The cattle industry had provided the manpower and local knowledge, handed down through generations, required to manage the landscape responsibly and to control weed incursions, at no cost to taxpayers.
Since the industry's removal, weed control had been largely "let go" due to a lack of Government-funded resources, Mr Colemman said.
Criticisms by Mr Burke that producers were interested only in free-agistment each year were also wildly off-track, he said. Prior to their removal producers had paid an annual license fee for the right to graze alpine areas which was typically 400pc higher than comparable leasehold rentals in other areas.
One cattleman had paid up to $40,000 prior to last year's trial to bring fences and tracks back up to workable levels, after a six year absence and a major wildfire during that time.
Mr Coleman said the removal of cattle had coincided with the worst bushfires in the areas recorded history.
While cattlemen say they have never claimed that grazing could stop a bushfire, they firmly believe it will reduce its intensity.
"For example, a fire never went over the top of the Great Dividing Range here in Gippsland when cattle were grazed," Mr Coleman said.
"They were slowly removed since the early 1970s, and in 2003 and 2006, on both occasions, those fires have gone over the top. That is since whiteman's settlement."
Mr Coleman said the timber industry had also long recognised the value of cattle grazing as a bushfire mitigation tool. Cattle were still allowed in state forests because their presence was widely recognised as the best way to keep fuel loads down and to minimise the fire-risk to susceptible alpine ash plantations.
"There are places in the world that actually pay farmers to put cattle in to keep these areas clean and open."
Asked if the recent decision by Tony Burke represented a fatal blow to hopes of a mountain grazing revival, Mr Coleman said he believed there was still reason to be optimistic.
Cattlemen believed Mr Burke was basing decisions on own personal views and to appease Green interests in a minority Government.
Mr Coleman said Mr Burke was yet to produce strong evidence to support his view that cattle were "clearly unacceptable", and said the Victorian Government's decision to progress the matter to Federal Court, which would require the Federal Government to clarify its evidence in court, was a welcome move.
"It shows the Victorian Government believes in and understands these issues," Mr Coleman said.
"Whatever happens here will set a precedent all over the country.
"Whether you're edging the Daintree forest or in any of that hinterland country, this will have implications across Australia."