The Coles Supermarkets division recorded strong sales growth of 3.9 percent for the third quarter ended March, in financial results released to the market by parent company Wesfarmers Ltd today.
Wesfarmers managing director Richard Goyder said the group's retail sales performance during the third quarter generally reflected a similar mix of trading results to that recorded during the first half, especially when considering the impacts of an earlier Easter in financial year 2013.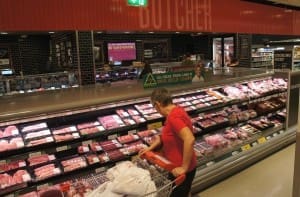 Highlights for the period included the solid result delivered by Coles, the nation's second largest red meat retailer.
"Coles continued to offer customers better value through ongoing investment in lower prices, while making good progress in supplier partnering which contributed to further improvements in fresh produce participation," Mr Goyder said.
Food and liquor sales for the quarter reached $6.7 billion, up 3.9pc on the same period a year earlier, while financial year-to-date sales were up 4.7pc to $21.7 billion.
Coles managing director Ian McLeod said the comparable sales growth was pleasing, particularly against the strong comparative sales achieved in the same period last year.
"This represents a continuation of Coles' strong performance following five years of positive comparable sales growth," he said.
Record supermarket sales per square metre, more than 20 million customer transactions a week and continued growth in underlying volumes and basket size were all achieved in the quarter.
Overall food and liquor price deflation eased to 0.8pc in the third quarter as a result of a modest level of fresh produce inflation, which partially offset continued investment in lower prices as Coles extended its commitment to lower prices, the ASX was told.
The company introduced more than 50 new products (including some from the red meat category) to its "Down Down" campaign, with savings of up to 34pc recorded relative to original prices offered.
Price deflation of 1.5pc was recorded for the financial year to date.
Coles opened two larger supermarkets and closed four smaller ones during the quarter, taking the total number of outlets nationally to 760. The company has committed to opening a further 70 new stores over the next three years. More than half of existing stores are now presented under the new refurbished format.
Biggest retail rival Woolworths will deliver its third quarter financials later this morning.