Latest listings on our Jobs Central recruitment page:
Livestock Manager, Young (BE Campbell)
Operations Manager, Iranda Beef SA
Chief Executive Officer (Harvey Beef, WA)
Livestock Manager/Auctioneer, Qld (Elders)
Meat Inspector, Tamworth (Meat Inspectors Pty Ltd)
Territory Manager, Animal Nutrition (Rimfire client)
Sales and marketing graduate/trainee (Stockyard)
Sales Manager (Australian Agricultural Co)
Commercial Development Officer (Herefords Australia)
Executive General Manager (Heytesbury Cattle Company)
Angus Youth Development Officer (Angus Australia)
Business Development Manager (AWX Agri)
To access Jobs Central, including full listings and job descriptions of these and other positions, click here to visit our recruitment page.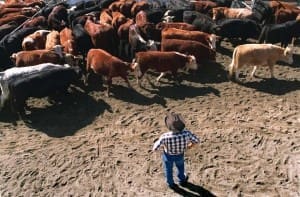 AS an owner and/or manager of a business somewhere along the beef supply chain, you work hard and spend a considerable amount of time and money on hiring the right people.
Prior experience, references and whether or not the person will fit into your company's culture are all things that must be carefully examined when putting on staff. If you're thorough and do your homework, chances are the person will likely work out.
Employees work hard to stand out and find a way to showcase their professional accomplishments to superiors. Therefore it's easy for managers to spot an employee working hard who possesses a positive attitude, strong work ethic and impressive achievements.
But while these are obvious, it's more difficult (but no less important) to spot the signs of an employee who has grown dissatisfied and/or complacent. Not only should you be on the lookout for these workers because of the turnover costs should they decide to leave, but also because allowing them to stay on the job when their hearts aren't in it could deflate other employee morale.
There are some obvious behavioural characteristics of a bad employee, which most managers can easily identify – regularly arriving late to work, being a well-known bully, having a reputation for gossip, or the Anzac biscuits in the tea room happen to conveniently disappear whenever they're around.
But sometimes it's hard to identify or even notice those more subtle cues that may indicate you have hired a lemon. Spotting these bad performer signs is key for both employers and staff, as if you don't address the situation, it could potentially set the tone for the entire business that bad performance is acceptable.
Here are some good tips to look out for when identifying bad performing or unproductive employees:
They're preternaturally stubborn
You want an employee who shows initiative and stands by his ideas. But if a worker happens to be an inflexible fool who can never take advice on board while unyieldingly defending ideas no one else agrees with, then it simply won't work. Learning to accept others' advice and understanding that your thinking may not always be right are important and essential qualities in the workplace.
They can't accept criticism
Nobody's perfect, and even that star employee who's indispensable now has had his/her off-days in the past. The important thing is they handle themselves when receiving constructive criticism about performance – do they use it as an opportunity to improve and grow, or double-down? A worker who can't handle hearing hard truths will only be a problem down the line.
They're bundles of negativity
What's interesting is that the types of employees who can't handle criticism are most likely to dish it out, too. It may not be very obvious, but pay attention to the employee's contributions. Are they limited to criticising and tearing down others' ideas? Does he or she ever suggest any solutions or anything positive? If not, then the person is offering nothing to the company, and pulling on this string is likely to reveal a heap of other bad habits too.
While it's necessary to point out potential pitfalls in any plan, the rule of thumb should be coming up with a solution to every problem you point out. You want employees who can not only spot the negative, but come up with a way to fix the problem and offer constructive criticism.
"That's not my job!"
When you find one employee constantly saying "that's not my job" while the rest of his/her team is pitching in and doing their part to make things work, you should take notice. While employers shouldn't dump undue and unfair amounts of work on people, employees should always be open to examining new challenges and responsibilities.
No Drive
Outstanding employees are usually great problem-solvers. The most successful people are normally the ones who work towards a solution at all costs, never for a moment considering the issue they've been tasked with is impossible or can't be done.
So if you have an employee who is dismissing new ideas out of hand and saying "I can't do that" or "That's impossible" without even really considering it first, consider that a major red flag.
This isn't to say a cautious voice of reason isn't valuable. It is. But you want employees who overcome obstacles or find a way around them.
Complaints
Co-workers will occasionally have arguments, because they disagree on a topic, however they will rarely rise to the level where of HR department or management intervention is necessary. But if a formerly stellar employee is suddenly the subject of multiple complaints and you hear his/her co-workers constantly grumbling, then something might be wrong.
Now that you can identify bad performers, a leader or manager must address the situation, so it does not become common behaviour.
Just like in everyday life, when you ignore a small problem it only gets bigger. The same holds true when managing poor performers – things will only get worse.
Source: AWX Agri – Partners in People.