Latest listings on our Jobs Central recruitment page:
Sales and marketing graduate/trainee (Stockyard)
Sales Manager (Australian Agricultural Co)
Commercial Development Officer (Herefords Australia)
Executive General Manager (Heytesbury Cattle Company)
Assistant Manager (Coonamble Feedlot)
Angus Youth Development Officer (Angus Australia)
Operations Manager – National Livestock Reporting Service (MLA)
Business Development Manager (AWX Agri)
Plant/General Manager (Rimfire client)
Qualified Butchers (Super Butcher)
To access Jobs Central, including full listings and job descriptions of these and other positions, click here.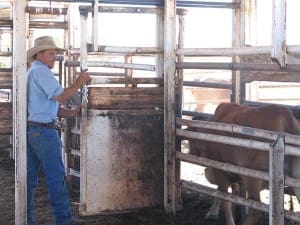 IT'S easy to think that as an employer interviewing candidates, you hold all the aces.
But in reality, this is very unlikely to be the case, because while the candidate is out to impress you, the best ones will have a career plan and other options in place, and will be weighing your business up to see if it is the best option for them at the current time.
If they are smart and switched-on, they will be interviewing you, too – regardless of whether your beef industry business is large or small.
As an interviewer you will need to be on your game during interviews to avoid deterring star candidates. This week's recruitment article presents some errors to avoid when interviewing to attract and retain top candidates:
Portraying a one-way interview process
Unless your company or business has been recognised as being an 'aspirational' place to work – like Google – you should assume that top talent is also assessing you for 'fit'. And since the candidate is assessing your business, your interview process should be promotional but honest, informative, accommodating and flexible within reason, and very responsive to questioning.
Not being prepared
An easy way to turn-off candidates is not being ready at the start of the interview. If you show up late and spend the opening part of the interview checking over the resume, you send the impression that you're not organised or that you're not taking the candidate seriously.
Asking irrelevant or brainteaser questions
They don't predict anything and just serve to make the interviewer feel smart. Candidates generally think badly of these kinds of interview questions and of employers who ask them. So, asking irrelevant brainteaser questions could make you appear arrogant.
Long and complex interview process
Time will be at a premium for top talent that is currently employed, and unemployed top talent will be looking to find suitable employment as soon as possible due to financial pressures. Either way, an overly long and complex interview process (requiring three or more visits to the office) that seems to drag on and on, and with no obvious end in sight, is an obvious turn off to candidates.
Candidates should be told from the outset: the number of interviews required; over what time period; when you expect to make a selection decision; and when you would ideally like the candidate to start.
Asking if a candidate is a self-starter able to work with limited guidance.
This can be a seemingly great question to ask from the point of view of an employer, particularly one where there is limited management structure in place, such as many grazing property applications. The problem is that smart candidates may see this as an alarm bell. They could be thinking numerous things such as that the management structure is not fit for purpose, or that the company is looking for self-managing people to plug a gap.
Inappropriate questions
Asking questions that violate federal or state laws and privacy is one of the fastest ways to scare-off top talent. Such questions might include age, marital status, plans to have children, facebook account access. Asking questions such as these can make your company come across as ignorant, prejudiced, biased, unsophisticated, and behind the times.
Asking if a candidate is available for overtime
Now, really it's a given that most candidates will need to work some overtime in order to get the job done, so asking an overtime question is likely to alert the candidate. By asking the question and drawing attention to overtime you can make the candidate believe that the job requires extensive overtime and/or that there may be risk of burnout, which can be an obvious turnoff. Avoid asking this question as it may give a misleading impression, unless of course the job actually does require extensive overtime, in which pay or a benefit should be on offer as a compromise.
When can you start?
This question needs to be carefully worded. Asking a candidate, when their potential start date would be if he or she was offered the job sounds like good planning, but as soon as you start time stamping the questions with pressurizing phrases like, "When can you start?" or "How soon can you start?" you create a sense of desperation, which could send impressions that you may be managing a crisis, or there is a huge workload to catch up on.
Asking too many questions around conflict management.
While this enables you to really find out if the candidate can manage him/herself and others in a high-pressure environment, it can have a negative flip-side. If you are seen to be focusing too much on conflict management, the candidate may begin to feel that there is a serious issue with team morale and cohesiveness, which could make it seem like an undesirable environment.
Not knowing enough about the role.
There is nothing worse than going to an interview when the interviewer does not know enough about the open position (or even the company in general). If the interviewer doesn't have enough information about the role, or cannot really conduct an effective interview or answer the candidate's question, it can make the interviewing process feel like a waste of time for the candidate and is a big turn off.
Top candidates want to be challenged and supported, and not exploited. Therefore it's important to consider the interview approach you take when asking these sensitive questions.