Beef Central publishes an occasional list of significant recent appointments, departures or achievements occurring across the red meat supply chain, both private sector and government. Details for submissions for future listings are provided at the bottom of this article…. 
End of the road for trucking identity
Like so many of the older rural population, St George (Qld) livestock transporter Terry Murphy has discovered how hard it is to sell a business in a country town.
For 35 years Terry Murphy Transport (TMT) trucks have carted cattle, cotton and sheep over a large footprint of Eastern Australia.
However times haven't been easy in recent years.  Drought followed by three floods slashed TMT's workload.  Teamed with increasing fuel prices and difficulties finding reliable drivers, Mr Murphy chose to downsize from three trucks to just one.
"Being an owner driver is the most effective way to operate these days. I thought I could have a lot more years on the road but the truth is I'm just worn out," he said.  While loading a truck a few years ago Mr Murphy was trampled by an 800kg bullock. The accident left him fighting for his life and the injuries he sustained have seen his health deteriorate.
A year ago he knew it was time to trade in his Kenworth and retire. However he discovered with a backlog of trucks on the market, buyers with the money and interest in his business were few and far between.
With time ticking on, he handed the sale over to St George GDL livestock agent Andrew Wardle, who brought in Harvey Weyman-Jones from Ruralco Property GDL, an experienced business broker and commercial agent who recently sold the neighbouring business of Balonne Steel.
Mr Weyman-Jones says in the current economic climate rural operators need to rethink how they offer their businesses for sale. "Realistically, finding a buyer to take on the whole business including the house and yard is going to be unlikely. So we have to look at alternative ways of gaining the most effective sale result."
He has opted to split the commercial and residential components of the business in two separate auctions months apart to expand the market of potential buyers. The plant and equipment will be attractive to other livestock carriers and cattlemen wanting to truck their own cattle, while the house and land will meet a strong local residential market, he reasons.
The first auction on Friday June 27 will be a clearance sale of the plant, equipment, tools and parts.  The four-bedroom house and sheds sitting in a two acre yard will then be auctioned on August 15.
Mr Murphy is nervous about going to auction, but has his fingers crossed it will finally pave the way for a well-earned retirement.
New tech officer for ALFA
The Australian Lot Feeders Association has appointed Jeff House to a newly-created position of technical services officer.
The role aims to provide support and assistance to lotfeeders and will embrace areas including animal welfare, animal health, biosecurity, food safety and the environment. In his new role Jeff will also be involved in the development of education and training material and R&D extension, while providing an information channel on a range of ALFA, AusMeat and MLA issues relevant to the sector.
Jeff was formerly with the NSW DPI where he spent 19 years as a beef industry livestock officer. During this time, he was the key Departmental person for feedlot-related matters, with his last six years in the role also spent as the NSW Government representative on the Feedlot Industry Advisory Committee. Jeff took up his new role in late May, and is based at Forbes in NSW.
Five Australians join Young Farmers Master Class to address global challenges
Five young Australian farmers joined a group of 40 emerging farm leaders from around the world in the Netherlands recently for the first Rabobank Young Farmers Master Class.
The Master Class was aimed at developing the skills and knowledge of younger farmers, who will be key in ensuring productivity gains are made across the global food and agribusiness sector in future years.
Over the one-week course, the participants analysed global food security issues at play covering topics including innovation, big data (the role of technology in the future of farming), social media, succession, and best farm practices. The program was designed to address the themes impacting on the future of farming, in context with the up-and-coming leaders of the agricultural sector.
Australia's representatives with a connection to beef included Liverpool Plains grazier Kate Davidson from Gunnedah NSW, and James McShane, a fine wool grower and beef producer from the Lower Marshes in Tasmania.
James is an innovative young farmer who along with his wife, Tahnee, runs 5000 fine wool Merino sheep, 200 beef cattle and timber plantations.
"Bringing together 40 young, enthusiastic minds that think 'outside the square' to discuss topics such as agricultural innovation, technology and science covered some very exciting ground," James said.
James is passionate about innovation and technology advances in agriculture, which prompted him to create Farmware, a tablet and smartphone app for farmers to record and manage data to track stock movements, crop rotations, and chemical inventory.
"As Australian farmers, we're competing in a global market place which is heavily subsidised in other part of the worlds, and this can affect our competitiveness," he said. "Australian farmers are very efficient but we need to continue to push the envelope with efficiencies on-farm so we can get that edge on our competitors. Mobile technologies and precision agriculture contribute to those efficiencies."
He created Farmware to help producers become more efficient and effective with their record-keeping. "By recording things on the app there and then in the paddock or in the yards, it saves time by eliminating double entries back in the office at the end of the day. And it's all backed up online so you won't lose your information which can be managed by multiple users on multiple devices."
James was a finalist in the 2013 Australian Farmer of Year Awards for his forward thinking and tech-savvy approach to farming. He also holds a degree in Applied Science in Agriculture.
 Scholarship awarded to a bright young beef industry star
The Simon Gubbins Scholarship for 2014 has been awarded to Alice Lodge from Gerogery West in NSW. Alice is a fourth year student at University of New England, studying for a Bachelor of Agricultural Science degree. Alice is also involved in a number of agricultural groups with a focus on youth activities, such as the Angus Youth Roundup 2015, for which she sits as the vice chairperson.
Alice said she was thrilled to be given the opportunity to travel to New Zealand's Lincoln University to study, as her grandfather was an ex Lincoln student.
Sponsored by the Old Murroa Partnership, the Simon Gubbins Scholarship provides annually an Australian student with the opportunity to study a Degree or Diploma of Agriculture course at the prestigious Lincoln University. The Scholarship is also open to a student looking to undertake post graduate study.
Georgina Gubbins, a member of this year's interview panel said the standard of applicants this year was high, but Alice stood out as the applicant with a rich passion for the industry and engaging youth.
UNE student wins Chris Russell medal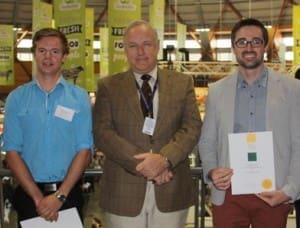 University of New England student Lucinda Frizell has won the 2014 Chris Russell Medal of Excellence, presented by the Ag Institute of Australia NSW Division.
Lucinda made a video presentation from the US to the finalist judging panel. Her winning research project was based on the challenges of managing root-lesion nematode in pastures and grain crops.
Runner up was Andrew O'Carrigan from the University of Western Sydney, with James Murray from the University of Sydney third.
Pictured above: Chris Russell with Medal of Excellence finalists, James Murray (third), and Andrew O'Carrigan (second).
 QDAFF appoints feedlot, beef policy specialists
Queensland's Department of Agriculture, Forestry and Fisheries has appointed two extension specialists working in the beef sector.
Based in Toowoomba, graduate Thomas Callaghan will work in the intensive beef feedlot industry across south region, and also in the area of drought support.  He will also work with other members of QDAFF's southern region industry development group to assist in a collaborative research project with UQ regarding the Coal Seam Gas Industry and the effects of CSG on above-ground farm productivity.  For feedlots, Thomas is currently investigating potential projects to aid the industry in overcoming challenges and capitalising on opportunities. He is also investigating a project design for industry benchmarking which considers animal health, nutrition, feedlot management, animal performance, and business operational benchmarking.
Based in Rockhampton, graduate policy officer Emily Barbi is working across a range of policy development areas for the department. With a Bachelor of Applied Science Degree majoring in Production Animal Science from the University of Queensland, Emily is particularly interested in beef cattle production. She also gained a pregnancy testing and AI certificate and has spent time with producers undertaking different breeding programs.
Send your items for consideration for People on the Move to cath@beefcentral.com