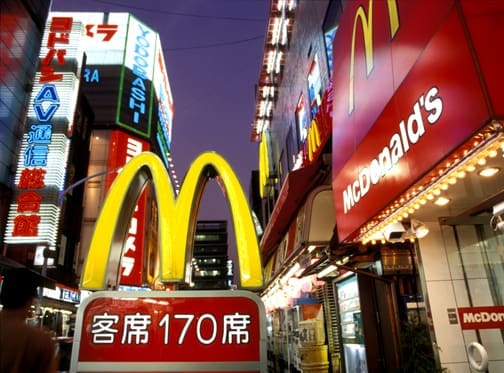 The world's single largest beef customer, quick service restaurant chain McDonald's, has recorded mixed results across its global operations in its first quarter ended March 31.
While the quarter produced a higher average customer spend compared with the same period last year, this was offset by fewer customers in the company's North American, European and Asia-Pacific operations.
McDonald's first quarter reflected higher revenues compared with 2013, while earnings per share declined. Global comparable sales increased 0.5 percent on year-ago figures; consolidated revenues increased 1pc to $6.7 billion; and consolidated operating income decreased 1pc, to $1.94 billion.
Net income for the quarter decreased 5pc compared with this time a year ago, but reduced to 3pc when the currency factor was added, to $1.205 billion. Global guest count (the number of customers through the door) was down 3.1pc.
The company reported higher selling, general and administrative expenses, partly due to costs related to the 2014 Winter Olympics.
In the company's US division, comparable sales decreased 1.7pc in the first quarter, and operating income declined 3pc, reflecting negative guest traffic amid challenging industry dynamics and severe winter weather.
The company's Europe division reported comparable sales up 1.4pc, and operating income up by 4pc, after currency movements. Positive sales performance in the UK, France and Russia was partially offset by ongoing weakness in Germany.
The Asia, Pacific, Middle East and Africa region (including Australia) produced first quarter sales up 0.8pc and operating income down 10pc (although this reduced to 2pc once currency value was accounted for).
Solid comparable sales performance in China and many other markets was somewhat offset by weakness in Japan, and to a lesser extent, Australia. Ongoing premium product innovation, convenience and affordability options were sales drivers for the region in the first quarter.
McDonald's chief executive Don Thompson said the company was intent on pursuing initiatives that would strengthen its relationship with customers to reignite McDonald's business momentum.
Looking forward, McDonald's was focused on stabilising key priority markets including the US, Germany, Australia and Japan, he said.
"As we begin the second quarter, global comparable sales for the month of April are expected to be modestly positive," he said.
The company expects capital expenditure for 2014 to be about $3 billion, with more than half this to be spent on new restaurants.
McDonald's expects to open about 1600 restaurants this year, including about 500 in affiliated and developmental licensee markets, such as Japan and Latin America, where the company does not fund any capital expenditure. Currently McDonald's operates or franchises 35,493 restaurants worldwide, up 928 on this time last year.
Meanwhile, some Wall Street analysts are sensing a move away from beef in favour of cheaper protein sources in US quick service restaurant operations, due to spiralling beef raw material prices in the US.
With news headlines awash with the realisation that US beef is getting more expensive, foodservice operators are once again adding more chicken to their menus.
Burger King, second only to McDonald's in size in the US, is rolling out a chicken version of its Big King hamburger that stacks two fried, all-white-meat patties between three buns.
The Chicken Big King sandwich, which will sell for US$3.59 at the chain's US restaurants nationwide, includes melted American cheese, lettuce, pickles, onions and King Sauce. The quarter-pound beef version sells for $3.79.