Elders has announced a statutory profit after tax of $149.8 million in its full year results for the 2020/2021 financial year (FY21).
Key results
– Sales revenue up 22 percent to $2,548 million
– Gross margin up 21 percent to $529.5 million
– Costs up 15 percent to $362.9 million
– Underlying EBIT up 38 percent to $166.5 million Underlying EBIT
– Underlying earnings per share (EPS) up 38 percent to 96.7c
– Net profit after tax (NPAT) up 40 percent to $151.1 million
– Statutory profit after tax up 22 percent to $149.8 million
– Return on capital (ROC) up 3.6p percent to of 22.5 percent
– Final dividend of 22 cents per ordinary share
– Total dividends declared for the year to 42 cents partially franked (20 percent), compared to 22 cents (fully franked) in FY20.
Performance of key business areas
Financial performance improved across all geographic and product areas in FY21.
The exception was the Feed and Processing business (Killara Feedlot and Elders Fine Foods) which was challenged by higher feeder cattle prices.
Rural Products performed strongly, with gross margin of $284.8 million, up 30 percent on FY20.
Rural Products growth was driven by the successful integration of the FY20 AIRR acquisition and other "bolt on" acquisitions. Added to this were margin improvement initiatives and the backward integration strategy amidst favourable market conditions.
The first full year of AIRR integration delivered $61.2 million in Wholesale Products margin.
The Rural Products backward integration strategy through the Titan AG business contributed to an increase in gross margin in the Rural Products business from 13.4pc to 14.1pc.
Agency services contribution grew due to strong livestock prices, despite reduced volumes from limited domestic supply, with gross margin of $140.0 million, up 10 percent on FY20.
Real Estate Services gross margin was $50.7 million, up 33 percent on FY20. This growth reflected ongoing network expansion and very high demand for both residential and farmland assets.
Third "Eight Point Plan" underway
Elders embarked on its third 'Eight Point Plan' in FY21, which targets 5pc to 10pc growth in EBIT and EPS through the agricultural cycles whilst maintaining strong financial discipline to generate a ROC of at least 15pc.
In FY21 the result saw EBIT and EPS grew by 38 percent and ROC was 22.5 percent.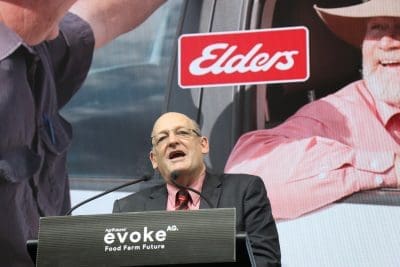 Factors contributing to the strong result according to Elders' Chief Executive Officer and Managing Director, Mark Allison was a well-executed growth strategy, which targets 50 percent growth from acquisitions; the successful implementation of business and margin improvement initiatives; favourable seasonal and market conditions, and a continued commitment to financial discipline in managing cost and capital.
"I am very proud of what we have achieved in FY21", said Mr Allison.
"We have made tremendous progress on our current Eight Point Plan and are well positioned to continue our growth into FY22.
"We have built our business to perform well in challenging years and to outperform in better years."
Outlook
Continued favourable seasonal conditions and high demand for agricultural commodities are expected to create excellent trading conditions in the first half of FY22, he said.
Global supply chain constraints were being actively managed through forward orders and risk diversification across suppliers, with global supply challenges expected to continue to drive higher input costs for fertiliser, agricultural chemicals and steel products.
Cattle and sheep prices are expected to remain high in the medium term, driven by limited supply and strong domestic restocker demand.
The wool market is expected to continue to recover, driven by increased demand in China and Europe, which is supported by favourable conditions for production.
Strong demand for residential and farmland properties is expected to continue, fuelled by low interest rates, high commodity prices, the potential for increased activity with the cessation of COVID-19 restrictions and favourable seasonal conditions.
Good opportunities exist in the market for Elders to execute further high ROC acquisitions, building on those bolt on acquisitions which have completed in recent months.
Sustainability will remain a focus of the business through FY22, Mr Allison said.
"Work aligning our climate-related disclosures with the Task Force on Climate-related Financial Disclosures (TCFD) continues.
"We have recently announced the following targets, and are actively working to achieve them; 100% renewable electricity in all Australian sites by 2025, 50pc reduction in Scope 1 and 2 emissions intensity (tCO2e/$m sales revenue) by 2030, against a baseline year of 2021 (subject to commercially viable technology being available to address feedlot cattle emissions and consideration of investment in carbon offsets), and Net Zero Scope 1 and 2 emissions by 2050."
According to Roy Morgan brand trust research, Elders has maintained its strong position as the most trusted agribusiness brand in regional Australia.
The Elders Limited 2021 Annual General Meeting of shareholders will be held virtually on Thursday 16 December 2021.
The Elders share price has increased by 20 percent for the year to date to a current price of $12 (52 week high is $12.86).