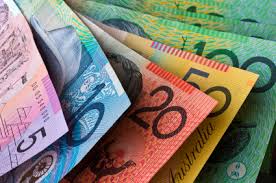 THE Australian dollar has tumbled to a seven-year low this morning in the wake of plunging oil prices and Chinese financial uncertainty.
At 7am this morning, the A$ was trading at US68.39c, down from 69.85c last Thursday, and falling 6.2pc from above US73c at the start of the year. This time last year, the A$ was 13c higher, at 81.7c.
Lower currency level is advantageous to Australia beef exporters, making Australian beef more price-competitive on the world stage when sold in US$.
The A$ has recently underperformed most major currencies, slumping to its lowest level since April 2009, as another dramatic sell-off on China's sharemarket and oil prices falling through $US30 a barrel again kicked off a fresh bout of global risk aversion.
The currency is starting the week again on the back foot, analysts said, with little market-moving local data and thin trading as the US observes a national holiday.
"The pressure remains to the downside, and we'll be watching for China GDP and industrial production figures on Tuesday," a financial analyst said.
The A$ risks falling further with key economic data due from China this week. The New York stock exchange fell more than 2pc on Friday, compounding the market negativity that sent global markets off to its worst start to the year on record.
China remains the chief driver of turmoil and key data indicating the health of the world's second-biggest economy was likely to cause further volatility commencing Tuesday, an analyst said.
"There is a risk of further disappointment in Chinese economic activity," he warned.
Some analysts are tipping the A$ to hit US65¢ by the end of the first quarter on March 30, with the risk towards falling beyond that.
Continue weakening
Recent analysis by Business Monitor International concludes the A$ is likely to continue weakening over the coming months and average US66¢ for 2016, versus US75¢ in 2015.
BMI put the expected devaluation down to falling real interest rate expectations amid weak economic activity due to an unwinding investment boom and property market weakness, coupled with high levels of external indebtedness.
Looking further out, and for the same reasons, BMI is predicting the A$ to weaken further and average US63¢ in 2017.
From an Australian red meat industry point of view, if the predictions come to fruition, it will be extremely beneficial, especially as at the same time there will be further tariff reductions into Japan, Korea and China. This will be particularly useful at a time of heightened beef competition from Brazil and Argentina, and as US beef production starts to grow after a couple of low years.