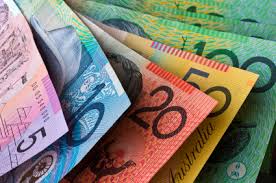 THE Australian dollar has fallen to a new four-and-a-half-year low after the release of very strong US employment growth figures over the weekend.
Earlier this morning, the A$ was trading at US82.90c, down from 83.76 cents on Friday.
That's its lowest level since a brief period of weakness in June 2010, and a more sustained period of low currency value in 2008-09, National Australia Bank said.
An lower currency level improves Australian beef's competitiveness against US exporters in international markets.
Driving the currency movement was a strengthening US$ against major currencies, caused by far better than expected US jobs data. The US economy created 321,000 new jobs in November, the highest monthly growth rate in nearly three years, the US Labor Department said.
That put the A$ and other currencies under pressure. The biggest losers amongst the G10 currencies since Friday were the Japanese Yen (-1.5pc), the NZ dollar (-0.9pc) and A$ (-0.8pc).
The A$ fell a total of 2pc against the greenback last week, its largest weekly fall in three months, after several economists changed their forecasts to include a Reserve Bank interest rate cut in early 2015, following disappointing growth figures.
On Friday, US non-farm payrolls smashed forecasts with data showing that 321,000 new jobs were created across the country last month, the biggest monthly total since January 2012. Economists had been expecting about 230,000 new jobs.
The strong performance from the US economy is in contrast to subdued growth seen in Australia.
Gross domestic product data showed that the Australian economy grew at less than half the pace the market was expecting in the September quarter.
Collapsing prices for Australia's key exports of iron ore and coal and a strengthening US economy has caused the dollar to slide more than 12pc since July.
That has prompted some forecasters to predict the Reserve Bank of Australia's cash rates will head down in the New Year, rather than up as had been widely expected. A fall in interest rates would push the dollar down further.
Pressure is increasing on the RBA to cut official interest rates to help stimulate growth. Some analysts are now pricing-in a least one 25 basis point cut to the cash rate over the next 12 months. Last week, a number of prominent economists began making calls for rate cuts in 2015, including Goldman Sachs, Deutsche Bank and Westpac.
The RBA has not cut the cash rate since August 2013 and it currently sits at 2.5pc.