BEEF exporters are welcoming further deterioration in the value of the Australian dollar relative to US currency in which much of the global red meat trade is transacted – but volatility in currency value remains a risk.
Overnight the A$ edged lower to open this morning at US89.43c, down a further 0.35c since Friday. At one point over the weekend it slipped as low as US89.21c.
It's now reached its lowest level since early March, making Australian beef exports more competitive. This time a fortnight ago, the currency was still at US93.66c, representing a drop of 4.23c since.
National Australia Bank issued a summary this morning saying the US$ had strengthened against all G10 currencies since Friday night, pushing the A$ to a new post-March low. The US Central Bank's latest statement last week on monetary policy was part of the reason for this.
The A$ was not helped by a further 1.6 percent fall in iron ore prices, which are now at a new post-2009 low of $81.70/t.
Domestically-oriented businesses are not reporting a marked change in activity levels. However the export sector has seen further falls in some export commodity prices – from bulk resource industries such as iron ore and coal – as well as pressure on grain and sugar prices, NAB analyst Barbara Leong said.
"It's not surprising then that the future path of the A$ is a critical focus for businesses, as it could provide some financial relief that might support profitability," she said.
Certainly exporters were still frustrated by the A$, despite the fall over the past fortnight.
"We have been at pains to point out the continuing global influences on the A$, such as the relentless search for global yields, compressed levels of volatility in global markets and the attractiveness of Australian yields," Ms Leong said.
"In our modelling of current drivers of A$ 'fair value', it's not been the down-trends evident in iron ore or coal prices that have been influencing the trend, but the hunt for yields and lower volatility. The lower level of volatility, in what has been a 'risk-on' environment, has supported the value of the A$/US$."
Volatility continues to hold the key to further declines in the A$, NAB says.
"There is more than sufficient geopolitical risk across the global and far from a full upswing in global growth, and yet credit continues to be favoured, providing some support for the A$."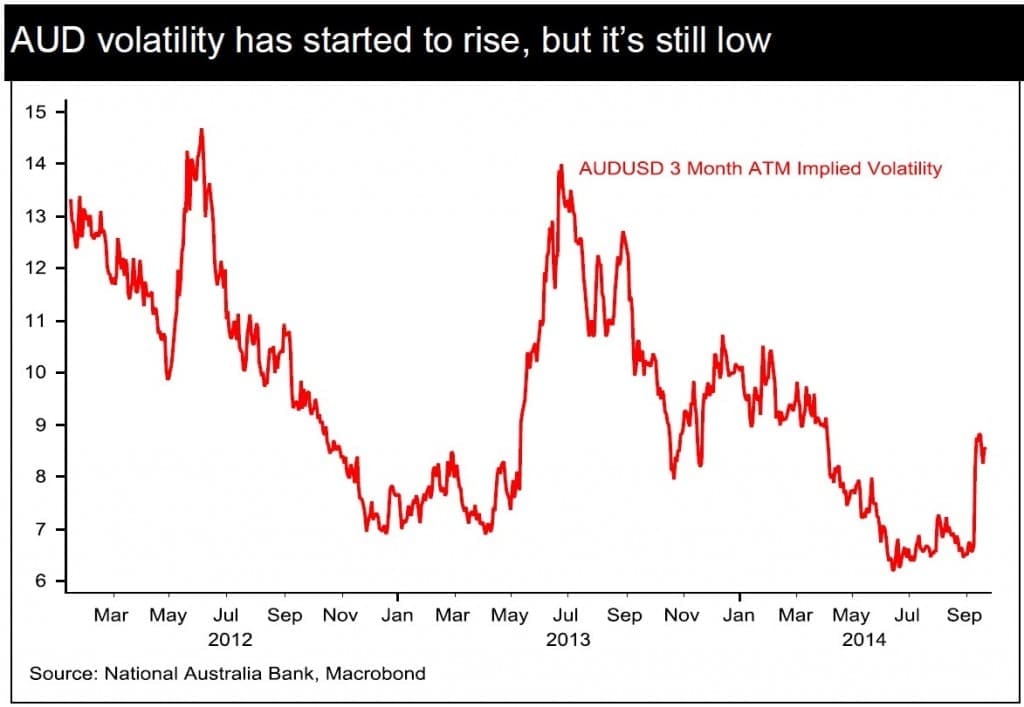 The graph published here illustrates the degree of volatility seen in the currency recently, and NAB's forecast.
We expect a trend improvement in the US economy will underwrite US rate rises through the second half of 2015, which should see some episodes of rising bond market volatility and further US$ support," NAB said.
Even though it could understand why the A$ was holding well above US 90c until recently (due to low volatility and relatively high Australian interest rates), NAB's FX Strategy team has been saying it was just a matter of time before A$ fell, just as commodity prices like iron ore have.
"Even now, the A$ is a little higher than the US89c it started the year at, despite the fact the iron ore price has fallen nearly 40pc in 2014," NAB said.
The bank's currency trend forecast is unchanged, with a prediction that the A$ will reach US88c by the end of 2014, and US82c by end of 2015.
As a prominent beef exporter told beef Central recently, "The only thing worse than a high A$ is a volatile A$. It tends to spook importers and they try to build in a little price insurance," he said.