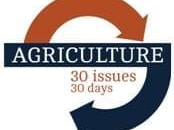 The importance and rarity of Queensland's best agricultural land has today been reiterated by AgForce as it calls for increased protection of this valuable asset as part of the '30 Issues, 30 Days' campaign.
For the past decade other industries, particularly resources and mining, have competed with the rural sector for access to this land, with the long-term impacts of resource activity on agricultural lands still largely unclear. The day-to-day operational impacts of an industrial or resources presence on a rural property further jeopardises capacity to produce food and fibre.
In response, the Queensland Government has audited agricultural land across the state and is currently reviewing the way it protects and prioritises it against competing uses. While a number of definitions have been used to describe land deemed as 'high value' including Good Quality Agricultural Land (GQAL), Strategic Cropping Land (SCL), Important Agricultural Areas (IAA) and Priority Agricultural Areas (PAA), what is most important is that the best agricultural land is preserved for food and fibre production for future generations.
However, AgForce spokesman, Arthur Gearon, said there was still risk the state's best and most productive land would not be adequately protected.
"Even if identified as high quality agricultural land under the Government's analysis there is still potential for permanent impacts from non-agricultural pursuits unless certain criteria are met," Mr Gearon said.
"Landholders want an equal say with Government and resource proponents on what activities should proceed.
"We are talking about our most precious soil and water resources which are fundamental to the success of our rural sector – the best land we have and it's irreplaceable.
"This land must be protected and producers must have certainty that this protection is effective if they are to achieve the Government's target of a doubling of agricultural production ."
Specifically, as outcomes from the current Government review AgForce Queensland calls for:
The State Planning Policy to ensure Local Government plans support the growth of agriculture and consistently deliver effective protection for high quality cropping and grazing land from other land uses that would compromise its current and future productive potential;
The Statutory Regional Plans to prioritise agriculture by providing a mechanism by which individual landholders can be an equal party in discussions on resource activities proposed to occur alongside high value agricultural land uses, including identifying a forum for the arbitration of disagreements about what is reasonable prior to entering Land Court;
The Strategic Cropping Land Act review to ensure that high value soil resources, including those currently used for intensive dryland cropping, are effectively protected from permanent loss so this resource is maintained for the use of future generations.
"We are moving towards a situation where various sectors can co-exist," Mr Gearon said.
"However a lot of work remains and we are not there yet."