BIOSECURITY challenges, barriers to trade and the battle to rebuild the agricultural workforce were all on the menu when Federal Minister for Agriculture, Fisheries and Forestry Murray Watt addressed a Rural Press Club of Queensland lunch on Friday to celebrate National Ag Day.
The same event also saw the distinguished rural media career of former ABC Landline and National Rural Reporter Peter Lewis recognised with honorary life membership of the Rural Press Club of Queensland.
The Minister paid tribute to the important role media plays in rural and regional Queensland, and its impact on public policy and rural communities, and congratulated Mr Lewis on his contribution to the ag sector.
"Whether it's the Queensland Country Life, Beef Central, NQ Register, Longreach Leader, ABC Rural Report, Queensland Country Hour, which I did an interview with Arlie for this morning, or even the Betoota Advocate, the reach and impact of your reporting on our way of life is immense.
"I am constantly surprised with the amount of people who text me and say "Oh Murray I just heard you on the Country Hour", or "I saw what you said in Beef Central".
"Your impact on public policy and our rural communities should be celebrated and I'm glad to do that here today.
"Can I also pay tribute to Pete Lewis as well, his work with the ABC, particularly in Rural News has been legendary and his work in the Rural media space in the recent years has promoted and profiled our industry to the wider community.
"So congratulations on your life membership."
In opening his National Ag Day address Senator Watt noted the ag sector is experiencing "quite a good time" with three consecutive years of above average rainfall along with high and increasing commodity prices for almost all major agricultural products.
But at the same time the farm sector faces challenges with higher prices for fertiliser and other inputs, interest rates rising and a critical need for good infrastructure.
Among the issues he focused on during his address were:
BIOSECURITY: The recent Albanese Government budget included increased investment of $134.1 million to bolster Australia's biosecurity system against the immediate threat of disease.
On Friday Minister Watt also announced two grants to Meat & Livestock Australia ($550,000) and LiveCorp ($1.2m) to support Indonesia's biosecurity response to foot and mouth disease and lumpy skin disease.
The projects will include an in-country risk assessment and mitigation plan, development of feedlot manuals, and training delivery on biosecurity and emergency response in Indonesia, and help feedlots the cost of with buffer zone vaccinations.
TRACEABILITY: The other key component of the biosecurity package was "a big new investment in livestock traceability", with $46.7 million invested to support continuous improvement in livestock traceability systems.
"While there have been big improvements in traceability in some livestock industries, sorting out traceability for sheep and goats had been "a holy grail that's eluded governments for years," Minister Watt said.
"But I'm pleased a new cooperative approach between the Federal, State and Territory Governments has seen real progress.
"We are now working with industry towards mandatory implementation of national individual electronic tagging for sheep and goats in each jurisdiction by 1 January 2025.
"We are serious about seeing that commitment realised."
DISASTER PREPAREDNESS: The Federal Budget included up to $1 billion over the next five years in a Disaster Ready Fund to mitigate the impact of disasters by building new flood levees, cyclone shelters, bushfire evacuation centres and seawalls, around the country.
"We need to reduce the risk, not just respond."
CHINA: Mr Watt described Prime Minister Anthony Albanese's meeting with Chinese President Xi Jinping – the first such meeting between the two countries' leaders since 2016 as a positive step for the Australian agriculture sector.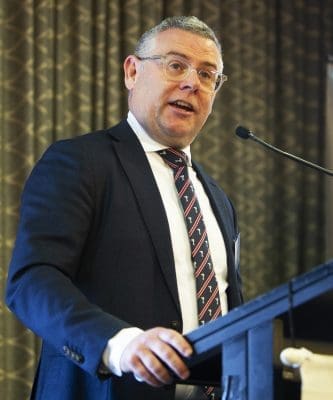 The Australian agriculture, fisheries and forestry sectors had paid a heavy price for the deterioration in the relationship with China in recent years.
He said the Prime Minister had made it clear that it was not in Australia's best interests to have no dialogue with its major trading partner.
"We have been consistent that we want these trade blockages removed.
"It is in both Australia and China's interests.
"We would prefer to resolve these trade blockages through sensible and mature discussion".
"There is a long way to go, and we have made clear we will always stand up for Australia's values and our national interest, but this is a good first step."
COP 27: He also drew attention to Australia's involvement in the COP 27 discussions in Egypt in recent weeks, led by the National Farmers' Federation and Australia's Climate Change and Energy Minister Chris Bowen.
"I've said before that Australia's agriculture industry has been waiting for a government that would join the industry's own endeavours to tackle climate change.
"And why wouldn't they, when you consider ABARES research that shows climate change is costing every farm, on average $30,000 per year.
"Farmers, processors and the industry long ago moved on from the climate wars and finally we have a government ready to help."
The Albanese Government has recently committed Australia to joining more than 120 other countries in signing on to the Global Methane Pledge, a non-binding, collective, economy wide ambition to reduce methane emissions.
"Unlike the approach of some other countries, ag was at the table when our government was considering this and the sector achieved an outcome that not only champions the work that you are already doing but invests in incentives to reduce emissions rather than imposes punitive measures like a tax or a levy."
AG INNOVATION: Focusing on the theme of this year's National Agriculture Day – "Celebrate innovation in agriculture" – he pointed to a number of examples where Australia was innovating in order to maintain its place as a world leader in food and fibre production.
"Whether that is at Murrarie, where Australian Country Choice is not only innovating to improve their value adding proposition, but also driving agriculture education as a key part of the industry's future.
"Another big part of the industry's future is sustainability, which we heard about in a great speech from Dr Terry McCosker at the QFF breakfast this morning.
"Earlier today Minister Bowen and I announced almost $30 million in grant funding has been awarded to farmers and land managers across Australia to make it easier for them to measure the amount of carbon in their soils."
The $1.1 billion announced in the Budget for the next phase of the Natural Heritage Trust program included $302 million for climate smart agriculture, to assist Australian farmers to deliver on environmental goals, participate in newly emerging carbon and biodiversity markets, reduce their emissions while growing the agricultural sector as well.
"Not only will this deliver for the environment, it will unlock new income streams and new premium markets for our produce as more international consumers look for clean, green, sustainable products."
LABOUR SHORTAGES: The Minister said another problem farmers and their representatives "raise with me all the time" is the issue of workforce shortages.
He said the Tripartite Workforce Working Group which brings together government, unions and employer groups, and was a direct outcome of the Jobs and Skill Summit held earlier this year, has really started to "pick up a head of steam" to deal with the longstanding challenge.
"We have already begun work in the space including beefing up the PALM scheme, unclogging the visa waitlist and I'm pleased to advise that our government has put agriculture on the priority industry list for our new fee-free TAFE places.
"There is a lot more work to be done, but this is a good start."