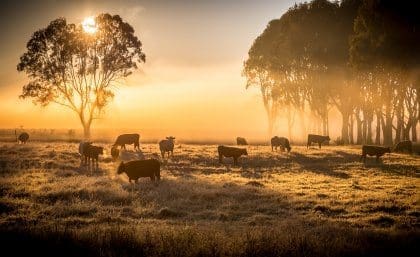 With ag industry bodies on one side and the Nationals on the other, net zero emission targets have become a central dividing line among groups representing rural Australia.
The Nationals dominated mainstream news cycles last week after Deputy Prime Minister Michael McCormack called for agriculture to be exempted from national net zero carbon emissions targets.
That position is in direct contrast to the position taken by many farm representative groups which have committed to clear reduction targets for various agriculture sectors over the next 10 to 30 years.
In its commitment to a national net zero emissions target by 2050 the National Farmers Federation holds that agriculture must not be left worse off, but says farmers are in the box seat to seize opportunities from a reduced emissions future, and that "agriculture is too important to leave out and too important to ignore".
Despite farm sector criticism of the Nationals' agriculture exemption position last week, Nationals Senator Matt Canavan doubled down on his opposition to emissions targets when he addressed the Queensland Rural Press Club late last week.
The former Productivity Commission and KPMG economist and ministerial chief of staff to Barnaby Joyce is firmly of the view that Australia should not commit to any net zero target whatsover, a step further than that taken by Michael McCormack, and in Senator Canavan's view making the question of whether agriculture should be carved out immaterial.
In a Q&A session moderated by Qld Rural Press Club president Stacey Wordsworth, Senator Canavan said Australia had only managed to achieve its Kyoto targets from 1990 to 2020, becoming one of the few countries in the world to do so, because property rights were stripped away from rural landholders with little to no compensation by State tree clearing laws.
Australia would not have achieved its Kyoto targets otherwise, he said, with emission rates from sources such as electricity, transport and industrial processes remaining largely unchanged over the 30 year period.
"Reaching the Kyoto protocol was born from the back of farmers, and I can just see this happening again, that is where this is going," he said.
"I don't trust that people in the city are going to want to give up their holidays overseas, that they are going to give up driving down to their weekend homes at the Sunshine Coast and Gold Coast, I don't think that is going to happen.
"They're going to keep emitting carbon and the key thing to remember with that is that this new commitment is not zero emissions, it is net zero emissions.
"The net does a lot of work in that statement, because what they will do is tick a box on their airplane tickets and say yes, I am going to offset my carbon emissions, and that will be done by planting trees and taking away farmland in regional Australia."
Senator Canavan said selling carbon credits to the Federal Government was not a desirable outcome for farmers because it would make their businesses reliant on cash flows from Canberra, which as a customer would demand "more and more" in return over time.
Many countries, including many that had not met their Kyoto targets, had signed up to net zero emissions targets, but none had put forward a realistic plan about how they were going to meet them, he said.
"I think it is just madness that we sign up to get rid of all of our emissions, or net them off, without any kind of business plan or understanding of how we are going to do it," he said.
"In Australia we net 513 million tonnes of carbon dioxide per year, we were doing some sums yesterday, if we are going to offset that with the trees idea, if you were going to offset that over the last 30 years you'd have to cover at least 75pc of New South Wales with trees.
"That is a pretty big task, I think we should understand how to do that first before we sign up to this stuff."
He also questioned how countries such as China could be held to their net zero emissions targets, when they were continuing to 'install massive amounts' of coal fired power stations.
"Does anyone seriously believe that where the World Health Organisation has failed, the IPCC will prevail?
"The inspectors sent into China to find the origins of coronavirus came back empty handed. You reckon inspectors going in to check if China has met net zero will be any luckier? I don't think so."
Senator Canavan said at the bare minimum Australia should do full costings "before signing up to anything".
Ag industry targets 'completely incoherent'
He also took aim at specific industry commitments such as the Australian red meat industry's target to achieve net zero emissions by 2030 and the National Farmers Federation's 2050 target for Australian agriculture.
"I just find the MLA's position and the NFF's position on these issues completely incoherent," he said.
"You set a target to be net zero by 2030.
"That sounds achievable because you have reduced emissions by 50 percent. But that half, that 50pc reduction, is almost exclusively due to the tree clearing laws imposed by State governments.
"That, I know the MLA might not take a position on this, but that the NFF are opposed to.
"We go to elections, the big thing why I got out there in the (Qld) state election last year and tried to get rid of this Government was that I'm sick and tired of landowners not being able to develop their own land, I want them to be able to do it again.
"If we do that, we let that happen, then we will get rid of a large chunk of the 50pc of carbon emissions reductions that we have achieved to date.
"And they have this plan that we're going to be net zero by 2030.
'you have to actually make a choice in politics and life, you can't have it all'
"So you have to actually make a choice in politics and life, you can't have it all."
"Do we want net zero by 2030 or do we want farmers to have proper property rights and not have their land values devalued by regulations without any compensation?"
Some variability clearly exists within the Nationals ranks, with deputy leader and Ag Minister David Littleproud reported to be "sympathetic" to the idea of an emissions target. "Our party room hasn't got to a juncture of dismissing it. We want to see what the plan is and who pays for it," he told The Conversation's Michelle Grattan last Thursday.
In response to Senator Canavan's comments, the NFF referred Beef Central to its online statement posted last week by CEO Tony Maher.
CN30 provides a huge opportunity: MLA
Meat & Livestock Australia replied with a statement from Managing Director Jason Strong, who attended the QRPC lunch where Matt Canavan spoke, explaining what the red meat sector's Carbon Neutral 2030 is designed to achieve.
"CN30 is the red meat and livestock industry's target to achieve net zero annual GHG emissions by 2030 that demonstrate the industry is proactively addressing emissions, reinforces the industry's reputation as a global leader in sustainable food production.
"Importantly, the CN30 goal is equally connected to the intergenerational sustainability of red meat businesses and increasing efficiency and profitability of our industry, and all of these things have to remain directly connected to each other.
"There is such an opportunity here for our industry with the CN30 initiative – and with other sustainability projects and programs across the industry.  As our customers, consumers and the community increasingly want to see environmental stewardship credentials from our industry, we have an opportunity to demonstrate our world leading credentials in sustainable red meat production, delivering high value, high quality products.  At the same time we can ensure intergenerational sustainability and profitability of our businesses as environmental custodians of our farming lands.
"This is an industry aspiration that will contribute to achieving the industry's strategic aim of doubling the value of red meat sales as the trusted source of the highest quality protein – something that will be achieved through improved productivity achieved through adoption of innovation and new technologies.  Whereas the NFF's position is one of policy for the entire agriculture sector to support an aspirational economy-wide target of net carbon zero by 2050.
'CSIRO research shows it is possible for the Australian red meat industry to achieve CN30 while maintaining animal numbers'
"The genesis of CN30 comes from 2017, again before NFF's policy position, following research undertaken by a consortium of organisations led by Australia's national science research agency, CSIRO. This showed it is possible for the Australian red meat and livestock industry to achieve CN30 while maintaining animal numbers, through continued efforts to avoid greenhouse gas emissions and store carbon in vegetation and soils.
"For MLA, we are investing in technologies to support industry's transition to a carbon neutral position. Some technologies and practices being adopted include improved animal genetics and husbandry practices to reduce emissions intensity (per unit of meat produced). Other options require further research and development to validate their environmental and economic benefits for industry and its stakeholders.  This is MLA's role and contribution to achieving the CN30 target as MLA does not set policy.
"CN30 provides a huge opportunity to meet the growing interest from our customers and consumers and be rewarded and acknowledged for doing so. The pathways to success don't require the heavy hand of regulation, and importantly it will be our industry's people, customers and consumers who will empower industry to achieve CN30 while remaining the trusted supplier of the highest quality protein. continue to ensure."