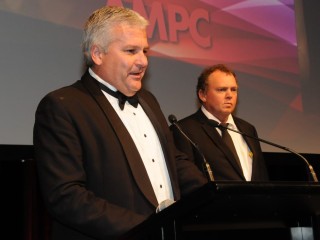 Family-owned processor Nolan Meats at Gympie last night earned the coveted Premier of Queensland Exporter of the Year award, largely in recognition of the company's efforts in pioneering the Australian Export Meat Inspection System.
Nolan Meats, which started life as a small family butchery business half a century ago, now employs more than 300 staff.
It earned the annual Premier's awards Agribusiness division trophy before clinching the overall exporter title against strong competitors from the mining, technology and other business sectors.
Acting premier Andrew Fraser, who presented last night's awards, said Nolan Meats exemplified the tenacity displayed by regional exporters in recent times. The business was established as a butchery by Pat and Marie Nolan in 1958, with a small slaughterhouse added in 1964. Their three sons Michael, Tony and Terry followed in their footsteps, growing the business into a significant force in the Australian domestic, and more recently export beef market.
As outlined in a recent Beef Central article "Innovation award for AEMIS food safety reform work" Nolan Meats was largely responsible for pioneering the application of food safety reforms under the ground-breaking AEMIS meat inspection system.
The AEMIS system of co-regulatory export certification was launched by agriculture minister Joe Ludwig on October 1. As of Friday last week, 19 Australian abattoirs had already made the transition to the new AEMIS inspection model – including 15 with AAO's and two using traditional AQIS inspection. A total of 15 boning rooms have also made the move.
At the time of the AEMIS launch, Nolan Meats was the only meat processor in the world exporting to the top-shelf export customer countries of the US, Japan and South Korea under the system, through a pilot development process which had its origins as far back as 1995.
"Nolan Meats has long had a goal to gain access to all international markets, with company people fulfilling the meat inspection role," company spokesman Terry Nolan said last night.
"We saw such a move as simultaneously providing a stronger career path for personnel, and greater flexibility and efficiency within the role carried out by meat inspectors. Most important of all, we believe AEMIS enhances product safety, and that view has been endorsed by international customers and food safety regulators."
"It's about building-in quality at all points of the supply chain to reduce costs: not putting faith in government to 'inspect quality in' at greater cost, at just a couple of points in the chain. Quality and safety are our responsibilities under the system," Mr Nolan said.
Last night's award win by Nolan Meats was a resounding endorsement for Queensland's beef processing sector, responsible for processing about half of the nation's adult cattle kill.
Beef processors have now claimed the overall Premier of Queensland Exporter award three times in the past seven years, against mining, manufacturing, IT, education and various other industry sectors. JBS Australia (previously AMH and JBS Friboi) won the overall award in 2005 and 2009.
"This year's celebrations took on a new focus, to recognise the remarkable resilience and courage displayed by our world-class exporters after the summer of natural disasters," acting premier Andrew Fraser said last night.
"In the wake of some exceptionally tough circumstances, the winners and finalists for 2011 showed true Queensland spirit to get on with the job and take their products to the world."
The Premier of Queensland's Export Awards are presented each year to recognise the outstanding achievements of the state's leading export businesses and industries.
"Last year merchandise exports contributed more than $48 billion to the Queensland economy," he said.
"We know exporting is vital to Queensland's economy and jobs, which is why we need to continue to look beyond our borders to grow established relationships and develop new markets. This opens Queensland up for trade with more nations and helps to continue developing our world-class industries and create new jobs."