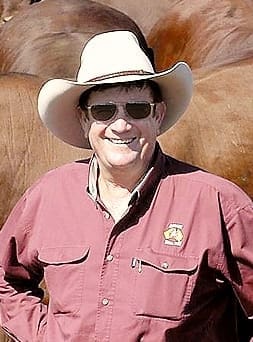 PROMINENT Queensland beef producer Graham Acton is in intensive care in a Brisbane hospital following an accident at Clarke Creek campdraft between Mackay and Rockhampton on Friday afternoon.
His son, Tom, who manages the family's Croydon Station cattle enterprise near Marlborough, confirmed that his father had had a bad horse accident while competing in a draft on Friday.
Mr Acton was air-lifted to the Royal Brisbane Hospital's intensive care unit early Saturday morning as his condition worsened. His condition on Saturday morning was described as serious, but stable, Tom Acton told Beef Central.
He said Graeme was in the hands of specialists, who were doing all they could to assist.
Graeme's family was still gathering around him in Brisbane on Saturday morning. Brothers Evan and Allan Acton were en-route from their bases in Northwest and Central Queensland, respectively, as this report was posted on Saturday.
Australian Campdraft Association president Ian Atthow told Beef Central on Saturdayt that Mr Acton's horse fell whilst competing in a draft at Clark Creek late on Friday afternoon.
"He was treated by the ambulance officers that were in attendance immediately, and was then air-lifted to Rockhampton. During the night he was air-lifted to Brisbane by the Royal Flying Doctor Service – that is all I know at this point in time," Mr Atthow said.
"This morning all I knew was that he was still unconscious, but the family has asked for privacy so we're all sitting and waiting to hear ourselves."
Mr Atthow said the thoughts and prayers of the entire Australian campdrafting community were with Mr Acton and his family.
Graeme and his wife Jennie are keen campdraft enthusiasts who host one of Australia's largest annual campdrafts at their showcase Paradise Lagoons Station outside Rockhampton each year.
Update: Monday morning, 5 May
There had been some improvement in Graeme Acton's condition by Monday morning. He was no longer on life support and was breathing unassisted.
His condition is listed this morning as serious, but stable.