ONE of the benefits of today's multi-national meat processing workforce environment is the opportunity for cultural exchange, and it was on display in the most vibrant and melodic way at Brisbane's Australian Country Choice beef plant on Sunday.
A 40-strong team of staffmembers drawn from Samoa and the Solomon Islands have for the first time formed a 'meatworker choir', delivering their first public performance to a group of enthusiastic supporters at the plant on the weekend.
The islanders are well-known for their natural and instinctive musical ability, and their performance on Sunday included a mix of Easter Christian hymns and spiritual songs, Pacific island traditional songs, dances and ceremonies. Many of the performers carried intricate traditional tattoo work on their shoulders, backs and thighs.
As can be seen in the attached short video, the performances were delivered in three-part harmony – with infectious energy, and unbridled joy and happiness.
"We started a little journey last year with our Pacific Island recruitment program, and didn't know how big it was going to end up," ACC's chief operating officer Andrew Ross said.
ACC started with ten new staff under the Government's Pacific Island Labour Program last September, with the number now swelling to 84, making up more than 10 percent of ACC's workforce. Another 50 will arrive before the end of May.
"The Pacific Islanders are now a special part of the ACC team," Mr Ross said.
Sunday's performance was about the broader community learning about the culture of the Islanders' home countries. Many have made sacrifices, leaving their family and children at home to come to Australia to find work at ACC," he said.
The Samoan and Solomon Island contingent are two of 61 nationalities currently represented within the ACC workforce. Other large communities come from China, Brazil and the Phillipines.
None of the Islander recruits had had any prior meatworking experience, but have quickly adapted to their new tasks in the boning room, killfloor and other parts of the business.
All have been embedded in the business under what ACC calls its 'soft landing' training program.
Some have already started to progress up the classification ranks. Cultural leaders are also operating within the work teams.
Mr Ross said the islanders were naturally musical, and with many of the growing team living in a community at Kangaroo Point, often entertained themselves after work shifts with singing around a guitar.
"Communal singing is a big part of the Pacific Island culture," he said.
"The singing started as part of the induction process after they arrived in Australia, and coming up to Easter, the idea of the choir emerged."
Group singing came completely naturally to staff from the Island region, and they often broke out into song in the lunch rooms and rec areas.
"It's very cultural for the islander people," he said
"They are a long way from their family and friends at home, and spiritually, Easter is an important part of the calendar for many islanders. Being able to celebrate their culture while they are here means a lot to them, and a lot to us."
Many of ACC's Pacific Island recruits were in turn starting to assimilate with Australian culture, especially in sporting pursuits like rugby, soccer and volleyball – either through the church community or clubs.
With Australia going to less than 4pc unemployment, all meat processors across the country were facing similar challenges with staffing plants, and solutions like that being explored at ACC are clearly part of the future.
"Despite the recent Islander arrivals, we are still at least 15 percent below where we need to be, staff numbers wise," Mr Ross said.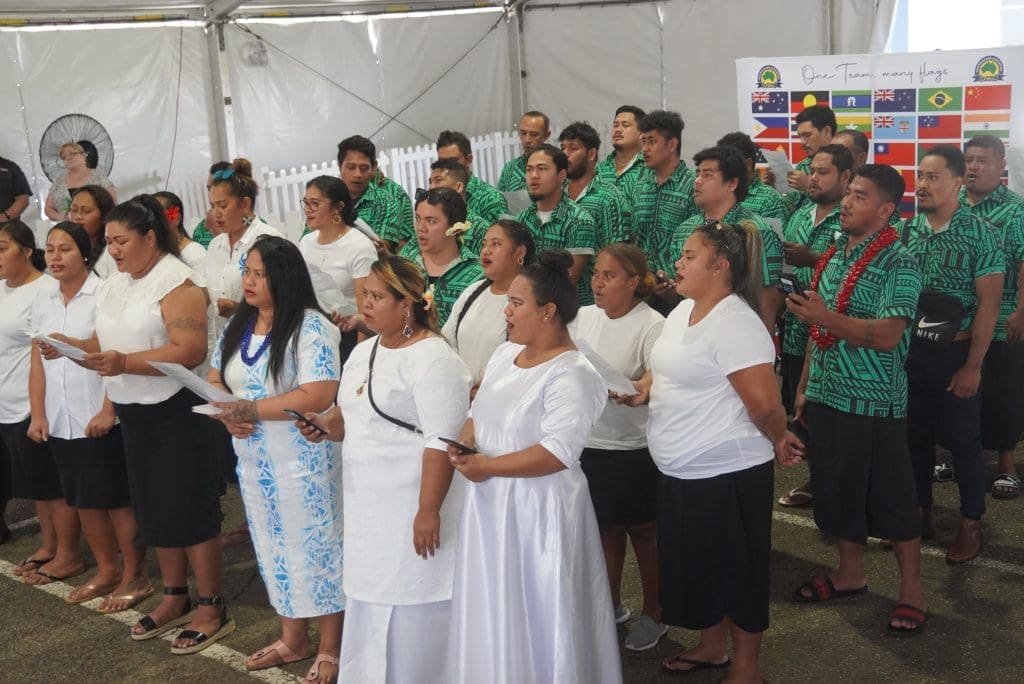 One of the organisers of the Islander staff choir program was Molly Auvaa, a Samoan who is senior general manager for ACC's further processing and logistics business.
"When the first groups of arrivals came to Brisbane, I kept visiting their lodge to make sure they were all comfortable, and settling in. Every time I was there, they had a guitar out and were singing," she said.
"It led to the idea of forming a choir, to share the music with others. We've only had two full group practises before Sunday's performance – because half work the day shift and the other half, the night shift. The only common time we could find was for an hour or two on a Saturday."
She said for both Somoans and Solomon Islanders, Easter was a very important time for religious reasons. Many were active Christians involved in their community church.
"They would be feeling their absence from their families and friends. Some are as young as 18 or 19, and have never spent long away from home. So this cultural activity is important."
"The fact that there is a growing community of Somoans and Solomon Islanders at the plant is making it easier for others who are now arriving," Ms Auvaa said.
Keep an eye out for Landline's upcoming segment on the ACC meatworker staff choir