A new secure database of Australian farms has been constructed as part of a multi-year collaboration between the Australian Bureau of Agricultural and Resource Economics and Sciences (ABARES) and the Australian Bureau of Statistics (ABS).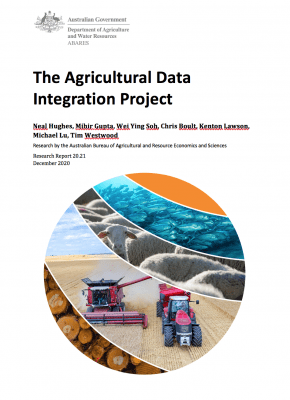 The final report of the Agricultural Data Integration Project (AgDIP), released today by ABARES, details this innovative work that integrates several existing datasets to unlock new insights and applications for Australian farms.
The report presents a range of new analysis undertaken with the database, exploring fine scale trends in crop production, the effects of seasonal climate and drought on farm outcomes, and measuring trends in water productivity in the Murray-Darling Basin.
ABARES Senior Economist and project lead Dr Neal Hughes said the dataset can help us better understand, measure and potentially forecast the effects of drought and climate change across different types of farms.
"This database provides a clearer picture of long-term trends in the agriculture sector, allowing us to publish datasets at finer spatial scales and with more consistency over time, than has been possible in the past," Dr Hughes said.
"There are some exciting future applications, including supporting new approaches to drought risk management for farmers and undertaking detailed evaluations of government programs or farm management practices."
The project combined ABS Agricultural Census and survey data since 2000-01 to construct the Farm-level Longitudinal Agricultural Dataset (FLAD) which was then integrated with the ABS Business Longitudinal Agricultural Data Environment (BLADE).
Project work was supported by the Australian Government's Data Integration Partnership for Australia (DIPA).
ABARES Executive Director Dr Steve Hatfield-Dodds said the construction of this database was a significant achievement, providing government with a long-term asset that can be used to inform key issues, ranging from the drivers of farm productivity, to the effects of drought and climate change, to understanding policy impacts in areas such as water reform.
"The project represents an important milestone both for efforts to extract the best possible value and insight from existing government datasets, and for the development of a new, modern approach to agricultural data and statistics that delivers more to industry and government users, while reducing the respondent burden associated with surveys," Dr Hatfield-Dodds said
As with all DIPA projects, the privacy and anonymity of an individual's information is protected, with the database de-identified and held in a secure environment to be used only for policy analysis and research purposes.
ABS Industry Statistics General Manager John Shepherd said the project was a testament to the close relationship between ABARES and the ABS and their shared commitment to modernise Australian agricultural statistics.
"The ABS Five Safes Framework and secure DataLab environment allow this valuable work to be undertaken while strictly protecting privacy and confidentiality," Mr Shepherd said.
Source: DAWE. The Agricultural Data Integration Project report is published here https://www.agriculture.gov.au/abares/research-topics/climate/agricultural-data-integration-project.