A program which is getting young Aborigines back in the saddle and putting indigenous pastoral enterprises on a commercial and sustainable footing is celebrating 20 years of achievement.
National Indigenous Pastoral Enterprises operates as a wholly owned subsidiary of the Indigenous Land Council across northern Australia.
With a network of 14 stations covering more than 2.15 million hectares and carrying about 90,000 cattle, NIPE is a significant pastoral player and is looking to replicate its success into the future, according to general manager Garry Cook.
Mr Cook told a Queensland Rural Press Club-hosted dinner in Cairns on Friday, October 9, that Aboriginal stockmen were making a comeback after generations of being displaced from the pastoral industry.
He was addressing overseas journalists and their Australian colleagues on an International Federation of Agricultural Journalists tour.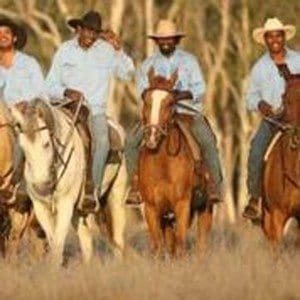 Mr Cook said the decision to grant equal wages to Aborigines in the late 1960s has been a "hollow victory."
"It created unemployment. Paying the Aboriginal workers to do nothing and creating a welfare dependency was a very sad story."
Families and whole communities could no longer work on properties where they had been for generations.
The wage decision was worsened by the impact of a rural recession and low beef prices and it also coincided with an era of increased fencing and new technology such as road trains and aerial mustering.
Mr Cook said NIPE was taking a leading role in re-establishing the long connection indigenous people had with the pastoral going back more than 100 years, either buying stations or working with traditional owners and indigenous groups to develop the potential of land they owned.
NIPE also operated one of Australia's best live export cattle depots, Roebuck, near Broome in Western Australia which had a throughput of 85,000 head in the past year.
"We've been a quite forceful advocate of the live trade threatened by an unholy allowance of meatworkers and vegans," Mr Cook said.
NIPE had built up its pastoral program from scratch over the last 15 years, investing more and $40 million into infrastructure development.
Building the productive capacity of it's pastoral holdings increased employment capacity and had significant social economic benefits for northern Australia.
Mr Cook said training of young Aborigines for a career in the pastoral industry was a major part of its activities with 240 employees and 102 trainees now productively engaged.
Around 75 percent of the NIPE workforce was indigenous. Almost half were engaged as head stockmen or above and there was a concerted push to lift the level of indigenous participation in pastoral management roles.
"We are constantly striving to improve our herd management, including implementing breeder segregation and buying bulls that have been bred to improve herd fertility."
Mr Cook said here was also a focus on sustainability.
NIPE was working on emerging carbon economy opportunities on agricultural land with 15,000 carbon credits already earning for dry season burning at Merepah on Cape York.
There were also opportunities under the newly-approved whole herd methodology.
"NIPE has been able to make a real difference and we are confident that there will once again be a bright future for indigenous participation in the northern beef industry," Cook said.
A key to the success of pastoral training programs had been the engagement of Aboriginal leaders in the process, such as John Ross, affectionately referred to by his students as King John.
Mr Ross retired in March after seven years working as a training manager on Crocodile Station at Laura.
"I grew up on Cape York and worked with cattle all my life, sharing my knowledge from more than 20 years as a head stockman. It was hard work for low pay, but I loved it," Mr Ross said.
He said there were great challenges engaging young people, often from troubled backgrounds with limited life skills.
"You have to address these basic issues or you are wasting your time and money," he said.
"I had to be patient with students and take them under my wing. Many still keep in contact with me after they leave the training program," Mr Ross said.