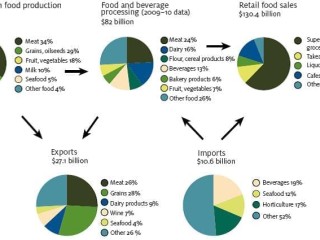 The high cost of processing cattle in Australia compared to export market competitors stands as a major challenge as the industry attempts to fully capitalise on the export opportunities created in Asia by rapidly rising middle class incomes.
Some analyses place the average cost of killing cattle in Australia at $370 per head, compared to around $150 per head in the United States.
In submissions to a Senate committee inquiry into Australia's food processing sector earlier this year, meat processing representatives outlined many of the factors that are impacting on the competitiveness of Australia's meat processing sector.
In its formal submission to the inquiry, the Australian Meat Industry Council listed several sources of pressure on the viability of red meat processors, including
Rising input costs (including the carbon tax);
The effects of high exchange rates and the escalation in Australia's terms of trade;
Local, state and federal regulatory compliance costs;
The return to 100pc cost recovery for AQIS export certification charges;
Shortages in, and the cost of, skilled and semi-skilled labour;
Transport and infrastructure constraints, in particular maximum road weights, the need for uniform standards across Australia and the need for improvement in rail infrastructure;
Market access constraints (ie Sanitary and Phytosanitary (SPS) agreements allow World Trade Organisation members to set their own levels of quarantine and food safety which can involve a wide spectrum of technical, political, religious and cultural impediments to trade);
Inefficient taxation regimes (AMIC pinpointed 'anti-competitive taxes' such as payroll tax in particular, which it said acted as a disincentive to employing additional labour units and added to competitive pressure.
The following excerpts from public hearings and submissions highlight some of the more specific concerns and views expressed by red meat processing industry representatives during the long-running inquiry:
Transport issues
AMIC immediate past-chairman Gary Burridge told the senate select committee that a lack of uniformity in Australia's transport and infrastructure systems was impacting on the competitiveness of the meat export business:
An example is the maximum road weight limits in New South Wales. These limits significantly impact on high mass density products like red meat. Forty-foot refrigerated containers now make up the bulk of international container transport systems. Loading a 40-foot container with frozen meat cartons in New South Wales exceeds the road weight limit. This results in inefficient trucks and container utilisations, adding costs and significantly impacting on competitiveness. We are global suppliers and we should have a uniform, globally competitive national transport system.
AMIC sheepmeat industry representative Roger Fletcher said problems with rail infrastructure were also costing business:
We send trains to the port and we cannot go into deep ports at present because they are fixing the train line. But to take a container one kilometre costs us $300. I saw a bill yesterday for one container with waiting time of $360 on top. That is not good enough. They can heap the costs back onto us. I know this is a New South Wales situation and I have a problem with the states. There are six departments running trains—too difficult. That could be streamlined. It is not a matter of spending a lot of money; it could be organised with better management.
Tax inefficiency
AMIC said the burden of 'inefficient taxes' was acting as a disincentive for employment, and, as they were not incurred in offshore facilities, such taxes placed foreign competitors at an advantage:
Inefficient taxes like payroll tax act as a detriment for business involvement, particularly when it acts as a disincentive for employment. Payroll tax is just another burdensome tax on business. It increases the cost of labour units in the business. That business is a labour-intensive business. It is a cost that is not borne by our competitors overseas. Australian live animal exports to markets like Indonesia and the Middle East are processed in facilities that do not incur such taxes, further destabilising the level playing field for our sector – Gary Burridge
Carbon tax
Peter Greenham, executive chairman of HW Greenham and Sons Pty Ltd, told the inquiry about the effect of the carbon price and the implications he expects for his business. He
advised that although the emissions of his business will be below the limit where the pricing regime applies, increased costs will arise from increases in inputs such as power. Speaking at a hearing prior to the introduction of the carbon tax from July 1, Mr Greenham said he had been informed by the power companies that the cost increase and their energy bill will go up by around 18 per cent or around $160,000 per year on a current bill of around $950,000.
AMIC chair Gary Burrdige said the meat industry was concerned at how the implementation of the carbon tax in Australia will change the industry's competitiveness and productivity in an international environment, as its major competitors were not similarly impacted:
While many large export meatworks are over the 25,000 tonne carbon emission threshold for direct payment, they do not emit enough carbon to attract the significant financial support that the steel and concrete industries and similar large-scale manufacturing industries have access to. Somewhere between 15 and 25 meat processing plants in Australia are likely to exceed the 25,000 tonne carbon threshold.

Rising AQIS fees
Time and again submitters from all food industry sectors expressed concern about the cost increases that had resulted from recent Export Certification reforms by AQIS.
AMIC said the move to 100pc cost recovery arrangements for AQIS certification was undermining Australian competitiveness in global markets:
While AMIC has entered into agreement with the federal government for the delivery of a new Australian Export Meat Inspection Service, commonly known as AEMIS, this is only the start of a drive for new efficiencies. Productivity gains from the system fell well short of what we negotiated originally and they fell well short of negating the impact of the costs associated with the removal of the 40 per cent contribution from government. Every Australian packer is paying more. We are also competing in an international marketplace with countries like the United States and Brazil that do not charge these government fees – Gary Burridge
JBS Australia director and manager, corporate and regulatory, John Berry, outlined the additional costs that the shift to full cost recovery policy will have for JBS' operations:
In our case, taking away the 40 per cent rebate has meant that overall costs for us in terms of our AQIS fees and charges have gone from $6 million before the reform agenda to now $10 million per year, based around the government's full cost recovery policy.
Market access
AMIC told the inquiry that portfolio responsibilities between trade and agriculture were unclear and were not leading to optimal market outcomes for Australian producers:
Having the same organisation deal with market access to international markets and market entry into Australia is creating problems for industry. There should be two distinctly different bodies and people dealing with the two different market requirements – Gary Burridge.
Labour pains
The meat and meat product manufacturing industry in Australia employed 53,200 people as at Feb 2012, second only in size in the food manufacturing industry to the bakery product sector (68,400 people).
Witnesses at the inquiry noted shortages of both skilled and unskilled workers, and raised concerns about a shortage of food science and agriculture graduates, a perceived gap between graduates' skills and knowledge and industry's expectations, and the impact of the mining boom.
Wage rate increases had been occurring in recent years under the Fair Work Act and modern awards, without simultaneous increases in productivity, AMIC noted:
Rising labour costs without productivity offsets, along with on-costs such as workers compensation and the new superannuation contributions, are driving higher per unit labour costs, making running a low-margin meat processing business in regional Australia less viable – Gary Burridge.
Barriers to R&D investment
Meat processors pointed out that in a tight market, spending on research and development one of the first areas of cost to be cut.
The red meat processing sector is a high volume, low margin business. Traditionally red meat processing is operated at a 1pc-3pc margin against a set of tightly controlled cost-plus parameters. The risk/reward balance is not as attractive in the red meat processing sector when Governments acknowledge broad community benefits of innovation, given the small margins they have to fund innovation from. Government needs to understand the specific needs of the red meat processing sector when tailoring R&D programs – AMIC submission to inquiry.
John Berry from JBS Australia told senators that as processors took costs out of their business to ensure their survival, funding that would otherwise be invested in research and development was under threat:
You may not be aware of this, but the meat-processing industry pays statutory levies on the processed animal direct to the Department of Agriculture, Fisheries and Forestry. That is then reallocated to the Australian Meat Processor Corporation. Its levy-paying members have access to 15 per cent of those funds to be used for the purposes of R&D. They can be leveraged on a dollar-for-dollar basis through the federal government. That is a good model and has been a very successful model. But, without being too dramatic, I think we are currently in a situation where we are looking to take cost out of the business.
He further explained that in the meat-processing industry, there were limits to the amount of automation and therefore 'leanness' that could be built into the production line and therefore, where research and development will not have a 'commercial payback', it would not be prioritised:
It is not realistic to expect that we can automate these businesses. They are and they will continue to be labour intensive businesses. So we are looking to implement technologies where we can. But, again, they have to meet commercial paybacks. We are looking to identify key areas of cost which we can take out of the business.
Need for greater red meat unity:
John Berry from JBS Australia told the inquirty that the industry, due to its fragmented nature, was in part responsible for not having capitalised on export market opportunities:
I believe that the industry itself has not done the right thing. We are a fragmented industry. We have producer groups, we have processing groups and we have a whole range of people who are looking to put positions to government—whether they be on trade issues or whether they be on industry policy issues—and that has got to stop.
In making this observation, JBS Australia informed the committee that there was, however, 'momentum for change in this industry to have a more solid, consolidated voice for the industry from the producer sector through to the processor' which would 'give the opportunity to get that one voice consistent with the government.'
Impact of currency volatility on beef industry capacity
Elders Group managing director Malcolm Jackman told the inquiry that while some commodity exporters had weathered the currency volatility better than others, the group had some concerns for the for the beef industry if it lost capacity as a result of the current circumstances.
He explained that decisions to close infrastructure due to unprofitable circumstances now would have significant ramifications when trading conditions become more favourable:
Our fear is that people will make decisions based upon what is happening right now without looking at the long-term impact. The high Aussie dollar is clearly making it difficult for exporters at the moment, particularly soft commodity exporters, and we see that in all shapes and forms. In areas such as grain, we have seen very large crops over the last two years after the drought of the early 2000s and that to a degree has offset the high Aussie dollar. With yields up and quality reasonably good as a rule, broad acre croppers have been okay. You do not see the same, for example, around beef where the herd is reasonably stagnant. The ability for Australia to export boxed beef, particularly high-end boxed beef, into the northern and north-eastern Asian markets like Japan and Korea is really impacted on at the moment. We need to be careful that we do not see decisions being made because of the lack of viability that would further impact that industry. For example, only last week JBS Swift closed down a very large feedlot in New South Wales. Our board put significant pressure on myself and the management team to justify why we should continue to run two large feedlots, which are 20,000 head each, which at full capacity would have $50 million worth of work and capital tied up in them. What is the return to shareholders there? The issue is that once you close a feedlot, everybody is going to struggle to reopen one with all the EPA controls that go on. Next time drought hits and we do not have the abundance of pasture that we have got across the east coast at the moment, all of a sudden we are going to be back into this mentality of how are we going to get enough beef? – Malcolm Jackman