Comment
The much-anticipated ABARES report into foreign ownership's chapter on the red meat processing sector is decidedly underwhelming and adds nothing to current industry knowledge.
In fact the report does little more than superficially attempt to update 2006 and 2007 year kill data extracted from old AusMeat/MLA Top 25 processing lists.
If nothing else, the Government analysis served to highlight that Australian red meat processing has been consistently and fairly heavily dependent on offshore ownership for most of the past 110 years.
Not only has it been a strong source of investment capital and access to technology, foreign ownership has in many examples also provided priceless market access advantages to the Australian beef industry. That access arguably would not have been gained, at least at the same rate, without that investment.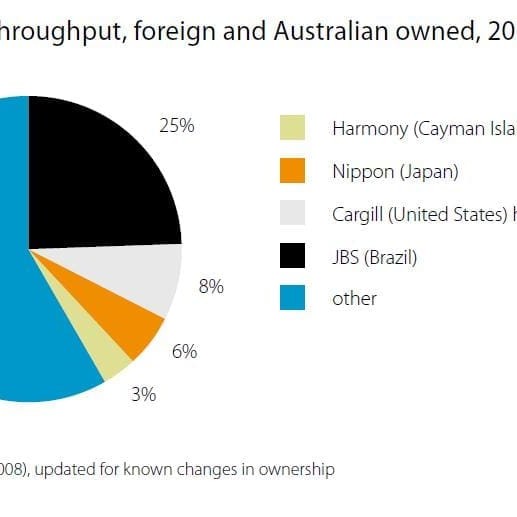 In 1905 English firm Thomas Borthwicks bought the Portland freezing company, and land at Brooklyn in Victoria to build their first abattoir. They were joined by US-based Swift and Co in 1912, which built what was then the largest and best-equipped meat plant in Australia on the Brisbane River. Even earlier, the UK's Weddel company bought a share in a processing business around 1900.
Since then, there has been a progression of offshore investors, including Vesteys in the 1930s, Amagraze (also UK-based), Canada Packers and others, before the major Japanese processing investments started in the late 1980s and 90s. Each group brought not only capital, but technology and workplace practises adopted from other parts of the world.
The ABARES report's chapter on red meat processing says foreign investment in Australian meat processing has been undertaken largely by companies established in the meat industries of other countries, and their interest has been focused on export rather than domestic operations.
In discussion about Brazilian-owned company, JBS Australia, the nation's largest processor, the report manages to overlook the fact that two of JBS's three major acquisitions since entering the Australian market in 2007 were in fact already foreign owned.
The Rockdale abattoir and feedlot (now known as Ravensworth Beef) was previously established and owned by a Japanese joint venture, and the Tatiara Meat Co business was held by European interests. Tasman Group was the only significant purchase made by JBS that previously involved Australian ownership.
The report quotes MLA data from 2008 suggesting JBS's predecessor, Australia Meat Holdings accounted for 15pc of Australian red meat slaughtering in 2006. The plants now owned by JBS accounted for about 24pc of Australian red meat production, but this figure quoted by ABARES was in fact based on their production in 2006 and 2007, which throws the accuracy of the assessment into serious question.
It quoted ABC suggesting JBS had invested in expansion and improved technology in its plants, providing benefits to cattle producers, workers, and the economy generally at the regional level.
For example, at the time JBS bought and injected funds into the Rockdale Beef feedlot and abattoir at Yanco there were fears that it might close. The purchase was welcomed in the region for the benefit it would have to the local economy, particularly its impact on employment.
The report also examined the nation's second largest processing group, Teys Australia – A Cargill Joint Venture, a partnership formed in May 2011 between the Australian family company Teys Bros and US privately held company Cargill Beef. Prior to this, Cargill owned two abattoirs, while Teys had four. The combined venture now owns abattoirs that, in 2006, accounted for 16pc of Australia's red meat slaughter.
The Japanese-owned Nippon Meat Packers Australia business, operating abattoirs at Mackay, Oakey and Wingham, produced 5.9pc of Australia's red meat in 2006. Nippon Meat is the longest-established major foreign player in Australian meat processing.
"While clearly well placed to supply meat to its parent company in Japan, Nippon also exports to other Asian countries and to North America," ABARES said.
Private equity investor Harmony Capital purchased the beef processing plant of Kilcoy Pastoral Co in southern Queensland in 2007, and took full control of Harvey Beef in Western Australia in 2009 after being a part-owner for several years. Harmony is based in the Cayman Islands, with branches in Singapore, Hong Kong and Sydney.
It appeared to be the only significant foreign investor in the Australian meat industry not to have an established interest in meat industries outside Australia, the report said.
ABARES also highlighted a 1991 report into foreign investment in the beef industry (Young & Sheales) which it said provided a basis for a review of changes that had occurred in the industry since that time.
Of the 77 beef export abattoirs operating in Australia 20 years ago, 27 had some level of foreign ownership. Foreign ownership of abattoirs at that time was dominated by Japan, the UK and the US.
New Japanese investment in the Australian beef industry had accompanied growth of the Japanese market for Australian beef. Japanese investment in the supply chain was, in part, aimed at controlling the quality of the product imported into Japan and ensuring the security of supply.
Japanese companies exporting from Australia were able to benefit from their knowledge of the market and gain advantage. However, the particular circumstances of the export trade to Japan that existed in the 1980s are no longer apparent, and little growth in Japanese investment in the Australian meat industry has occurred since.
The report used recent statistics from AusMeat indicating that there are now 52 beef export abattoirs licensed in Australia.
"Thus there are now fewer abattoirs producing more beef than at the end of the 1980s. The level of foreign ownership is now higher (no attempt to define by how much), with a rather different set of countries involved," it said.
Brazil was not present in 1990, but JBS of Brazil accounted for around 24pc of Australia's red meat processing in 2011. The US had a small share (2.3pc of beef processing, only in Queensland) in 1990, while Cargill's (US) half of the Teys–Cargill joint venture amounted to 8pc of Australia's red meat processing in 2011.
The Japanese share of 6pc in 2011 is a little smaller than the share reported for 1990.