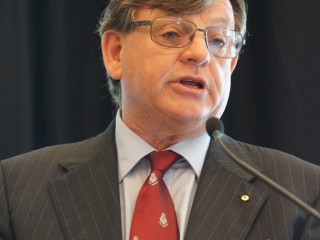 Australia's biggest cattle producer is now carrying the biggest herd of any pastoral company in Australian history, the Australian Agricultural Company's annual general meeting was told this morning.
AACo chair Donald McGauchie said tighter management of the company's breeding herd had helped to deliver the company's best-ever calf brandings in 2012, taking its herd to a record 682,000 head.
Mr McGauchie described 2012 as one of the most significant years in AACo's history.
The calendar year saw AACo complete its three-year turnaround strategy, which had turned the business from a pure pastoral company into "a globally focused, vertically integrated beef producer, processor and marketer".
It also saw the company achieve a $63 million turnaround improvement in operating cash flow, but an overall net loss of $8.4m.
Mr McGauchie attributed "the disappointing result" to a number of negative market forces, primarily the flow-on effects from the Federal Government's live cattle export suspension in mid-2011.
"Cattle which would normally have been exported to the Indonesian market remained in the Australian market," Mr McGauchie said.
"This caused over-supply issues and a subsequent deterioration in the domestic cattle price."
The live export suspension had also contributed to a downturn in northern property values, as well as losses sustained as a result of cattle falling out of specification and having to be delivered to alternative markets with increased handling and transport costs.
AACo now estimates that the trade suspension, and the related devaluation of its northern properties, has cost the company $51.2 million.
Other factors blamed for the negative financial result included dry conditions during the second half of the year which had further contributed to the increased supply of grass-fattened cattle, the impact of the high Australian dollar on export markets, and the severe ongoing downturn in orders for live cattle from Indonesia.
Mr McGauchie said Indonesia would continue to rely on Australia as a local and reliable source of quality feeder and breeder cattle, and called on the Australian Government to renew efforts to rebuild diplomatic and commercial relationships with its near neighbour and major trade customer.
In the wake of the Indonesian downturn AACo was now selling to exporters supplying several new and redeveloping markets, including Vietnam and the Phillippines.
Delays in Australian Government authorisations of Export Supply Chain Assurance Systems in new markets were preventing further diversification, and he urged the Federal Government to expedite its ESCAS approval process.
Looking forward, Mr McGauchie said changes in the past three years meant AACo was now in a strong position to capitalise on the unprecedented growth opportunities forecast for beef demand in Asia.
The company's significant investment in Wagyu and composite genetics had helped its branded beef products to establish leadership positions in a number of Asian markets, he said.
"The company's geographic footprint in northern Australia, coupled with the strategic proximity of its proposed Darwin meat processing facility to initially produce manufacturing grade meat to key Asian markets, in addition to its existing high quality grassfed and grainfed beef brands, means AACo is in an enviable position to continue to capitalise on the unprecedented opportunities presented by the rise of Asia at both ends of the beef market over the coming decades," he said.
He singled out the stalled Free Trade Agreement negotiations between Australia and South Korea as one key area of concern.
The market represented 20pc of AACo's export boxed beef sales, and Australia's market share was under increasing price pressure from US cuts, which now enjoyed a more favourable tariff structure courtesy of the FTA signed between the US and Korea last year.
Mr McGauchie said the company was looking to manage its risk in South Korea by strengthening its direct relationships with customers in the country.
"More than half the value of AACo's beef supplied to Korea is Wagyu and this faces less price competition from the US than other products," Mr McGauchie said.
"In addition, AACo's ability to deliver chilled, rather than frozen, beef to customers also strengthens its position in the Korean market."
AACo was working with industry bodies in lobbying the Federal Government to become more engaged in pursuing an FTA with Korea as a matter of priority.
Through the turnaround strategy, Mr McGauchie said AACo had developed solid operational and business foundations, and was structured to capitalise on the enormous future opportunities forecast in key export markets.
Stay tuned to Beef Central for more detailed reports from today's AACo AGM