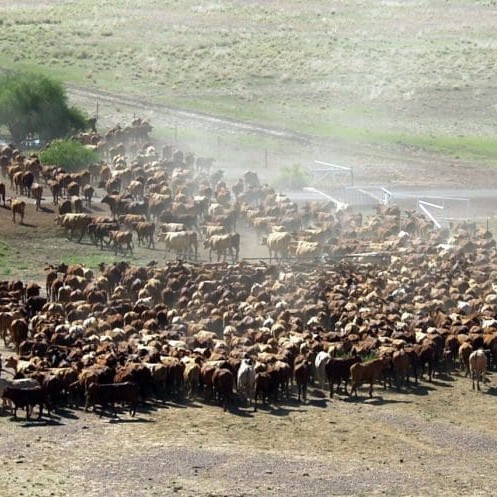 THE Australian Agricultural Co has warned shareholders it expects to incur a negative non-cash mark-to-market impact on the valuation of its trading and breeding herds, due to widespread dry conditions across the north and the subsequent impact on cattle markets.
The early start to AA Co's cattle turnoff this year is clearly illustrated, as the absence of a traditional wet weason across large areas of the north takes effect.
The company sold 41,200 head for the first three months of the year, compared with just 29,600 head for the same period last year, when the company was holding cattle as long as possible to maximise weightgain in the face of a big body of green feed.
Comparisons for different cattle groups between Q1 2013 livestock sales and Q1 2012 sales (previous year in brackets) include:
Grass finished cattle: 9250 (2860)
Breeder and feeder: 12,000 (1082)
Live export: 8600 (12,500).
The average price achieved by AA Co for cattle sold January-March this year was $980/head – a 22 percent decline from last year's figure of $1255. Live export prices were at least 25c/kg lower than the first quarter last year.
In its quarterly operational update issued this afternoon, AA Co illustrated the current seasonal conditions across its land assets with a cumulative rainfall graph (mean rainfall across all properties) which suggests that 2013 is currently below the same period in 2007 and 2008 – both of which were desperately dry years.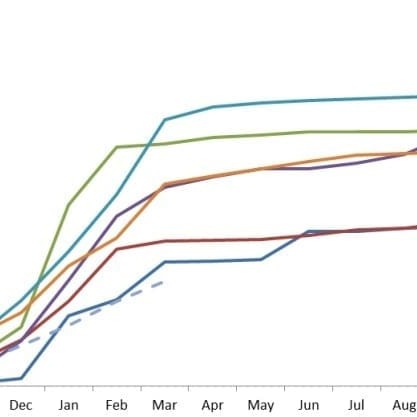 "While this year's rainfall across company properties has obviously been very disappointing, the build-up to this year's low rainfall has been much better," AA Co chief operating officer Troy Setter said.
"The big difference this year is the very good body of dry feed remaining in front of the cattle from last year's big season, whereas 2008 was really a continuation of a drought that started in 2007, leaving very little feed at all," Mr Setter said.
"This year's drought is off the back of three consecutive ripping seasons, so there is a big difference in circumstances."
While AA Co had recorded a big sell-off of cattle during the first three months of the year, this was more due to the cattle handling season starting much earlier than normal, rather than any drastic sell-down of stock.
"We've got plenty of dry feed, and at this stage we have no plans to sell large numbers of breeders, apart from those that would normally be sold based on age and other criteria," Mr Setter said.
"It's just that we have been able to access our sale cattle a lot earlier this year. That process started in mid-January, due to the lack of rain, whereas in a more typical year mustering might not start until closer to Easter, due to wet conditions and paddock access."
AA Co was already budgeting for lower weights in 2013 slaughter cattle than what had been seen for the past two years, more details of which are likely to be disclosed at a financial update to the market in mid-May.
Mr Setter said this year was a 'little deceiving' as some company properties had in fact had very good rain. In the channel country South Galway, for example, was in great shape, as was Goonoo on the Central Highlands.
Those properties would be turning-off cattle later in the year, as normal, and there would be some internal stock transfers from drier properties to those that had received more rain.
The Barkly Tableland is really central to AA Co's concerns over current dry conditions, although the lakes systems are still carrying plenty of water from two wet years, providing as lot of feed around the perimeter.
There were also some useful late season isolated storms across the company's gulf properties in the last week, and more useful falls of up to 50mm across parts of the Barkly over the past fortnight.
Weather impacts prices
Today's operational update to the ASX said the current weather pattern was continuing to affect domestic cattle prices, with the Eastern Young Cattle Indicator tracking well below 2012 levels due mainly to a decline in demand for re-stocking cattle.
"Prices also continue to be affected by the Federal Government's 2011 suspension of live exports and subsequent reduction in Indonesian permits, together with the adverse impact of the continued high A$," the report said. "Cattle which would have been destined for Indonesia are continuing to pressure the domestic market. All market categories have fallen significantly in value."
The update said AA Co was monitoring the weather closely to determine its ongoing sales strategy as the year unfolded.
Big lift in grainfed turnoff
In reporting on beef sales, the operational update revealed that first quarter sales of grainfed (non Wagyu) beef reached close to 2400 tonnes – a huge rise from 770 tonnes for the same period last year.
That could be explained in part by the big increase in feedlot placements towards the end of 2012 as conditions dried off, together with larger numbers of bought cattle going onto feed, Mr Setter said.
Wagyu beef sales volume for Q1 reached 1900 tonnes, slightly up from 1830t last year.
Average selling price for Q1 beef (all descriptions) was $8.76/kg, down from $9.00/kg this time last year.