A 'simpler, more efficient' Australian Agricultural Co has allowed the business to continue to roll out its branded beef strategy and respond to challenges created by COVID-19, shareholders were told at this morning's 2020 Annual General Meeting.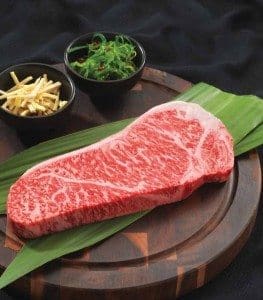 In May, AA Co reported a full-year (to end of March) operating profit of $15.2m, achieved while absorbing $42m in additional feed and transport costs brought on by last year's drought. Higher property valuation, higher market value of stock and sell-down of stock also contributed to the result, which saw a statutory EBITDA result of $80.1m.
The improved financial position had positioned the company well to navigate the current uncertainty, today's AGM was told.
"I'm pleased to report real progress at AA Co for the financial year just gone," managing director Hugh Killen said in his annual report to shareholders.
"Our unique value proposition is our ability to produce the highest quality beef, at scale, and in 2020 we translated this into record Wagyu sales by volume and value," he said.
All told, AA Co's Wagyu sales for the 2019-20 year were up 19.7 percent.
"Our price per kilo was up 8pc overall, and this growth has been broad based, with double digit sales growth by value across all major sales regions," Mr Killen said.
This was substantially driven by accelerated roll out of the company's flagship Westholme Wagyu brand around the world, led by product launches in more than 20 key cities across Europe, the US, Australia and Asia.
"As a result, we increased the value of Westholme sales by 155 pc – while doubling the total amount of Westholme sold," Mr Killen said.
In a breakdown by region, Asia represented 66pc of AA Co's total global beef sales in 2020.  This reflected 19pc growth in sales compared to the previous year. The company developed and strengthened its distribution arrangements in Hong Kong and Singapore, and its retail presence has grown in a number of regions – building on the company's flagship retail presence in South Korea.
North America made up 7pc of overall AA Co Wagyu sales in 2020, including a strong 34pc increase in sales. Growth was driven by a focus on rebuilding business, the company's brand presence and distribution relationships. In 2020 AA Co launched Westholme and built new distribution relationships in LA, San Francisco, Las Vegas, Washington, Miami, Chicago and New York, and established important new retail and direct to consumer channels across the US.
Europe and the Middle East accounted for 12pc of AA Co Wagyu sales last financial year, driven by 17pc growth in sales and underpinned by a restructured distribution partnership in the EU.  The Middle East has continued to perform strongly off the back of multiple brand launches in the region.
The Australian domestic market made up 15pc of company Wagyu sales in 2020, driven by a 16pc increase in sales for the year – which was achieved with reduced overall volumes.
This reflected some strategic redirection of product to other markets as AA Co repositioned at the premium end of the Australian market. As with other sales regions, progress in Australia was achieved through revitalised distribution arrangements and successful Westholme product launches in Sydney, Melbourne and Brisbane, Mr Killen said.
COVID-19 response
"Improvements in our operations have been critical to progressing this strategy in 2020 and, more recently, have proven fundamentals to our response to COVID-19," he said.
"Since I joined AA Co my team and I have worked to build a simpler and more efficient business.  This is because so much depends on our ability to control our value chain where we can – so that we get just the right cuts to the right markets at the right time. To achieve this requires a truly integrated supply chain, where each part of our operations understands their role and where they communicate effectively, so they can adapt together."
"When market demand opportunities change (i.e. Covid), I need my team to respond. We assess the benefits of shifting beef from one market to another. We can identify and open new sales channels. We can slow down or speed up meat processing to fit these demands, which allows us to deliver the right cuts in the right place at the right time," Mr Killen said.
For too long different parts of AA Co's business had focused on 'doing what they do well, in isolation', he said. That meant growing as many of the best animals as possible; processing as much product as possible quickly and efficiently; and then finding markets for the beef that was available.
"But maximising value means understanding and growing targeted market opportunities and aligning our business to produce the right product, at the right time, to meet those opportunities.  This is the reason for our constant goal of a simpler and more efficient AA Co," he said.
"Our sales growth, price per kilo and cost reductions in 2020 demonstrate our progress against this goal – and the value of this approach to the business. This was always our intention in pursuing these operational improvements, and I am pleased to report the benefits of this work in our annual results. But I am particularly pleased that the onset of COVID-19, and the need for AA Co to respond quickly and effectively to the circumstances, has demonstrated just how significant a simpler and more efficient AA Co is to our success as a company."
Focus on retail
Since the onset of COVID-19, AA Co's sales and marketing teams had stood up well, Mr Killen said. By the second week of March, all 16 of the company's food service export markets had been impacted by COVID-19 restrictions.
In response, the sales team had focused on retail opportunities to deliver product at maximum price and their early success has been driven by a number of factors:
Planning and preparation work to identify and assess real market changes and opportunities
Knowledge of the regions where they operate to strengthen or build new sales channels; and
Relationships with distributors on the ground to support rapid intelligence and adjustment.
"In South Korea, we enjoy a privileged long-team partnership with local distributors and a prominent supermarket chain. This has been critical in diverting product (from a COVID-impacted food service sector) to an established market, where our Darling Downs brand is a household name," Mr Killen said.
"As a result, we now have one of our team members on the ground there permanently, to keep developing growth opportunities.  And strong demand is forcing us to review how we can best provide supply, – while protecting the integrity and value of our brand."
The sales and marketing teams had also captured new direct-to-customer opportunities since the onset of COVID-19, he said.
In the US Westholme Wagyu had done particularly well via online platforms and the company had also been moving product through the e-commerce platform of its mid-west distributors. Westholme Wagyu was also being placed with a growing list of gourmet butchers throughout the US.
"In response to uncertainty in the Chinese market (see today's separate story) we have also been able to grow new retail opportunities in North America to divert beef stocks," Mr Killen said.
"Under local brands and through our distribution arrangements, AA Co has diverted substantial product to large retail chain stores in Canada, and we have diverted this product with minimal interruption to our production and supply chains here in Australia," he said.
Transitioning product from one region to another was a 'big job' and the success of this transition deserved special mention, he said.
"Underpinning all of this downstream marketing and sales effort has been the delivery of clear demand signals to our Australian operations – and our ability to operationalise those signals to adjust complex production systems at home."
"In the first instance these signals are being heard and understood in our feedlot and meat processing operations. Our teams have been able to slow down or speed up animal movements and just animal weight as required. This means we deliver the right cuts at the right time to capture every possible dollar of value – even amid unprecedented global food service and retail sector uncertainty."
These signals were also being absorbed and acted on by AA Co's pastoral team, Mr Killen said.
"Long lead times in the beef industry are a fact of life which can make rapid production system adjustments very difficult and often costly. But our strategic stocking rates, and the quality of our assets has allowed AA Co to maximise this flexibility and improve our ability to adapt," he said.
"This means we can adjust animal movement right along our entire supply chain. This is fundamental to avoiding bottlenecks, missed opportunities and the erosion of value that these problems create.
"I am really pleased to report this response in each part of our AA Co business from the paddock to the kitchen. I believe it clearly demonstrates the value of our commitment to a simpler and more efficient AA Co," Mr Killen said.
Chairman references COVID impact
AA co chairman Don McGauchie also focused on COVID impact in his annual report to shareholders, saying the company had ended its 2019-20 reporting period under the uncertainty of the pandemic.
"COVID has decimated the global food service and entertainment industries. It has effectively shut down restaurants of all types, significantly impacting those who rely on them for employment," he said.
"This devastating impact demanded swift and decisive action from AA Co. I am pleased to report that this was precisely the response your leadership team delivered," he said.
By any measure the 2019-20 year demonstrated that AACo's branded beef strategy was the right strategy – and it was delivering results, Mr McGauchie said.
"To meet this unprecedented challenge AA Co developed and continues to execute a pivot toward retail and direct to consumer sales," he said.
"Our sales and marketing teams have identified opportunities to capture maximum value for our product, and ongoing work to streamline and integrate our Australian operations has allowed the business to respond swiftly. With support from our local partnerships, we have been able to redirect product into existing and new retail sales channels around the world," Mr McGauchie said.
Demand for quality beef
Through the recent COVID upheaval, the market had demonstrated continued demand for quality beef, Mr McGauchie said.
"In particular clean, healthy food products from Australia remain sought-after in key markets.  The impact of this virus continues to be significant and it is likely that recovery will take some time, but customer demand for quality beef, and for our brands in recent months has remained.
"In particular I have been encouraged by positive demand across our retail channels and by growth in new direct-to-customer sales. As customers return to food service and fine dining, I am confident that retail sales channels will remain healthy and new direct to customer sales channels will remain a feature of our industry," Mr McGauchie said.
The progress AA Co had made in 2020 against its branded beef strategy had been vital in navigating this unprecedented uncertainty, he said.
"In good conditions and in challenging conditions, AA Co's branded beef strategy is the right strategy for our business."
"2021 is already a year marked by great uncertainty, but I am confident the investments we have made – in our assets, our people, our operations, our partnerships and our brands – all position us well to navigate this uncertainty. And this will help us continue to grow your company for the future."
Herd reduction
As a result of the continued drought during 2019 and early 2020, AA Co made the strategic decision to destock across its business. This included not replacing animals lost in the Gulf floods, selling some animals and limiting the number of animals brought into the business from outside. As a result, it ended the 2019-20 year with a 19pc reduction in herd size compared to the previous year – at just short of 350,000 head.
"Strategic destocking provides flexibility against future seasonal uncertainty," Mr Killen said.
"It helps drive overall quality in our herd and supports a simpler and more efficient AA Co, in terms of our operational flexibility to manage animal production in line with changing market demands," he said.
Noting MLA's identification of national herd reduction of around 20pc due to drought, Mr Killen said this placed AA Co's own transition in line with the wider industry.