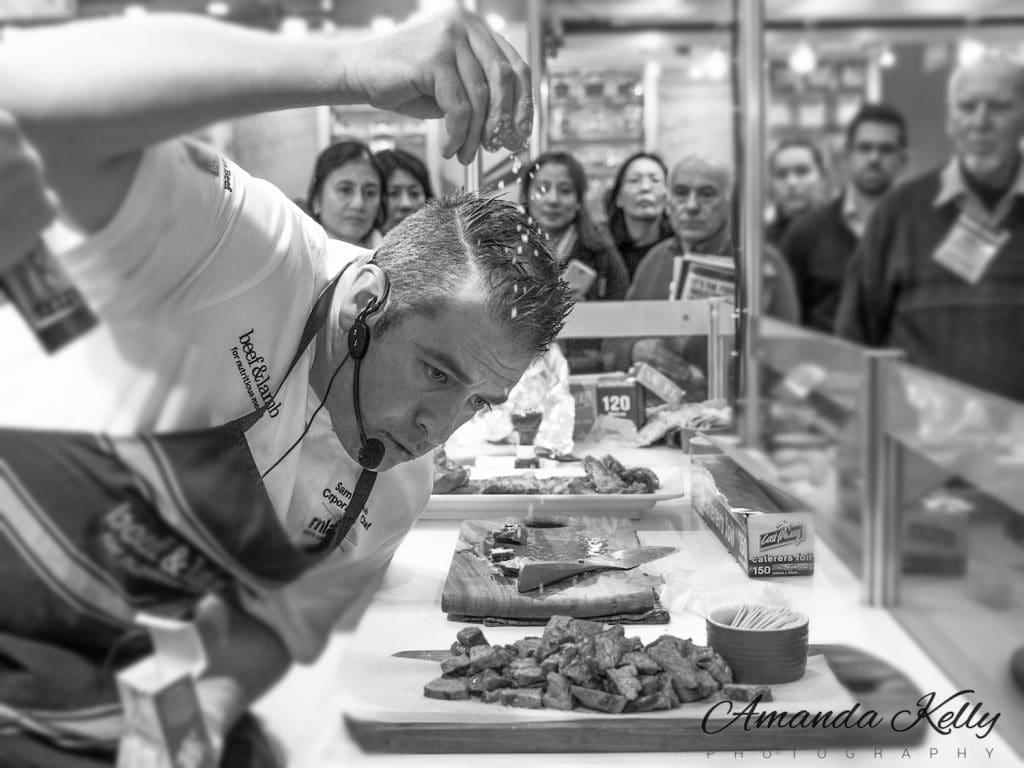 MLA's Sam Burke. Image: Amanda Kelly Photography.
LOOKING for some inspiration for how to cook up the perfect beef storm in the kitchen?
You will never get a better chance to learn from one of the best business than through a Zoom event being hosted by the Young Agribusiness Rural Network this Thursday night.
With many consumers not confident enough to cook steak or premium cuts at home, the idea of bringing in a leading chef to offer some guidance and inspiration was conceived.
Who better to show the way than Meat & Livestock Australia's Corporate Chef and Foodservice Business Manager Sam Burke?
Sam joined MLA in 2014 and has since travelled across Australia and the globe promoting and celebrating the quality and diversity of premium Australian red meat.
Inspiring audiences to think about meat in a way they never had before, Sam acts as the critical link between the Australian red meat industry and some of its most important consumers.
His expertise in large scale catering environments has enabled him to educate Australian red meat users on plate costs, product development and extracting value from the whole carcase.
This included working with McDonald's Japan on new sandwich concepts using Australian red meat alongside their traditional burger offerings and enabling other quick service restaurants and retailers to present smaller primal cuts to suit the growing convenience trend.
In this Zoom event Sam will create a menu for attendees to cook along at home, while sharing insights into the red meat industry, as well as some stories from his travels around the world.
As restrictions begin to ease, YARN is encouraging beef lovers to gather a few friends join in an online Cook Up with Sam Burke.
Event Details
When: 6pm, Thursday 4 June 2020
Partnered with: Rural Press Club Queensland
Chef: Sam Burke, Corporate Chef and Foodservice Business Manager
Cost: Free, however, registration is required as tickets are limited – Register here
Check out the recipe here: https://drive.google.com/file/d/1x4HX6U9ptwkEEP5Eh0abr0rNRbRFZRoE/view?usp=sharing
Sam Burke:
Starting out as an apprentice chef Sam worked his way up the catering trade in butcher shops, corporate, leisure and sporting events including the Olympics and Rugby World Cup, before joining one of Australia's largest commercial catering companies for 20 years.
Trading catering halls for beef and boardrooms, Sam took over the executive chef reins at Meat & Livestock Australia (MLA) in 2014 and has since travelled across Australia and the globe promoting and celebrating the quality and diversity of premium Australian red meat to the wider community.
Globally, Sam has cooked for thousands ranging from trade shows in Asia, wagyu experts in Japan, politicians, sports stars, musicians in Australia and most recently at the Queen's Young Achievers annual celebration at the Australian High Commission in London.
Young Agribusiness Rural Network
The Young Agribusiness Rural Network was founded with a goal to foster an emerging agribusiness professional community in Brisbane. Normally, our quarterly network events aim to provide an opportunity for young professionals working in, or adjacent to, the agribusiness industry to network with one another and rub shoulders with industry leaders. Our chosen keynote speakers will provide insights into a career in agriculture, as well as sharing their perspective on current challenges facing the industry.
It would be to our absolute delight if you would be keen to attend our next YARN event, to be held next Thursday evening, it is online of course.
As you can see we have teamed up with RPC to go virtual and Stacey will be fielding the questions to Sam Burke.
This is something we have whipped up fairly quickly due to the recent events in the meat market at the moment. One of our Committee Member's Oscar Millroy is the Sales and Marketing Manager for Signature Beef and brought to our attention the current state of play of beef sales, and how cuts of meat usually destined for fancy restaurants in Europe and China are now staying on Australian shores, but with restaurants closed, and many people not confident enough to cook steak at home – it is a rather sad predicament. And that is the basis for developing this cook at home concept. And we couldn't think of anyone better to do it with than Sam Burke.