Crocodile expert and biologist Professor Grahame Webb, founder of the Crocodylus Park in Darwin, is widely recognised as a leading authority on the concept of conserving wildlife through sustainable use programs. A 'practical environmentalist', his view is that to save an animal you need to create a value for it, evidenced by his collaborative work with landholders who harvest crocodile eggs. In his latest book, "In the Belly of the Beast", Dr Webb explains why, if society wants rural people to play a more active role in wildlife conservation, then they must make it profitable for people to do so. This chapter is an extract from his book titled "Ruralism":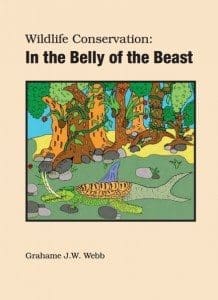 I was born and lived in the City of Sydney until I was 11 years old, and was lucky enough to live in a family home next to Centennial Park. It is one of the great urban parklands, complete with ponds, ducks, bamboo jungles, horse trails and, at that time, a few grotty toilets with grotty invitations on the walls – the reason I was not supposed to go there alone.
But I did, with my mates, and it stimulated my interest in wildlife and wild places from an early age. I never did meet any of the grotty people but do vaguely remember my elder sister  using her incredible negotiating skills to extricate us from a situation where, with the promise of a goldfish, a young guy was trying to lure us away. I was not too impressed about missing out on the goldfish, but with the benefit of hindsight and lessons learned, perhaps a small price to pay.
Centennial Park was our childhood jungle. Terribly exciting stuff for a kid in the 1950s, when we all congregated around the radio at night listening to daily serials about the exploits of Tarzan and Hop Harrigan. Enthralled by comics of Frank Buck's "Bring 'em Back Alive", facing it off with dangerous animals in the world's wildest places. Surrounded by wartime dads who had occasionally fired a shot in anger, but who had all used their .303s and Owen guns to extricate themselves from the dangers of giant snakes, giant spiders and giant crocodiles in the steamy swamps and jungles of the Pacific. For little boys, it was a man's man type of world in those days, with the role of little girls well defined, but rather unjustly directed towards home duties. Their well overdue revolution in the 1960s and 1970s was yet to come.
My mates and I all looked up to rural people, both adults and children. They were tough, gnarled, hardworking and independent, observant, innovative, close to nature, hunters, and wise in the way of animals. There was nothing in those days better for a city kid than to be lucky enough to have a holiday in the bush. The taste of fresh milk from a cow and homemade butter. The challenge of collecting eggs from what seemed quite formidable hens and roosters, invariably some of which had their head chopped off prior to the scalding, plucking and preparation – again with that unique smell – that preceded Sunday lunch. Yet the Government of the day did not seem to appreciate those rural values and was more worried about country kids not understanding city life. There were subsidised holiday schemes to introduce country kids to the city, but nothing in the opposite direction.
In those days, my rural cousins pondered how urban people survived. They didn't even know how to stuff a male cat head first into a gum boot, and with a few deft twitches of a razor sharp pocket knife, without so much as getting one scratch from the cat, remove its appendix … at least that's what they told me what they were removing when I was 6 years old.
When I was 11, the big break came. Mum and Dad sold up and moved to the bush – to Condobolin in central New South Wales. I couldn't believe it. I had inherited my own 3000 acres of bushland. Armed with my new slug gun, I became a regular harvester of grain-eating birds, which my grandmother, the proud daughter of a poor but proud commercial freshwater fisherman, cooked for me. Yabbies, a freshwater crayfish from the farm dams, were and remain a favourite. My Sydney-based girlfriend would send me envelopes with sand and seaweed from Bondi Beach. In return, I would send down the brightly-coloured feathers drawn from my various victims. It was heavy stuff. We are still good mates.
Milking the cow, collecting eggs, chopping wood, clearing land, burning trees and stumps, killing and dressing sheep, beheading roosters and preparing them, starting the 32-volt generator for electricity, kerosene fridges, old black wood stoves, a fragile, 20-mile suspended wire bringing a primitive telephone service, floods and famine, watching crops grow and sometimes whither, trapping rabbits and selling the skins for pocket money, hunting but little fishing – no water – sleeping in safety on an open veranda, the sounds and smells of nature everywhere. We lived in a small oasis-type garden, with fruit trees and green lawn in an otherwise arid landscape. Always alert to new birds, reptiles, insects and occasionally small mammals. It was an exciting transition from urban to rural living: a different way of living that invariable brings about a different way of thinking.
Rural people in Australia tend to face life's challenges with more personal involvement and confidence. They have to. They are typically isolated, with limited communication and have to be innovative and self-reliant to survive. Urban people, armed with the Yellow Pages, can avoid personal involvement with many problems. If you ever have a choice about who to share a lifeboat with, pick a rural person. Your partner won't eat all the biscuits and drink all the water when it's your turn to row. And if you do land on a deserted island, you can be sure they will soon organise shelter and food. It's in their blood.
Today, urban people have become nature's champions and the rural people its enemies. City people are saving the whales, the elephants, the koalas and everything else, even if they don't need saving. The rural champions of the past are judged harshly for being on the frontline of "taming the bush". Yet covenants on bushland in those days were about "the plough, the harrow and the hoe, hoe, hoe" – words from the school song, still sung with passion today, at Hurlstone Agricultural High School, which I attended as a boarder from the age of 12 years (1960-64).
It is rural people in Australia and increasingly from overseas who produce the food eaten by everyone. Breakfast banter continues today as it has always done, but with little acknowledgement about where the food comes from. "Pass the toast and butter love. Bacon and eggs ready? Glass of milk?" It's as though a magic fairy just places all these products on the supermarket shelves, where they sit like books in a library in which the authors' names have been erased.
Yet each piece of fish on each shelf has been touched by a fisherman, each vegetable touched by a gardener, each piece of meat held by a grazier, each loaf of bread made from seed grown by a farmer, each plank of wood cut by a forester. Rural people are the unsung heroes of all our lives, but they are poorly acknowledged. Good wines are correctly allocated to good producers, who the public hold in high esteem. Rarely is this privilege extended to the producers of the meat, vegetables and seafood that sustain us.
Michael Pollen, who achieved considerable recognition for his book "The Omnivores Dilemma"190, reached similar conclusions. He felt that the way we eat represents our most profound engagement with nature, somewhat lost by the industrial nature of so much industrialised food production today. Thus the general impression that indigenous people live much more in harmony with nature than others may just as much reflect their dependence on eating nature, as it does on their exclusion from many of the benefits of industrialisation.
In addition to the questionable role agribusinesses may have played in altering our diets and food preferences, and obliterating the link between them and nature, the pursuit of agriculture itself, to provide the world's people with food, has caused a great many environmental problems and catastrophes. With the benefit of hindsight, it reflects short-sighted views on land-use policy by the Governments and people of the day – urban and rural. Agribusiness itself is driven by the motive of profit, and is more an urban than rural phenomenon. Rural people are not solely to blame for conservation problems linked to agriculture. Demand for more and more produce, at lower and lower prices, to eat and export, ultimately fuels the problems. The man tilling the soil is but one of its many victims.
The lot of most rural people is a demanding one. A farmer's return on investment, once their own labour is factored into the equation, is usually very low. Yet many are in big business in terms of their investment in land and new and innovative technologies, making the average small factory investment pale into insignificance. The drift to the cities, occurring throughout the world, is testimony to the hardships of rural living. So why do people opt to live in the bush?
It is all about lifestyle. About being that much closer to nature. There is truly something magical about bush people and bush life. The smells of the animals, the companionship of working dogs, the vibes from freshly-tilled soil, which excite some ancient part of our brain. The true marvel that is rain, the drama of drought, the isolation and its challenges, the constant need to improvise to overcome adversity. The romanticism associated with bush living comes at a great cost in personal effort and economic hardship. Just as the romantic vision of indigenous people living in harmony with nature fails to capture the hardship that many bear with little complaint.
If society wants rural people to play a more active role in wildlife conservation then they must make it profitable for people to do so. Rural people are not the enemies of nature although it is convenient for some to cast them as such. They are simply powerless economically to solve many of the conservation problems with which they share their daily lives.
For more information about how to order a full copy of Dr Webb's book "In the Belly of the Beast", click here