Beef Central publishes an occasional summary of appointments, departures or achievements occurring across the red meat supply chain, both private sector and government. Send submissions to admin@beefcentral.com
AMIC appoints new GM for processor group
New director role for former Wellard executive
Vale Clive McEachern
Wagyu association begins search for new CEO
JBS northern livestock manager
New Board announced for Livestock Biosecurity Network
New BD manager for NTCA
Business Development Manager for MOCO Foods
New addition to OBE board
NZ meat industry pioneer saluted in international leadership award
AMIC appoints new GM for processor group
The Australian Meat Industry Council has appointed Patrick Hutchinson as its new general manager of the Processor Group, succeeding long-serving administrator Steve Martyn, who plans to retire.
AMIC chairman Lachie Hart said Mr Hutchinson brought broad industry and supply chain experience with a background in both the livestock management and the meat processing sectors. He has an extensive network of professional relationships built during his 20 years in the industry, most recently as Managing Director of Blue Sky Agribusiness and prior to that with ITS Global, a leading agriculture consultancy. He also worked for an extensive period in senior project management roles within MLA.
As part of a succession plan developed two years ago, incumbent processing general manager Steve Martyn will transition to retirement, after almost 20 years' service with AMIC and its predecessor, the Australian Meat Council.
Mr Hart said the role of processor group general manager was critical in ensuring that the red meat processing sector, Australia's second largest manufacturing industry, continued to have a strong voice on policy matters and afforded the highest standards of service to members.
"Mr Hutchinson is an ideal candidate to lead the processor group. He brings significant pre-farm gate experience and deep knowledge of the red meat supply chain that will bring a proactive and inclusive approach to industry leadership, and allow him to engage immediately in addressing the sector's many opportunities and challenges," Mr Hart said.
Mr Hart also paid tribute to Steve Martyn for his commitment and contribution to the Australian meat processing sector over the past 18 years. "He has been a loyal advocate for the industry and leaves it well-positioned to capture the substantial opportunities that exist for our sector," he said.
New directorship for former Wellard executive
Former Wellard senior executive Steve Meerwald has taken a directorship with WA-based Harmony Agriculture and Food Co Pty Ltd.
Harmony, formerly known as Australian Land & Food Co is an emerging corporate advisory, asset management and investment business developing opportunities in the food production and agriculture sector in Australia. It combines with a venture capital fund investing in technologies and innovative processes for the agriculture industry.
HAAFCO, is committed to building an integrated domestic and international supply chain based on the highest levels of food safety, traceability, human and animal welfare, efficiency and client satisfaction.
Mr Meerwald spent almost 30 years with live exporter Wellard, finishing in 2013 as managing director. Early in his career he worked with Metro Meat Ltd as livestock controller.
Vale Clive McEachern
Respected Victorian Hereford breeder Clive McEachern died earlier this month, aged 71.
A past president of the Hereford Society and principal of the famous Ardno Hereford stud at Wingeel, near Geelong, Mr McEachern was one of the pioneers of on-property bull sales in Australia.
Ardno celebrated its 50th sale a few years ago, before selling the stud herd last year to the Cleves family, Mt Gambier, SA. The McEachern family continued with a commercial operation which included a highly regarded Merino flock.
Ardno and South Boorook were the two 'big names' in Victorian Hereford circles in their heyday from the 1960s. Mr McEachern's s sister Helen married Ian Watson, founder of Injemira Herefords and former MLA director.
Wagyu association begins search for new CEO
The hunt is on for a new Chief Executive Officer for the Australian Wagyu Association following the decision of the incumbent CEO Graham Truscott to retire in June next year.
AWA president Peter Gilmour said it was imperative to find a new CEO to continue the breed's momentum. The successful candidate will start 1 May 2017.
The job description, which will appear on Jobs Central soon, says the AWA is looking to appoint their future leader to guide the organisation into the next exciting phase of growth. The high-profile position spans both the Australian and international beef industries, with responsibility to develop and lead a strong and capable AWA organisation in transforming the beef industry.
The new CEO will work to an annual business plan, with responsibility across a multi-faceted organisation, leading a diverse range of stakeholders including AWA members, staff and corporate partners.
Wagyu numbers in Australia are growing at a faster rate than those of any other breed according to figures released by the Australian Registered Cattle Breeders' Association. Wagyu this year climbed to sixth position in the breed hierarchy, up from eighth place in 2014 and twelfth place ten years ago.
JBS northern livestock manager
While he has been filling the role in an informal capacity for some months, JBS Australia has formally appointed experienced cattle buyer Steve Groom as livestock manager for the company's northern division. Mr Groom, who has bought cattle for JBS for the past 25 years, replaces Duane Woodham, who left suddenly during August.
Mr Groom's immediate past role was assistant livestock manager, northern. Prior to starting his cattle buying career under the watchful eye of legendary AMH livestock manager John Keir in 1991, Mr Groom spent his early years as a livestock agent with Primac and Elders, across branches mostly in the Wide Bay/Burnett district and in northern NSW.
He now heads-up a team of 26 JBS northern division cattle buyers, stretching from far north Queensland to the Victorian border.
New Board announced for Livestock Biosecurity Network
Former egg industry executive and MLA board member James Kellaway is the new chairman of the Livestock Biosecurity Network.
Mr Kellaway was elected at LBN's annual general meeting. Mr Kellaway is the former managing director of the Australia Egg Corporation and brings to the board a wealth of agricultural experience.
"I look forward to working proactively with my fellow directors and LBN's skilful staff to ensure LBN makes a meaningful contribution in delivering animal health, welfare and biosecurity services to the constituents of the cattle industry and other member industries," Mr Kellaway said.
Among other roles Mr Kellaway was previously chairman of the Animal Health Australia Industry Forum and chaired the National Animal Biosecurity RD&E Strategy. Outgoing LBN chair and CCA representative, Hamish Munro, will continue to support LBN in his capacity as an LBN board director. Mr Kellaway is supported by a board boasting a depth of knowledge and experience. Other members include: Hamish Munro and Melinee Leather, CCA representatives; Kathleen Plowman and Sharon Starick, Animal Health Australia representatives.
New BD officer for NTCA
The NT Cattlemens Association has appointed Kylie Gracey as its new business development officer.
In her role with NTCA, she will be working to stimulate and support business, trade development and diversification within the primary industries of the Northern Territory. In her most recent role with NSW Local Land Services, Kylie was responsible for working with industry groups, government agencies and landholders to deliver programs that improved primary production and management of natural resources.
She was raised on a family farm in the Blue Mountains in NSW running Angus cattle, and has held a keen interest in agriculture, rural life and the beef cattle industry all her life. Kylie has a Bachelor of Science in Agriculture from the University of Sydney and Master in Environmental Management from the University of New England.
New business development manager at MOCO Food
Former MSA Queensland manager Glen Burke has taken a new role as business development manager with the recently renamed MOCO Food Services in Brisbane. MOCO will be better known to many readers by its former name, Queensland Frozen Food Services (QffS), a company with a proud 50-year tradition as food service providors.
Mr Burke returned to Australia in March this year, after acting as general manager of the up-market The Butchery retail outlet in Singapore for the previous 12 months.
New addition to OBE board
Australia's oldest organic beef marketing company, OBE Organic has underlined its commitment to organic cattle producers with the appointment of Lake Eyre Basin organic cattle producer Sharon Betts to its Board. Ms Betts, who runs 10,000 head of organic cattle at her family properties at Epsilon, Queensland and Mungerannie, SA, joins founding organic producer directors David Brook from Birdsville and Peter Schmidt from Charleville, together with Hong Kong-based Deirdre Lander.
The appointment also takes OBE Organic's board to a 50pc female representation, compared to the average 23.6pc of directors on ASX 200 companies.
"OBE Organic was established 20 years ago to maximise value for organic cattle producers and I'm proud to join the Board of a company so serious about doing the best for producers," Ms Betts said.
"Our properties are so large they have always been virtually organic, but before OBE was founded there was no opportunity to capture this premium. OBE pioneered the organic opportunity for cattle producers, and my experience through the ups and downs of the past 20 years is their number one focus has always been to look after producers like us as best as they can."
OBE Organic chair David Brook said Ms Betts brought a wealth of experience to the board.
"Sharon is well known for being among the top graziers in the region, she brings 40 years of expertise across a range of business and community interests, and she will do a wonderful job representing the interests of cattle producers," he said. "She has been to international markets with our sales team and she has a keen interest in marketing the provenance and origins of our product to the world."
NZ meat industry pioneer saluted in international leadership award
New Zealand meat industry pioneer Sir Graeme Harrison received the 2016 Rabobank Leadership Award presented recently, in recognition of his extraordinary contribution to NZ food, beverage and agribusiness sectors.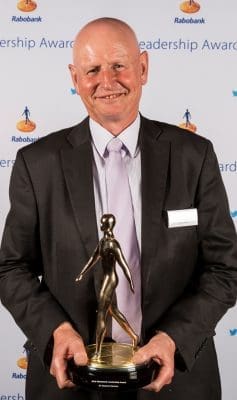 Sir Graeme, the founder and chair of one of New Zealand's largest exporters, ANZCO Foods, was presented with the trans-Tasman award at the annual Rabobank Leadership Dinner in Sydney, Australia recently. Presenting the award, Rabobank's Peter Knoblanche said Sir Graeme was a "true champion of agribusiness", who had made an enormous contribution not only as a NZ business leader, but also in the international meat industry trade.
"As founder of ANZCO Foods, Graeme Harrison has accomplished the extraordinary achievement of building a business from nothing to one that today has an annual turnover of NZ$1.5 billion and which employs more than 3000 people across NZ and eight overseas locations and which markets into more than 80 countries," Mr Knoblanche said.
"What makes this even more outstanding is that he has achieved this in an environment and over a time that has been notoriously challenging for the meat sector in NZ, with ANZCO formed in the wake of the deregulation of the NZ economy and agricultural sector. This saw the virtual overnight removal of subsidies to sheep farmers – a move that led to the New Zealand sheep flock declining to less than 50pc of what it was in 1984."
"To have established and grown a meat processing and marketing business over this time, as well as expanding into Asian markets outside the traditional focus for NZ sheep and beef export markets into the UK and US, is nothing short of exceptional," Mr Knoblanche said.
"Graeme has not only formed a company that has performed consistently in both returns and market behaviour, but he has contributed to the industry good throughout his lifetime's work, including recently personally funding a professorial chair at Lincoln University in global food value chains and international trade."
As a deputy CEO of the New Zealand Meat Producers Board, in 1984, he founded ANZCO as a sheepmeat marketing company for the board in Japan.
Overseeing the successful growth of the company as it expanded into beef and opened the New Zealand sheep and beef industry's door into the Asian market, Sir Graeme was managing director of ANZCO for 20 years before becoming chair in 2004.
In 1995, he led a management buyout of ANZCO and in 2001, the company settled on its current shareholding, comprising Japanese food companies Itoham Foods and Nippon Suisan, as well as directors and management.
Today the multi-national integrated beef and lamb producer and marketer is New Zealand's fifth largest exporter and operates farms, sheepmeat and beef processing plants, the country's largest cattle feedlot, food manufacturing plants, retail outlets and an innovation centre in New Zealand and has market representation in countries including Japan, Taiwan, Singapore, North America, the United Kingdom, Belgium and Australia.
In July 2011, Sir Graeme was awarded a knighthood for his services to, and achievements in, business.
Accepting his award, Sir Graeme said the agribusiness sector made an enormous contribution to New Zealand's economic wellbeing. "New Zealand's competitive advantage lies with the land, and the agrifoods sector accounts for over 70pc of the country's merchandise trade. If you work it back to GDP, effectively one in four dollars is generated from the land-based sector in one form or other."