TOYOTA has issued a recall for 70 Series LandCruisers built between 2016 and 2018, due to the possibility of a fire starting near the Diesel Particulate Filter (DPF).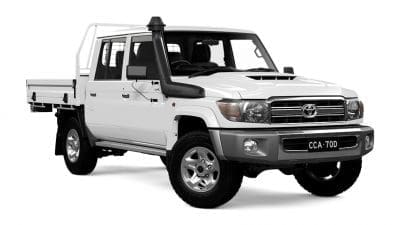 In a recall notice the Australian Competition and Consumer Commission warns vegetation may accumulate around the vehicle's underbody and exhaust system as a result of driving in dry vegetation environments.
If the vegetation is not removed in accordance with maintenance instructions in the Owner Manual, the Diesel Particulate Filter (DFP) system's periodic regeneration may cause it to combust, according to the ACCC.
"If the vegetation combusts, there is a risk of vegetation fire, which may increase the risk of injury to bystanders or damage to property," the recall notice warns.
Toyota Dealers will install modified exhaust system heat shields to parts of the vehicle's exhaust area and enable the DPF manual regeneration customisation mode, which allows owners to conduct manual regeneration in a safe location prior to entering off-road, dry vegetation environments.
In addition, a DPF information booklet will be provided to owners, which provides maintenance information to manage underbody cleanliness.
The recall affects around 22,971 vehicles sold nationally around Australia from 26 October 2016 to 14 February 2020.
The repairs will be undertaken free of charge.
Further details of the recall notice issued by the ACCC include:
Toyota Motor Corporation – Toyota Landcruiser 70 Series Model Years 2016-2018
To see the list of Vehicle Identification Numbers via the ACCC website click here (350.68 KB)
To find a local dealer, visit https://www.toyota.com.au/find-a-dealer
For further information, consumers should contact the Toyota Recall Assist helpline on 1800 987 366 (Monday to Friday, 8am – 6pm AEST).
The Department of Infrastructure, Transport, Regional Development and Communications is the responsible regulator for the recall.
Source: ACCC – To view the original recall notice on the ACCC's Product Safety website click here