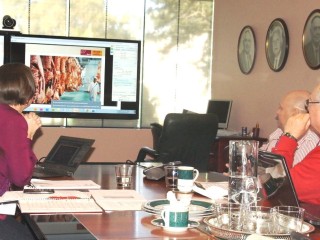 An audience of 601 beef industry stakeholders – easily the largest beef industry webinar event ever held in Australia – registered to take part in yesterday's highly successful Pasturefed Cattle Assurance System on-line information-sharing event convened by Beef Central and FutureBeef.
Webinar participants came from every state and territory in Australia, as well as the United States and New Zealand. Most quickly cottoned-on to the technology, bombarding webinar facilitator, FutureBeef's John James with hundreds of questions to pose to guest presenters, PCAS coordinator Angela Schuster and Teys Australia's Geoff Teys.
Mr Teys told the audience that his company's decision to engage with the PCAS process was about product integrity.
"We believe Australia produces the best grassfed beef in the world, but this program is about extracting a premium for that hard work, and the quality that producers deliver," he said.
"It's about putting a standard out there in domestic and international markets with some real integrity, that we can extract reward for," Mr Teys said.
"There's strong demand out there from consumers for high quality grassfed beef and we think it represents a big opportunity for the industry. Our customers are telling us that this is what they want, and we can only listen to that and try to put out a quality product that also has high integrity."
Mr Teys said the emergence of PCAS reflected consumer trends in areas like health and wellbeing, and sustainability.
"The world, and our customers are moving this way, and we have to respond," he said.
To put a grassfed product out there that is superior in quality and carries high integrity is a no-brainer, so far as we are concerned."
Mr Teys said his company had been anxious' to move into this space for a long time, and had been waiting for Cattle Council to launch its PCAS program, to help underpin integrity in meeting consumer needs.
"There's little sense in everybody putting a grassfed brand out there unless it has that integrity. We have to be able to go to the consumer with some proof, and confidence that the program stands up to scrutiny. And we believe this program does carry that."
Teys from Monday this week offered a 20c/kg dressed weight premium for PCAS-certified stock in its southern and northern Australian cattle price grids, over and above the prevailing MSA rate. It expects to start killing cattle under the PCAS banner from early August.
"We will have to get a consistent weekly volume of PCAS product coming through the system in order to take it to the market. We believe, given the spread of our processing establishments up and down the east coast of Australia, that we can produce this product 12 months of the year."
While the PCAS program has a mandatory base level, making 'never, ever' claims about pasture-based feeding, there are two optional components covering HGP and antibiotic use. In Teys' case, it has elected to apply both the HGP and antibiotic-free components.
"For our Grasslands branded product under which the PCAS-certified beef will be sold, we're looking for a clean, green image," Mr Teys said.
"I think, down the track, brand programs like Grasslands will be looking, also, for some animal welfare and/or environmental potentials that will also be important for the future. Consumers are demanding that also."
PCAS program coordinator Angela Schuster said while Teys Australia was the first processor to get behind the system – for which PCAS was grateful – it was available for all interested processors and supply chains.
Cattle Council of Australia continues to have very encouraging discussions with other potential participants," Ms Schuster said.
"All we can say at this stage is, watch this space."
Hundreds of questions were posed from participants using the webinar access facility, with only a portion able to be responded to in yesterday's allocated one hour webinar session. For those unable to get their question answered due to time constraints, the answers may well already exist on the PCAS website, Ms Schuster said.
As has been seen in some of the early PCAS workshops held in South Australia, Queensland and NSW, many of the questions posed yesterday surrounded program eligibility, allowable feedstuffs, and the certification/audit process.
For those stakeholders who were unable to join yesterday's PCAS webinar but are interested to see and hear a replay of the one-hour program, including responses to these questions, it will be accessible soon via Beef Central.
Others asked how long the PCAS audit process would take.
"How long is a piece of string?" Ms Schuster said.
"There's a number of considerations. The first is whether the business joining is intent on going ahead with organising an audit themselves, or waiting until a 'milk-run' can be organised, where an auditor services a number of properties within a local area, to distribute the travel cost," she said.
"We encourage those producers who are interested in becoming certified to find out whether there are others in their area who are also interested in joining, to share those costs."
"In terms of the actual audit process, once the auditor is there, it should be a fairly simple and fast process, if the producer has their systems and records in place prior to the audit."
There are resources on the PCAS website that allow producers to assess their own environment against what is required. Depending on whether there are any corrective actions required, the producer will then be issued with a certificate.
Another group of questions inquired about how the PCAS premium would work for those producers already accredited for EU-supply.
Mr Teys confirmed that the 20c/kg premium would apply above the company's MSA price.
"The EU and MSA price fluctuates throughout the year, but I could very well foresee that some of our EU producers could become PCAS-certified, allowing them to service both markets. Depending on what the prevailing EU price is, it may in fact be better to supply under the PCAS program."
Just at the moment, the EU and MSA price is fairly line-ball, but if a producer turns up with cattle that are eligible for both markets, they will automatically get the higher of the two premiums on the day."