This article has been updated to include a statement from a spokesperson for the Minister of Agriculture received after the article was published
A 55 percent decrease in the number of biosecurity detector dogs working at Australian airports over the past seven years stands in contrast to Federal Government assurances it is doing everything it can to stop disease threats at the border.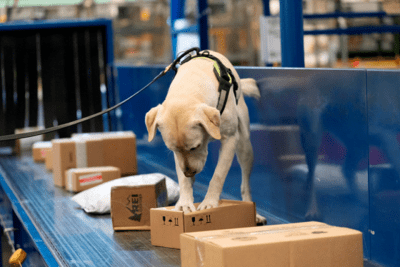 A review of pest and disease interceptions and incursions in Australia by the Inspector-General of Biosecurity found the number of detector dogs operating at airports dropped from 80 in 2012 to just 36 in 2019.
This is despite the report also showing that the most effective method of intercepting undeclared meat was with detector dogs.
In a statement to Beef Central received after this article was published a spokesperson for the Minister of Agriculture said the Government continues to do everything it can to prevent exotic diseases and pests from entering Australia.
"Biosecurity dogs are only one part of a suite of measures the government uses to help protect Australia's borders," the spokesperson said.
"The government is investing heavily to innovate Australia's biosecurity system, and is currently using a combination of biosecurity detector dogs, scanning including 3D technology and our biosecurity officers who utilise passenger screening profiles to prevent potential biosecurity threats from reaching Australia."
The report also lays bare the stunning and disturbing volume of illegal meat products people attempt to bring into Australia on a daily basis.
Between 2012 and 2017 biosecurity officers recorded 328,984 interceptions of meat and meat products at the border, or more than 150 every day.
The detections added up to 272 tonnes of intercepted meat products over that period including salami, sausages, small goods, poultry, pork and beef.
Alarmingly, two of out of three meat products intercepted originated from countries affected by Foot and Mouth Disease.
The reduction in detector dog numbers contrasts with statements by Agriculture Minister Bridget McKenzie that security screening has been ramped up at airports to counter the threat of African Swine Fever entering the country.
"We're trying to do everything we can to stop this at the border," the Minister said yesterday, as she announced an emergency roundtable of industry leaders and biosecurity experts to be held Canberra on Friday to identify if more can be done to stop the disease entering the country.
Making a priority of increasing the number and use of detector dogs airport will likely be high on the list of recommendations of Friday's meeting, as the Government was urged to do by the Inspector General of Biosecurity back in May
ASF, which is marching through Asia towards Australia, has become recognised as potentially the biggest animal disease event the world has ever seen, Minister McKenzie said yesterday.
She said the highly contagious disease could devastate the nation's $1.3b pork industry and 2700 pork producers if it reaches Australia.
ASF kills about 80 per cent of pigs it infects. With no treatments or vaccines available, entire pig populations have been destroyed in infected areas in an attempt to contain and prevent its spread.
An estimated 25 percent of the world's pigs are expected to be dead from the current global outbreak by the end of this year.
"We've not been sitting on our hands," Ms McKenzie said.
"The Liberal National Government has already ramped up inspections of people and mail arriving from countries affected by African swine fever.
"We've suspended trade of high risk pig products from affected countries and we've banned travellers bringing in pork jerky from all countries.
"Since we increased border checks we've seized 23 tonnes of pork from African swine fever countries and of the pork we tested about 15 per cent was positive for the virus."
"We need everyone to take biosecurity seriously and make sure they don't become a vector for a disease that could decimate our domestic pig industry and way of life by doing the right thing when bringing things into the country."
The scale of the challenge to keep ASF and other biosecurity threats such as Foot and Mouth Disease out of Australia was highlighted in the report released in May by Helen Scott-Orr, who was until recently Australia's Inspector General for Biosecurity and oversaw the investigations earlier this year that identified the high incidence of ASF and FMD in intercepted pork products seized from travellers at Australian airports.
In January and February 2019 the Australian Animal Health Laboratory found ASF virus fragments in 40 of 283 pork products seized at the border, and FMD virus in two samples.
Only 72 percent of the 328,984 interceptions by biosecurity officers at the border from 2012-2017 were declared.
Of the intercepted meat products that were not declared, detector dogs were the most effective method of identification the illegal products, accounting for 53pc of interceptions, with X-rays accounting for 32pc.
Despite that, the number of detector dogs operating at Australian airports has decreased by 55 percent over the same period.
New 3D X-ray machines are on trial at Melbourne and Auckland airports which show promise but are not validated yet for meat.
The report noted that trained detector dogs have a working life of about six to eight years and have a distinct advantage in detecting undeclared biosecurity risk material including the ability to:
screen large numbers of passengers and their baggage in a short period
be trained as multipurpose detectors (because of their excellent sense of smell and strong retrieval drive)
screen large items at airports and mail centres
be impartial (the dogs are not subject to profile bias).
In its response to the report released in May the Department of Agriculture said it had started to expand the detector dog program as part of a suite of controls to detect high risk pests such as brown marmorated stink bugs, but further expansion of the detector dog program would be a matter for Government.