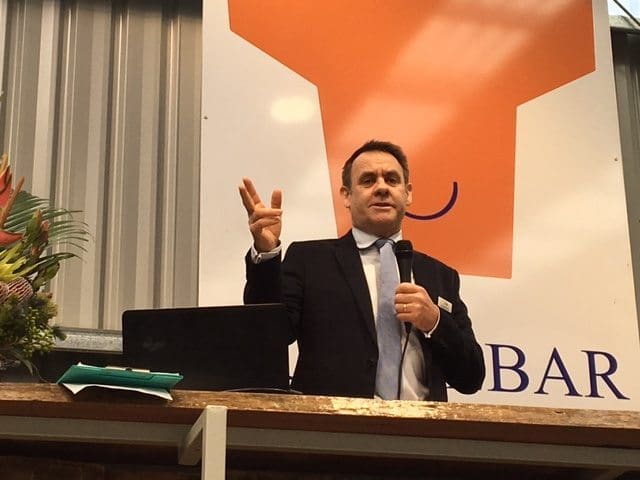 The objective measurement juggernaut continues to roll on in Australia's red meat industry with another multi-million research project announced by Meat & Livestock Australia's Richard Norton at the Yugilbar Beef Expo and Forum in northern NSW today.
Hot on the heels of recent through-chain support for the rollout of DEXA x-ray cameras to objectively measure lean meat yield in Australian abattoirs comes a significant new investment aimed at testing the capacity of CT scanning to objectively measure eating quality traits in red meat animals, both live and on the hook.
Addressing a wall-to-wall crowd of more than 500 cattle producers at Yugilbar Station near Casino, NSW, Mr Norton announced MLA will invest $28 million in "next frontier" research to test if existing technologies can be applied to measuring eating quality.
Whereas the recent DEXA proposal was based on technology that MLA was already confident had been proven up and was ready for commercial adoption, this is "kick off" research which will explore the use of CT scanners, such as those used to scan bags at airports or thoroughbreds in the horse racing industry, for measuring eating quality traits.
The research, to be funded through MLA Donor Company, will involve three specific projects:
Utilising baggage CT scanning for the red meat industry generating an increased amount of objective measurement data (including animal health disease identification and eating quality) as well as advancing boning automation
Utilisation aviation CT scanning in various parts of the value chain, including the scanning of live animals
Converting CT scanners currently used in the horse raising industry to help determine eating quality measurement of beef and lamb carcases – as well as live animals on-farm.
Mr Norton said the research represented the next frontier in the development of objective measurement systems across the red meat industry, and will be vital to providing more thorough and balanced feedback both on-farm and in the processing sector.
"Objective measurement systems are vital for our industry to make precise assessments and support informed commercial business decisions," Mr Norton said.
"We have seen the red meat industry endorse and embark on the commercial rollout of objective measurement technology for lean meat yield through DEXA, and this funding will allow us to ignited the next phase of research to ensure there is the opportunity to provide more comprehensive feedback through the supply chain.
"Importantly this research will look at converting this CT technology for use in the processing sector as well as on-farm with live animals."
MLA announced today it will partner with technology provider 4DDI on the research to convert the use of CT scanners from the horse racing industry. More details on the other projects will follow in coming months.
4DDIs equine CT scanner is a solution recently developed and commercialised for vets to scan race horses whilst standing.
It is anticipated the technology could complement the use of DEXA units in the processing sector specifically for eating quality.
The system is expected to be developed for live animal health and eating quality measurements for use in feedlots and on-farm.