PRIMARY producers directly affected during Severe Tropical Cyclone Trevor in North and Central West Queensland can apply for Disaster Assistance Loans of up to $250,000.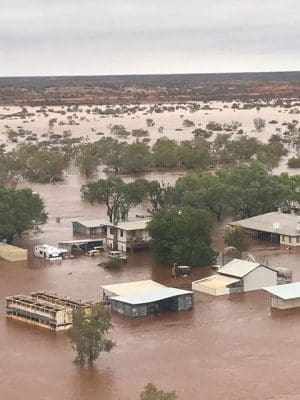 Queensland Rural and Industry Development Authority (QRIDA) is administering the Disaster Assistance Loans available at 1.37 percent over 10-year term for directly-affected primary producers in Blackall-Tambo, Boulia, Cook and Diamantina local government areas.
QRIDA Disaster Recovery Liaison Manager Craig Turner said the loans were designed to assist grazing and farming enterprises to recover from the recent flooding event promptly and effectively.
The loans can be used for repairing or replacing damaged plant, equipment and infrastructure including fences, purchasing livestock to replace those lost in the disaster event and replanting, restoring or re-establishing areas affected by flooding.
Mr Turner said the loans could also be used to help with essential working capital costs including paying wages and the cost of contractors, paying creditors, paying rent or rates, buying goods, including fuel, fodder or water for livestock as well as transporting livestock or produce.
Mr Turner said producers looking to access the concessional lending were urged to contact their closest Regional Area Manager to discuss their circumstances and obtain direct assistance with their application.
"QRIDA have staff operating in all impacted areas so the opportunity exists to personalized support and information," Mr Turner said.
Affected producers can speak directly to experienced QRIDA staff for assistance via Freecall 1800 623 946 from Monday to Friday (8.30am – 5pm).
Source: QRIDA. QRIDA administers financial assistance to disaster affected primary producers, businesses and non-profit organisations under the joint Commonwealth / Queensland Government funded Disaster Recovery Funding Arrangements 2018. For more information visit www.qrida.qld.gov.au or Freecall 1800 623 946. 
Rebuilding flood ravaged NW Qld
When devastating floods hit North West Queensland earlier this year it became clear the road to recovery would be challenging, long and expensive for the hundreds of producers and regional businesses owners, who were affected by the catastrophic event.
At this critical time in the rebuilding effort, the Rural Press Club of Queensland is inviting members and guests to lend a helping hand to those in the North West to come back from this emotionally and financially crippling weather event.
The cost of recovery from Far North Queensland Monsoon Trough has been estimated by the Queensland Government at $1.5 billion and climbing.  Hundreds of thousands of livestock perished, leaving producers with horrific scenes, and the heartbreaking task of dealing with dead and dying stock. With fences, machinery and homes washed away, the strain on producers and their families has been enormous.
On Thursday, 2 May, the Rural Press Club of Queensland will be joined by Councillor Belinda Murphy, Mayor of the hard-hit McKinlay Shire, and Patrick Hick, a Julia Creek grazier who lost 6,000 head of cattle, for a first-hand account of the floods and what lays ahead for the region.
Patrick and wife Edwina own and manage Argyle Pastoral Company, which spans 245,000 hectares and runs approximately 16,000 cattle.  Patrick has lived in the North West his whole life and has seen flood, fire and drought of different magnitudes on many occasions, but never before has he seen anything to compare to what happened in February.
To assist in the long road to recovery, the Rural Press Club will donate $20 from each lunch ticket sold to support recovery efforts and further donate an equivalent lump sum that matches the amount raised from ticket sales.
It is hoped regular members and guests will also feel inclined to help with recovery efforts and contribute to recovery fundraising.  All funds raised will be donated to BlazeAid, who is providing direct support to local producers for their fencing, vaccine and water requirements with the money spent at local business in Julia Creek, which provides an overall, whole of community cash injection.
To help the Rural Press Club reach our donation target of $30,000, please click on the following link: https://www.gofundme.com/rebuilding-flood-ravaged-north-west-queensland 
What: Rebuilding flood ravaged North West Queensland
Who:  Belinda Murphy, Mayor, McKinlay Shire Council & Pat Hick, Owner, Argyle Pastoral Company
When: Thursday, 2 May 2019 – networking from Noon with lunch at 12.30pm
Where: Tattersalls Club, 215 Queen Street, Brisbane
Cost: Members $110 per person (GST exclusive) or $1,050 for a table of ten
           Non Members $120 per person (GST exclusive) or $1,150 for a table of ten