National supermarket retail group Woolworths' operations in South Australia will be powered by 100 percent renewable electricity from July – the first state to go completely green in the company's transition target by 2025.
A new South Australian renewable energy partnership will see the retailer's 70 Woolworths supermarkets, 17 BIG W stores and Adelaide Regional Distribution Centre go green.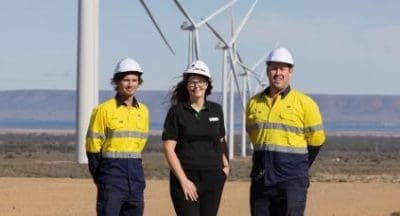 Under a new energy partnership, Woolworths will source South Australian renewable electricity from Iberdrola Australia's wind turbines and solar network at the newly developed Port Augusta Renewable Energy Park. Iberdrola is the largest hybrid wind-solar farm in the southern hemisphere where 50 wind turbines and 250,000 solar panels will work in tandem to supply 100,000 Megawatt hours of renewable electricity per year on the retailer's behalf.
Following this milestone in South Australia in July, Woolworths says it will continue to gradually replace traditional energy contracts in other states with green agreements as it transitions to renewable energy nationwide by 2025.
As Australia's largest retailer, representing around one percent of the country's total energy use, Woolworths Group's transition to renewable electricity by 2025 represented a significant influx of green energy to the national grid and a sizable investment in the sector over the next three years.
Woolworths Group said since 2015, it has cut its carbon emissions by more than 27 percent through ongoing investment in energy efficiency, including the transition to LED lighting in more than 1000 supermarkets, and the continued roll-out its own solar panel network across the rooftops of stores and distribution centres – now numbering more than 99,000 panels across 171 locations.
Woolworths Group has pledged not only to reach net neutral carbon emissions by 2050, but to make its operations net carbon positive by 2050 – if not sooner – meaning it will remove more carbon from the atmosphere than it produces.
Green trend
The move follows the recent introduction of compostable fruit and vegetable bags in Woolworths' South Australian supermarkets last month, removing up to 70 tonnes of plastic from landfill annually as the retailer works to grow greener.
South Australian Premier, Peter Malinauskas said his state had long been a world leader in renewable energy, paving the way for more businesses to switch to clean energy.
"This is the way the world is moving. Private capital is now leading the charge in backing clean energy, which presents a big opportunity for South Australian jobs," he said.
Woolworths Group CEO, Brad Banducci said South Australia would be the first state where every Woolworths site is powered by green energy – from Roxby Downs to Renmark.
"South Australia has helped lead the transition to renewable energy in Australia, combining solar, wind and batteries to enable us to make this leap forward in our mission to be powered entirely by renewable sources by 2025," he said.
"Our customers want us to make shopping better for the planet, and renewable energy is one of the key ways we're boosting sustainability with the support of our sustainability innovation business Woolworths360.
"We look forward to building on this in other states over the next three years."
In its transition to renewable energy, Woolworths said it was prioritising partnerships which draw on new-build renewable projects to help accelerate the industry's growth and enhance the availability and affordability of green energy to other businesses and the community.
South Australia has been the site of a range of retail sustainability advancements in recent years. It was the first state to ban single use plastic bags and picnicware, and the first state in which Woolworths replaced plastic fruit and veg bags with a compostable alternative in response to high rates of composting access.
Source: Woolworths