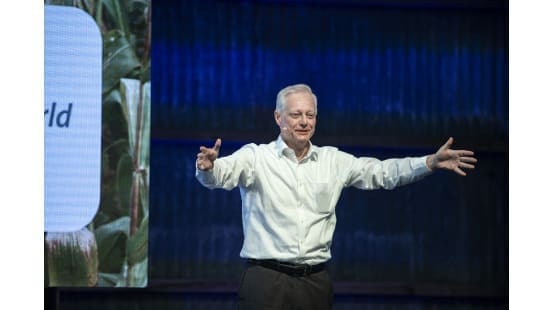 The Rabobank Farm2Fork Summit is returning to Australia, with the international food and agriculture event to be held in Sydney on March 23 this year.
Last staged in 2019 – where it was also hosted in Sydney – the summit will bring together more than 1600 local and overseas farmers, food and agribusiness corporates and agtech start-ups, along with prominent agriculture, science and technology researchers and innovators.
Convened by global agribusiness banking specialist Rabobank, the one-day invitation- only event will be a celebration of leadership and innovation in agriculture and agribusiness, featuring leading international and local speakers examining new ideas, innovations and practical solutions for the vitality and sustainability of the food and agri sector.
Rabobank Group executive board member Berry Marttin said this would be the fourth time Australia had played host to the bank's international food and agri summit and was the first major opportunity for such a diverse range of agri sector participants to convene since the Covid-19 pandemic.
Mr Marttin said the Farm2Fork Summit would examine some of the major challenges and opportunities for agriculture and food production in the global transition to sustainable food systems.
"The world faces the urgent need to transition to inclusive, sustainable, nutritious and resilient food systems," he said. "Achieving this will deliver for people, prosperity and the planet.
"Sustainable food systems are essential for building resilience against future shocks, improving global health and nutrition, achieving net-zero carbon emissions, protecting nature and diversity, empowering communities and building inclusive and resilient economies."
Mr Marttin said the summit was part of global cooperative Rabobank's commitment to take a leadership role in helping to facilitate a sustainable future for the world's food and agribusiness production and supply.
Topics to be explored at the event include:
·        how AI (artificial intelligence) and robotics, agtech and data will influence the future of agriculture
·        circular economies, supply chain trends and the consumer 'farm to fork' story
·        the top 10 macroeconomic themes for agriculture in the 2020s and
·        a range of innovation-in -practice case studies.
Presenters will include former Unilever global CEO Paul Polman, Rabobank global chairman Stefaan Decraene, Bega Cheese executive chairman Barry Irvin, US dairy producer Hans Nederend Jr, John Deere managing director Australia/New Zealand Luke Chandler, CSIRO Agriculture and Food deputy director Professor Michelle Colgrave, 2022 Young Farmer of the Year Brad Egan, New Zealand lamb producer Lucy Macdonald and Sundown Pastoral Company/Good Earth Cotton's Danielle and David Statham.
The summit will play host to an 'Innovation Park' featuring startups in robotics, irrigation, biosecurity and traceability from around the world, while local and sustainable produce will also be showcased at the event.
The program will also include the presentation of the 2023 Rabobank Leadership Awards.
These peer-nominated annual awards recognise outstanding leadership in Australia and New Zealand's food, beverage and agribusiness industries, with two key business leadership accolades – the Rabobank Leadership Award honouring an accomplished senior sector leader and the Rabobank Emerging Leader Award recognising outstanding up-and-coming leadership.
This year's awards will feature an additional category with the newly-introduced Rabobank Community Leadership Awards to be presented in both Australia and New Zealand recognising an outstanding initiative in each country which provides tangible, meaningful benefits to the rural community.
Source: Rabobank